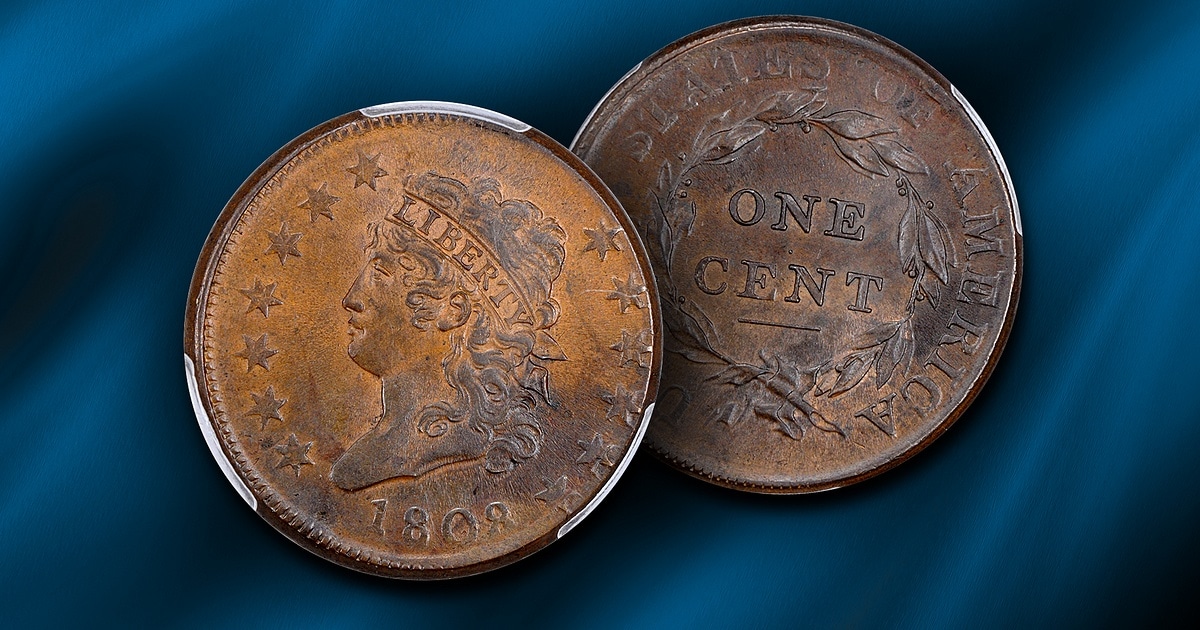 Learn About 1808 – 1814 Classic Head Large Cents
John Reich was a German-born engraver who immigrated to the US in 1800. His engraving skills came to the attention of President Jefferson who recommended him for a job at the US Mint. He was hired in 1801 but did not ascend to an engraver's role until 1807.
The US Mint Director, Robert Patterson, assigned Reich the task of redesigning the current coinage. This was much to the dismay of the Chief Engraver Robert Scot, whose designs were now going to be changed by this new, upstart engraver. This caused a great deal of tension between the Chief Engraver of the US Mint and the Assistant Engraver. But Reich followed Patterson's orders and re-engraved Scot's designs.
Miss Liberty went from facing right to now facing left. Her long, flowing locks of hair tied with a ribbon, were now pulled back and tucked behind a wide headband upon which was inscribed the word "LIBERTY." That word would no longer appear above Miss Liberty's head. Miss Liberty now appeared older and more mature, perhaps in direct correlation to the fact that the country was now older and we were in the 19th Century, not the 18th.
Reich's design encircled Miss Liberty on the obverse of the coin with 13 stars and the date remained below her bust. On the reverse, the value "ONE CENT" remained centered within the wreath. The words "UNITED STATES OF AMERICA" also remained encircling the wreath. The numerical denomination "1/100" was removed from below the wreath and not used at all.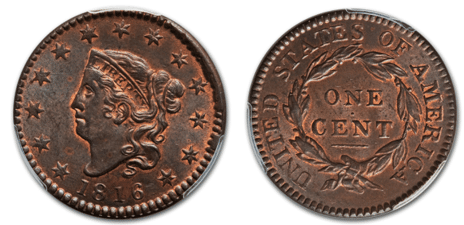 Reich's changes were what Patterson wanted to see but they did not please Robert Scot at all. Patterson was the driving force in hiring Reich and Patterson made the point of writing to Jefferson to discuss Scot's advancing age (he was only 62) and his health. Scot took his frustrations out on Reich and in the 10 years that Reich worked for the US Mint he received neither praise nor a raise from Scot. Reich worked hard to please Patterson redesigning every coin from the Half Cent to the gold $5.00 Half Eagle. But he could not please Scot, which led to Reich's departure from the US Mint in 1817. He then moved to Albany, NY, where he engraved tokens, medals and other objects. Reich died in 1833 at age 65.
Just over 1 million 1808-dated Large Cents were produced bearing Reich's new design. But the Mint soon ran out of blank planchets and 222,867 cents were struck in 1809. An adequate supply of copper planchets in 1810 allowed the Mint to again strike over 1 million coins (1,458,500) and there were two varieties of 1810 dated coins – a normal date and an overdate of 1810/09.
In 1811, production dropped to only 218,025 coins again producing a normal date and an overdate. The roller coaster ride happened once again in 1812 with 1,075,500 coins being produced. In 1813 only 418,000 coins were struck and in 1814, the last year for the Classic Head Large Cent, the production dropped further to 357,830 coins.
The War of 1812 slowed the shipment of blank planchets to America and the shortage was so great that no 1815-dated copper coins were struck by the US Mint. Boulton and Watt, the British manufacturer of these planchets had great difficulty keeping a steady supply coming to America and also had a difficult time with the inferior quality of the planchets being produced.
| | | | | |
| --- | --- | --- | --- | --- |
| Date | Type | Mintage | Fine Value | Unc Value |
| 1808 | Classic Head | 1,007,000 | $500 | $5,000 |
| 1809 | Classic Head | 222,867 | $750 | $8,000 |
| 1810 | Classic Head | 1,458,500 | $500 | $2,500 |
| 1811 | Classic Head | 218,025 | $650 | $6,500 |
| 1812 | Classic Head | 1,075,500 | $500 | $3,500 |
| 1813 | Classic Head | 418,000 | $500 | $3,500 |
| 1814 | Classic Head | 357,830 | $450 | $3,500 |
Expand your collection today and shop for an 1814 Large Cent Good-4 PCGS (Brown).