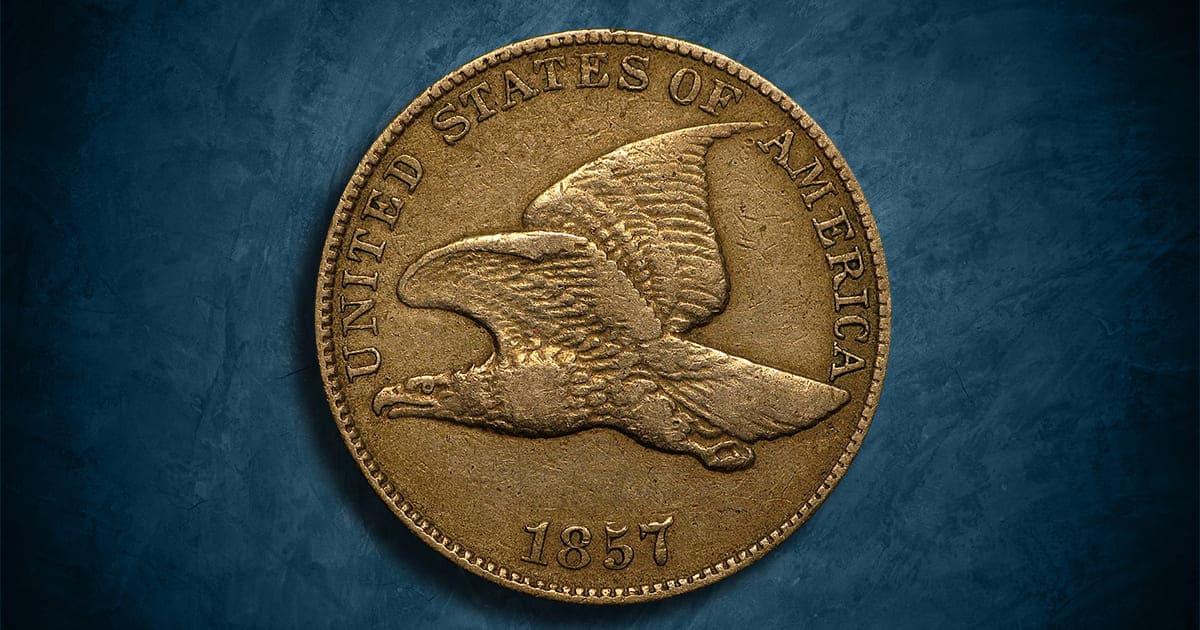 Flying Eagle Pennies (1856-1858)
The Flying Eagle penny lasted for only two short years as a circulating coin, but its influence on U.S. coinage is significant. It's a highly collectible coin that marked a shift in philosophy for the U.S. Mint and a change in America's relationship with its own coins.
Before the Flying Eagle cent, cents were larger, and they often circulated next to coinage from other countries that were used for small purchases as legal tender the same way American cents were. That began to change around the time this cent was minted.
Flying Eagle Design
The old Large Cents had risen in price due to the rise in Copper cost and distribution cost. Cents and Half Cents had circulation issues, and outside of larger cities they were rarely seen. The 1850s saw a revamp of low-value subsidiary Silver coinage, which necessitated a change in Copper coinage as well.
Mint Director James Snowden had been advocating smaller bronze cents and the elimination of the Half Cent since at least 1854, and there were several pattern coins of this type struck around that time. The Mint had been experimenting with designs for a few years, and some had designs similar to those created by late chief engraver Christian Gobrecht some years before. The flying eagle design held particular appeal.
James B. Longacre designed the new cent based on Gobrecht's flying eagle and it was struck starting in 1856 as a pattern coin, then from 1857 through 1858 as a circulation strike. Some of the 1856 cents were also struck as proofs for collectors. Very few of these cents exist, as there were only two to three thousand minted.
This cent's obverse image of the flying eagle was admired by many, including Augustus Saint-Gaudens, best known for his own flying eagle design for the double eagle coin. Saint-Gaudens called it "the best design on any American coin".
The hard cupro-nickel alloy caused major breakage problems for the machines, and many of these cents have weaknesses and were not struck as well as they could have been. The shallower relief in 1858 was used in an effort to address this, but the way the obverse and reverse lined up made it hard to get a good strike because key points of the design were directly opposite each other. In 1859 Longacre designed a new cent, the Indian Head, and the Flying Eagle penny was phased out.
Historical Significance
When the cent was issued officially in 1857, it coincided with the Coinage Act going into force. This outlawed foreign and private coinage that had been circulating instead of U.S. Mint coinage and made it possible to redeem the old Spanish coins that were often being used instead.
As Spanish coins were turned in, the cents glutted the economy, in some places being refused in trade, although this was brief as people turned to coin hoarding in the aftermath of the Civil War. Some were redeemed later on through the Treasury Department, and they became a rarity.
Numismatic Value
Though these had very large initial mintages (particularly 1858), the short time they were issued makes them very collectible. And the 1856 pattern coins have a huge premium due to their varieties and the very low mintage.
Expand your collection today and shop our assortment of Flying Eagle Pennies (1856-1858).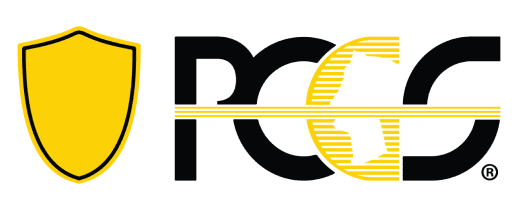 PCGS Products
You need the most up-to-date pricing on your coin collection. That's why APMEX has partnered with PCGS, the premier grading authority in the world of rare coins, to bring you constantly updated pricing on collectibles and rarities. PCGS has been grading coins since 1986, bringing consistent standards of quality to a fractured industry. In the years since they have remained a source of reliable information on the current collectible and rare coin market.