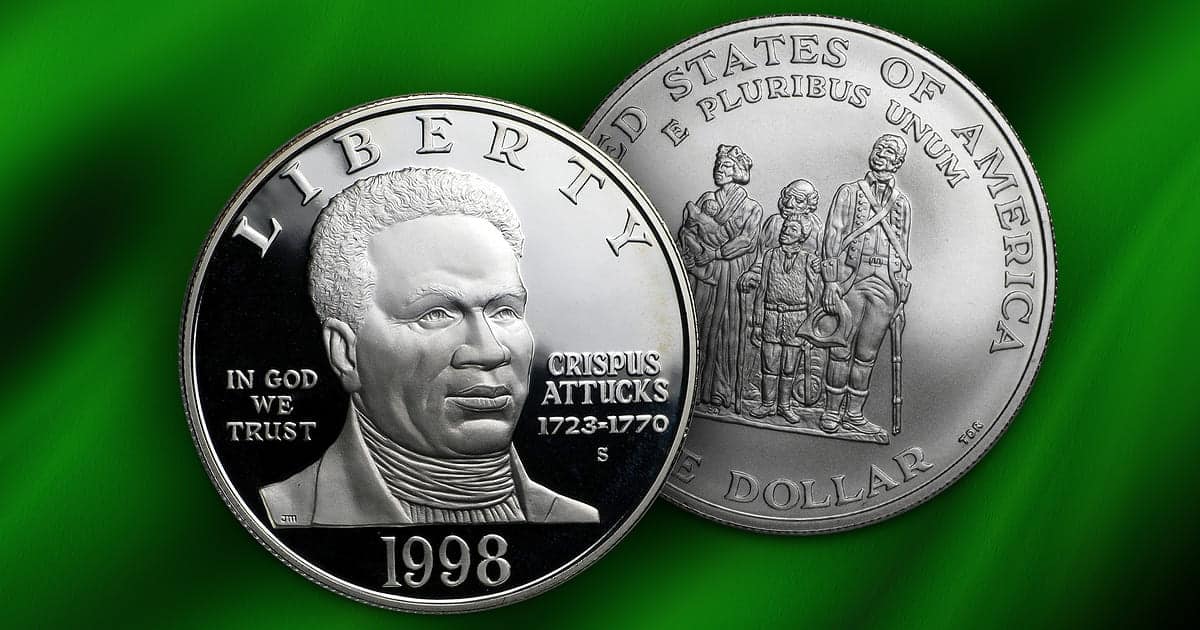 Crispus Attucks and the 1998 Black Patriots Silver Dollar
The African-Americans who served in the American Revolutionary War were honored with a Silver Dollar coin by Congressional action in 1998. Many of these heroes fought for the Independence of the country that allowed their enslavement. While in the southern colonies slavery was allowed but in the northern colonies an abolitionist movement was flourishing – but Independence from Great Britain was the primary focus. Most of the Black patriots were unknown to history but one name survived and it was Crispus Attucks. He had the distinction of being one of the first American patriots to stand up to the British Army in Boston in 1770. During the Boston Massacre Attucks was the first patriot who was killed.
Since no likeness of Attucks was known to exist or survive, US Mint Engraver John Mercanti had to create an image of what Attucks might have looked like during 1770. The obverse of this Silver Dollar coin has a central portrait of a rendition of Attucks facing to the right. To the left of his portrait is "IN GOD WE TRUST" and to the right are "CRISPUS ATTUCKS" and the dates of his birth and death "1723 – 1770". Above his portrait, on the upper periphery is the word "LIBERTY" and on the lower periphery is the date of issue "1998".
The reverse was based on the proposed Black Patriots Memorial that was designed by Ed Dwight, who was also given credit for the reverse of the coin's design. The central vignette is a depiction of a Black Patriot family and above them is the phrase "E PLURIBUS UNUM". The upper periphery has UNITED STATES OF AMERICA" while the lower periphery has the denomination "ONE DOLLAR."
The coins were struck at the San Francisco Mint in both Uncirculated and Proof versions. Although there was a maximum authorized mintage of 500,000 coins, only 37,210 of the Uncirculated coins were sold and only 75,070 of the Proof coins were sold.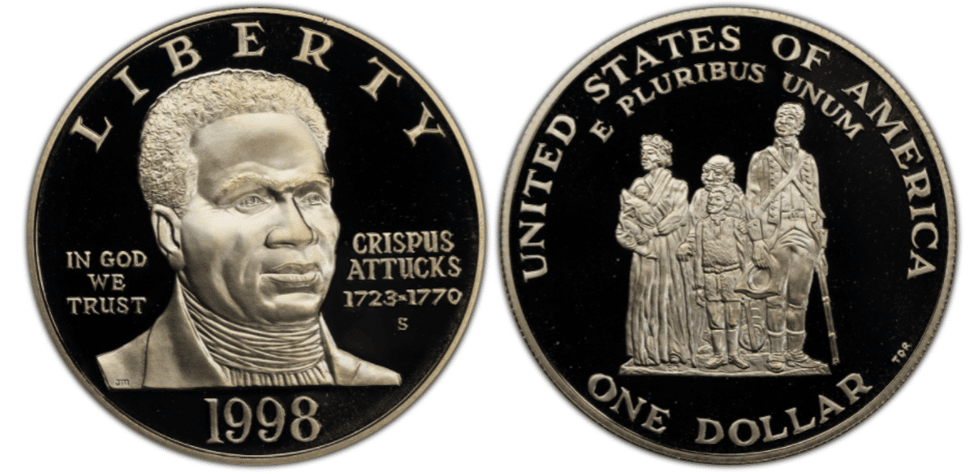 The coins were sold individually, as a 2-coin set, in a Young Collectors set with an Uncirculated Silver Dollar and as a Coin and stamp set that held the Proof Silver Dollar and four related U.S. postage stamps – honoring Frederick Douglass, Benjamin Banneker, Salem Poor and Harriet Tubman. A portion of the surcharge on all of these issues would be donated towards a Black Patriots Memorial to be erected in Washington, DC.
| | | | | | |
| --- | --- | --- | --- | --- | --- |
| Date | Mintmark | Denomination | Type | Mintage | Value |
| 1998 | S | One Dollar | Uncirculated | 37,210 | $90 |
| 1998 | S | One Dollar | Proof | 75,070 | $85 |
| 1998 | S | One Dollar | Uncirculated & Proof | Unknown | $130 |
| 1998 | S | One Dollar | Young Collector Set | Unknown | $85 |
| 1998 | S | One Dollar | Coin and Stamp Set | Unknown | $85 |
Expand your collection today and shop our assortment of 1998-S Black Patriots $1 Silver Commemorative Proof.