Read About These Five Palladium Coins
Below is a current list of the best Palladium coins for investment. This is not a definitive list, but based on recognizability, liquidity, "bang for your buck" and the potential return on investment. These are the Palladium investment pieces most attractive to investors.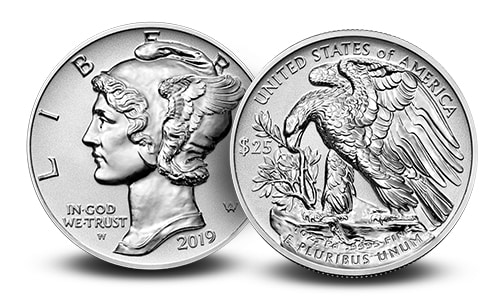 1. Palladium American Eagle
In 2017, the U.S. Mint has added a new Precious Metal to the American Eagle program, the first American Palladium coin. Each Palladium coin contains 1 oz of .9995 Palladium. These 1 oz Palladium coins pair the classic obverse of the Mercury dime with a reverse designed by Adolph Weinman in 1907.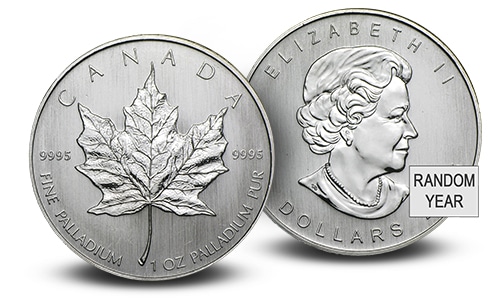 2. Palladium Canadian Maple Leaf
First minted in November 2005, the Palladium Maple Leaf coin is the latest addition to the Maple Leaf coin series issued by the Royal Canadian Mint. Guaranteed by the Canadian Government for weight, purity and face value, the Palladium Maple Leaf is legal Canadian tender with a face value of 50 Canadian dollars. Moreover, the Palladium Maple Leafs are struck in pure .9995-fine Palladium.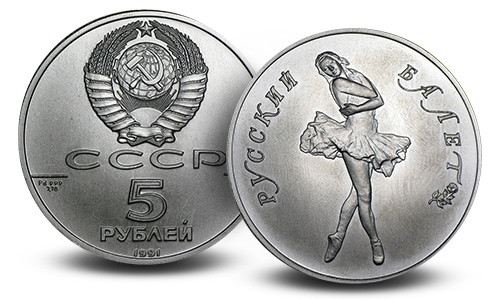 3. Palladium Russian Ballerina
In 1989, the Moscow Mint began producing Palladium Ballerina coins, honoring the famed Russian Ballet. Released through 1995, the Palladium coins feature ballerinas in different poses, adding an aspect of collectibility to these beautiful 1 oz Palladium coins.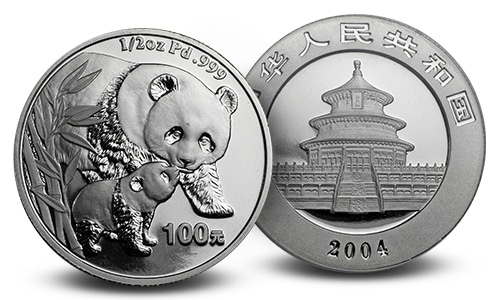 4. Palladium Chinese Panda
In 1989, China struck its first Palladium Panda coin. The Chinese Palladium Pandas are legal-tender coins issued by the People's Bank of China. With a very limited mintage, the Palladium Chinese Panda coins are much rarer than their Gold or Silver counterparts. Pandas are loved worldwide for their distinctive coloring, meek temperament and innocence. Bringing international fame to this beloved creature, the Palladium Panda coins celebrate the wonder of Chinese wildlife.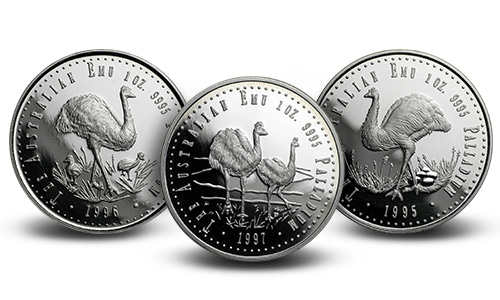 5. Palladium Australian Emu
Only minted from 1995 to 1998, the stunning Australian Palladium Emu is quite rare and one of the most coveted bullion coins in the world. These coins offer a great way to diversify your portfolio while adding a sense of collectibility to your holdings. The Perth Mint suspended the Emu series when the price of Palladium doubled in 1998.
Expand your collection today and shop our assortment of American Eagle Palladium coins.
APMEX recommends discussing the pros and cons of investing with a financial adviser or professional.