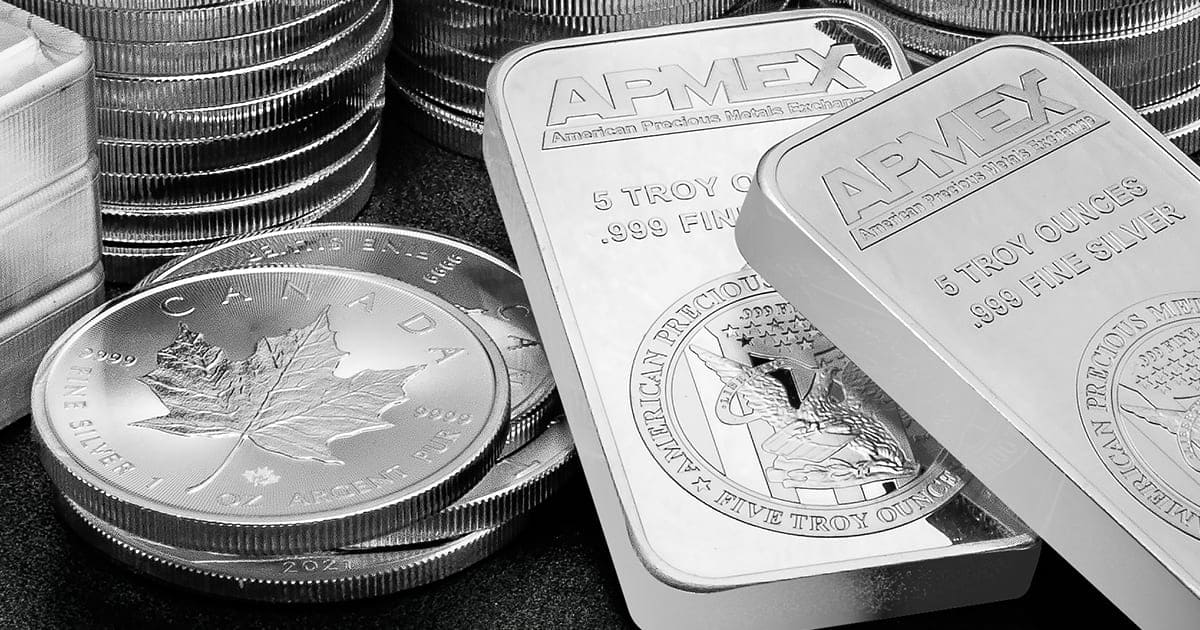 Ready to Invest in Silver? Learn the Basics Here
Did you know that 11.6% of the American population owns Silver? Yes, Silver has long been recognized as a valuable metal that is coveted the world over. And if you're wondering is Silver a good investment, the short answer is yes – absolutely. Many people choose to invest in precious metals to diversify their portfolio and other benefits – and Silver is no exception.
If you're looking to learn about the Silver price and investing in Silver for beginners, you're in the right place. We break it down in the article below.
The Benefits of Investing in Silver
There are many advantages to investing in Silver. However, to make the best of your assets, you will need to understand the full range of options open to you when you invest in this precious metal.
Following are the main benefits of investing in Silver.
Silver Bullion is Tangible
In the world of stocks and NFTs, it can be reassuring to hold a tangible asset. While the Silver you have will be subject to market conditions, it is still a commodity you can hold in your hands. It is finite, which means it will always hold inherent value due to its limited stock.
Cheaper Than Gold
Want to dip your feet in the world of precious metal investing but find Gold too expensive? Well, Silver is the perfect investment for you then!
It is less expensive than Gold, and thus is more accessible to different kinds of buyers. In addition, if you want to cash out your metal for currency at some point, it is easier to do so with Silver than with Gold.
Higher Returns
Yes, Silver is cheaper than Gold, but that doesn't mean you don't get a good return on your investment. The lower rate of Silver means it typically sees a higher rise in rate with then markets go up.
It is also a great option to have when there is economic strife or turmoil, as it offers owners protection against financial trouble.
Is Silver a Good Investment?
Investing in precious metals is a solid and safe investment. However, it is essential to do your due diligence and understand the specifics of Silver before investing, as well as paying attention to the Silver spot prices.
What is interesting about Silver is that the Silver price can swing significantly. The market fluctuates more than Gold and traditional stocks and bonds. However, despite this, Silver offers excellent growth and return opportunities. It is also a great way to diversify your portfolio. A good rule of thumb is to allocate 5% of your portfolio to all your commodities in total, including Silver.
To help keep an eye on the price of Silver, download the APMEX app, available on the App Store and Google Play. It includes the current spot price, historical charts, and more.
Another way to make the most of your investment is to buy Silver regularly. This will give you an excellent dollar cost average and offset the risk factor of fluctuating prices. And currently, the Silver market is doing exceptionally well. It is on the rise and has sealed its place as one of the best runs in its long history.
Different Forms of Silver to Invest In
Unlike most other investments, investing in precious metals gives you a whole range of options. Silver is no different. Let's take a look at the various forms of Silver investment opportunities.
Silver Bar: This is probably the best way to invest in Precious Metals. Silver bars offer solid, undiluted value and worth.
Silver Coins: This is a good option for a beginner investor. Coins are easy to buy and easier to cash out for currency. You will also be able to trade Silver more easily with this option.
Silver Bonds and ETFs: If you are comfortable with the digital space, you could also choose to invest in Silver index funds. This will distribute your holdings across different companies trading in Silver. However, you won't have the benefits of owning the metal in a tangible form with this option.
Silver Bullion: Bullions have the least amount of premium. The reason for this is there isn't much that goes into its production. It is not labor-intensive to produce them. Hence, it is maybe the best bet to opt for Silver bullion coins instead.
How to Invest in Silver
Wondering about the best way to invest in Silver? Well, you have a couple of options. The traditional way to invest in this precious metal is to own it in its physical form. Opt for a Silver bar, coin, or bullion to get started. But before that, you'll need to understand the baseline rates for Silver. Lookup a website such as APMEX for a month or two to track Silver prices over a more extended period. This should give you a good idea of what you can expect to pay. Then, opt for a dealer who offers fair and transparent pricing to find a good deal. You will then be ready to buy Silver and make your investment.
Silver Is One of the Best Investments Today
As you can see, investing in Silver is a must for every kind of investor. Not only has Silver long been an attractive vehicle for the display of wealth, but it is also an effective solution for wealth generation. The growth opportunities here are endless, as the Silver price usually goes up after minor dips.
Are you looking to buy Silver in all its forms? At APMEX, we offer a world-class shopping experience specializing in selling special metals in an easy and seamless e-commerce experience.
Expand your collection today and shop our assortment of Silver bullion.
Before making any investment decisions, we encourage everyone to consult with their financial advisor.