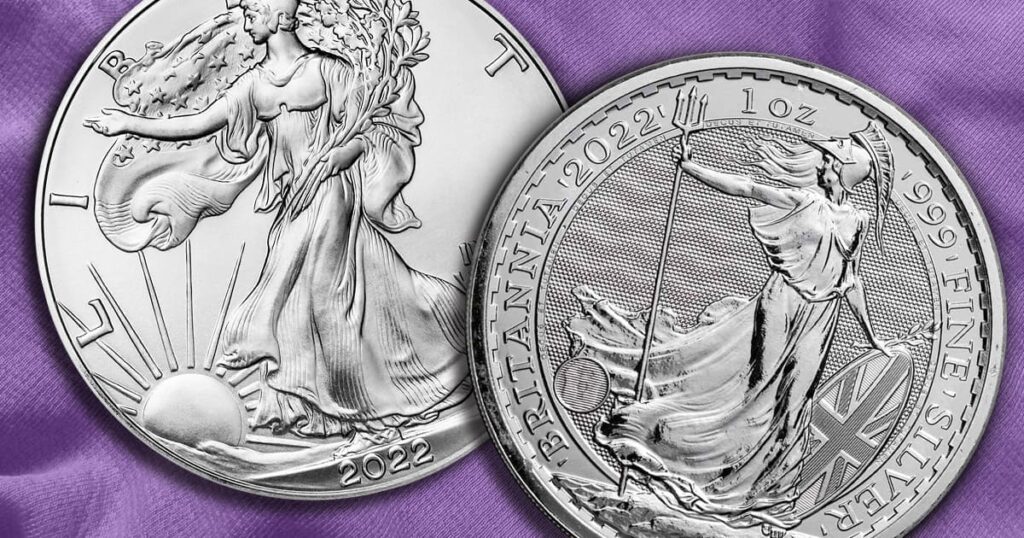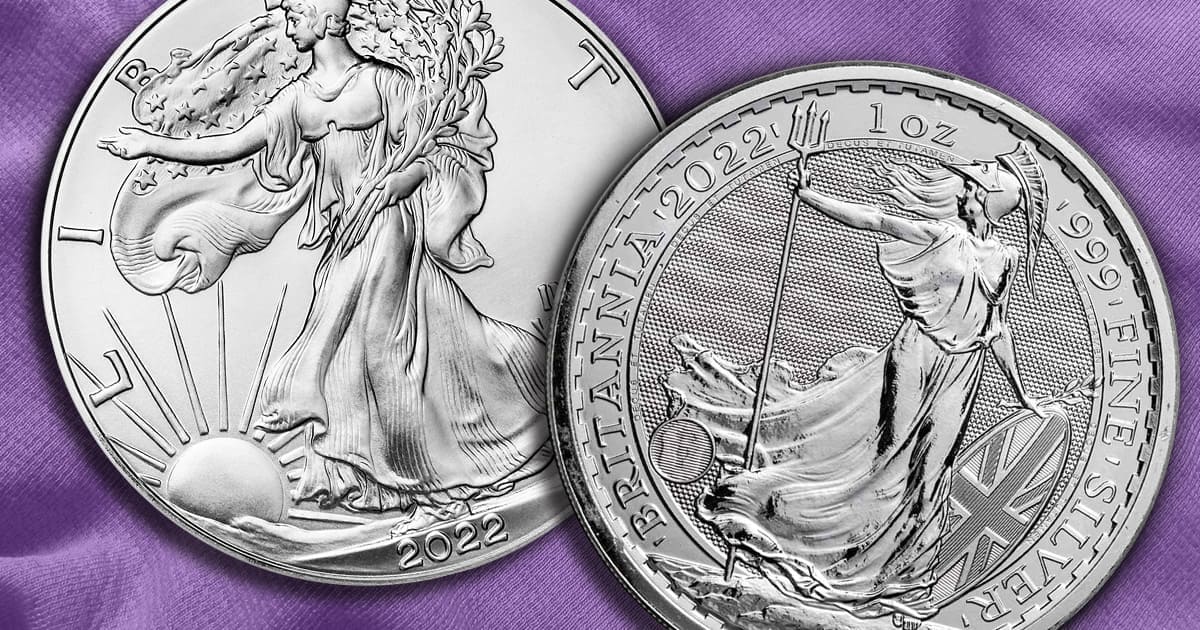 Silver American Eagles are a popular option for those looking to invest in bullion coins. Their worldwide recognition and U.S. government backing promise reliable security, making them an exceptional choice for investors. Unfortunately, the price of Silver Eagles rose in 2022, which has caused some buyers to hesitate to invest due to worries about not achieving a profit upon selling their Eagle.
Thankfully, numerous other worthwhile silver bullion alternatives measure up to Silver Eagles. A well-known option is the Silver Britannia.
Why Are Silver Eagles More Expensive?
Silver Eagle fans have faced costly price hikes in the last two years and it does not appear that these costs will decrease any time soon. Although demand for Eagles sky-rocketed in 2022, the U.S. Mint is planning to produce fewer of these coveted coins in 2023 – but there's a logical reason for this.
The U.S. Mint has a mandate from the government to purchase silver blanks (also known as planchets) from an approved third party at a set cost. Years ago, it became apparent that manufacturing blanks in-house was not financially viable, so they started outsourcing blank production.
Knowing the demand for Silver Eagles could change annually, the U.S. Mint deemed it necessary to devise a better strategy for managing blank production – particularly during times when demand was lower. Outsourcing silver blank manufacturing was found to be the most cost-effective solution. Suppliers have consented to a long-term arrangement with fixed prices, leaving some space for any potential variations in demand due to regular market conditions.
In times of extremely high demand, it can be difficult to get suppliers to commit to extended contracts when they have the potential to make more money elsewhere. Signing a contract with the Mint at this time could mean forgoing profits elsewhere.
The United States Mint currently has just one supplier for blanks: the Sunshine Mint. Sunshine Mint is more likely to sell its silver to buyers with the biggest return on its investment. The Mint is bound by government regulations on pricing, making it difficult to reach a mutually beneficial agreement with Sunshine Mint. That's why the U.S. Mint is operating on an allocated budget for silver supplies, which has left them with a much lower number of blanks to mint and therefore fewer Silver Eagle coins available.
Although higher prices and reduced production of Silver Eagles is expected in 2023, this may be an opportunity to acquire a Silver Eagle with a low mintage. For the passionate coin collector, nothing is more exciting than having rare coins in their collection! 2023 will be an exceptional year for those who purchase PCGS-graded Silver Eagles. As the future approaches, obtaining a 2023 Eagle will become more and more difficult due to scarcity, which in turn will drive up its value.
How Silver Britannias Compare to Silver Eagles
Like Silver Eagles, Silver Britannias are made by a government-backed mint and have gold counterparts. Britannias contain 1 oz of .999 fine silver and have a legal tender of £2. These coins are minted by The British Royal Mint in the United Kingdom and feature British monarchs on the obverse and a fierce female personification of Britain on the reverse, along with the weight and purity. Silver Britannias are reverse proof bullion coins which is a unique design feature that differentiates it from the Silver Eagle.
The 2023 Britannias will show the fifth and final effigy of Queen Elizabeth II and will have a limited run. King Charles III will appear on the Britannias afterward. The passing of Her Majesty the Queen in 2022 will make all Britannias and other Royal Mint coins that show her effigy more collectible and valuable.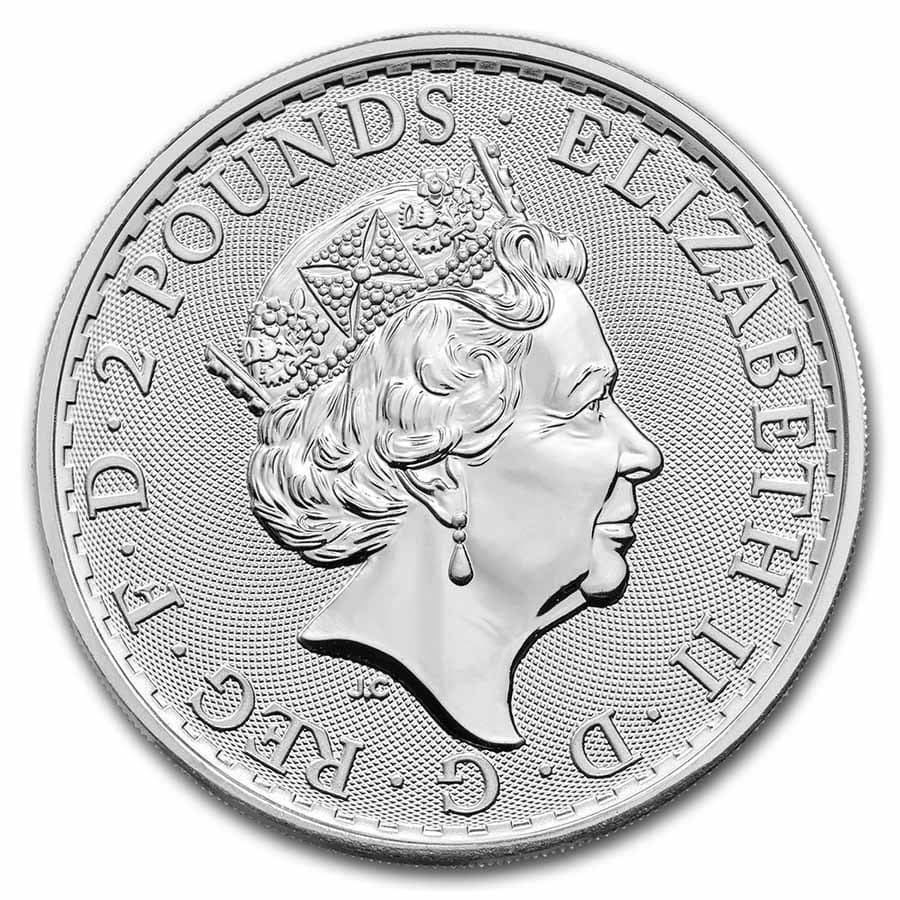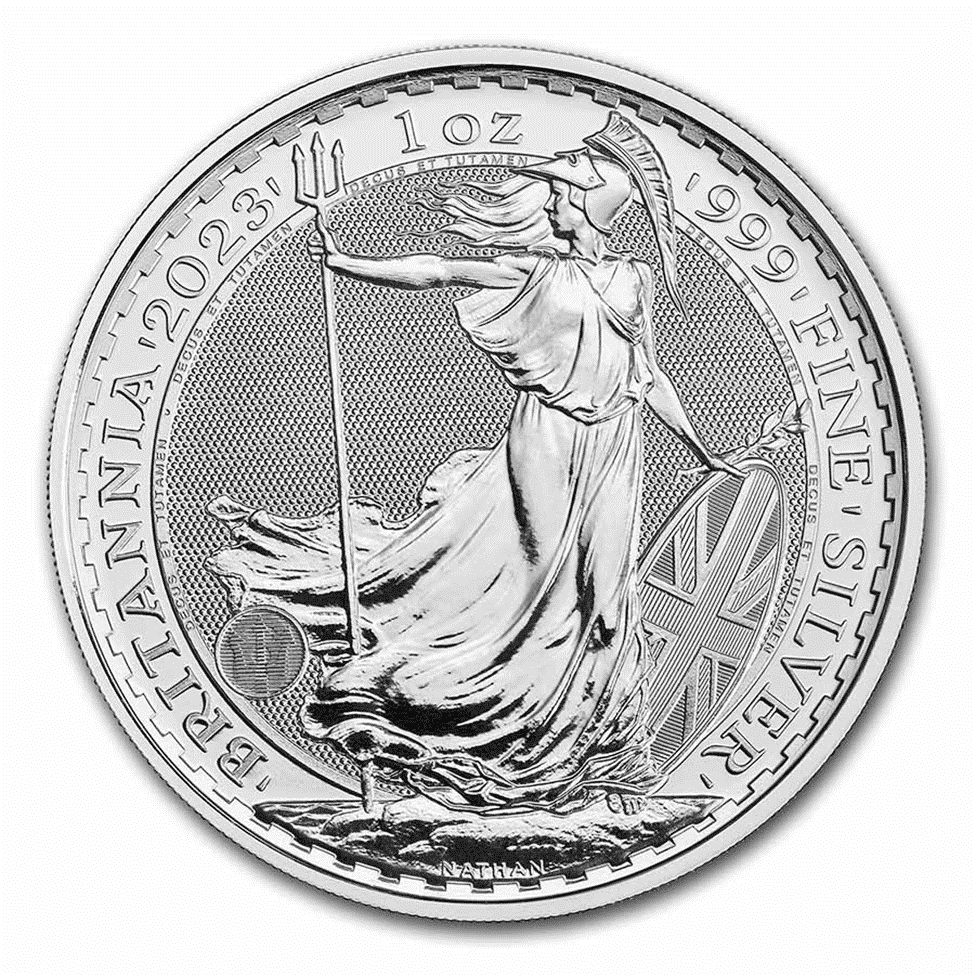 Britannias have four innovative security features: latent image, surface animation, micro-text, and tincture lines. The latent image is like a hologram that switches from a padlock to a trident when the coin is looked at from different angles. The surface animation uses advanced picosecond lasers to create micro details on the coin that make the waves appear to be in motion behind Britannia. Additionally, the micro-text "DECUS ET TUTAMEN" which means "an ornament and a safeguard" surrounds Britannia and is engraved with special lasers. Lastly, tincture lines are included in the design to provide more security. You can rest easy knowing that your Britannia is legitimate thanks to these security features.
These coins are easy to liquidate because they are widely collected around the world and The British Royal Mint is a reputable institution.
Price Differences
Silver Britannias have government markups like Silver Eagles; however, The British Royal Mint is not on silver allocation. Britannias' premiums are lower than Eagles because the supply is not as constrained.
As of this writing in January 2023 Silver Britannias have been priced roughly $6-$10 cheaper than Silver Eagles. Silver rates can vary depending on the current market conditions, so these prices reflect what is currently happening in the silver trading industry. Remember that trends can quickly change, and you should always be aware of potential shifts before investing your money.
Something to note is that these coins are exempt from capital gains tax for residents of the United Kingdom.
Key Takeaways
Silver Britannias are a good alternative to Silver Eagles if you are looking at buying reputable, 1 oz .999 fine Silver coins at a lower price. With lower premiums than Eagles and excellent security features, buyers can rest assured that they are getting high quality bullion. The British Royal Mint is also not on allocation like the U.S. Mint is, so there is a greater supply of Silver Britannias, making them more accessible to purchase and at a lower cost.
If you prefer American designs on your bullion, then this British coin may not be for you. Additionally, those who live outside the UK do not receive the tax exemption benefits that UK residents receive when purchasing.