Alaska is a more removed and rural state than others in the union. An experimental farming community called the "Matanuska Valley Colony" was created northeast of Anchorage as a part of President Franklin Roosevelt's New Deal program.
This farming community was just one experiment that Roosevelt's administration tried to help U.S. citizens move out of the throes of the Great Depression. This colony was settled by 203 families from Michigan, Minnesota, and Wisconsin. These states were selected because it was hoped that these people would be good farmers and more tolerant of the harsh Alaskan winter. Each family was given a 40-acre plot of land situated close to other plots so that a community could form. After five years nearly 100 families had left the colony and 30 years later only 20 families remained.  
The land was sold to these farmers at $5 per acre and they agreed to a federal 30-year payment schedule. The government had also arranged for the moving costs, shipping of livestock, farm equipment, and personal households. The farmers battled harsh winters, rocky and uneven land, and even a measles outbreak.  
The Alaska Rural Rehabilitation Corporation governed the colony and even created a series of eight "tokens" that served as money in the colony. These tokens were issued in aluminum for the following denominations: 1 cent, 5 cents, 20 cents, 25 cents, 50 cents, and $1. The tokens were made of brass for the $5 and $10 denominations.
These tokens acquired the nickname "Bingles" and were used for a short time from 1935 and 1936. These tokens represented the payment of Federal aid that the colonists were promised.  After their use, these tokens were destroyed. So, the surviving tokens were not usually in circulation during their period of greatest use. While the number of survivors is unknown the original mintages were as follows: 
Aluminum Tokens
One Cent 5,000
Five Cents 5,000
Ten Cents 5,000
Twenty-Five Cents  3,000 
Fifty Cents 2,500
Brass Tokens:
One Dollar 2,500
Five Dollars 1,000
Ten Dollars 1,000
With those as original mintages, surviving specimens are very scarce and highly collectible.
Many who moved did not leave Alaska entirely but moved to other areas that were better for trapping, mining, or fishing. But for those who stayed, they seemed to bond over this unique shared experience. Between dances, church events, and family gatherings, their lives seemed centered on their community.   
The town of Palmer, Alaska, was born out of these colonists. The city became home to the second generation of colonists. The town of Palmer even issued 50th-anniversary tokens that copied the originals that served as currency during the semi-centennial in 1985. Today, Palmer, Alaska, is primarily a productive farming region. An original uncirculated set from 1935 is valued at around $2,000, while the 50th-anniversary copies are significantly less valuable. Those sets are worth around $200.00.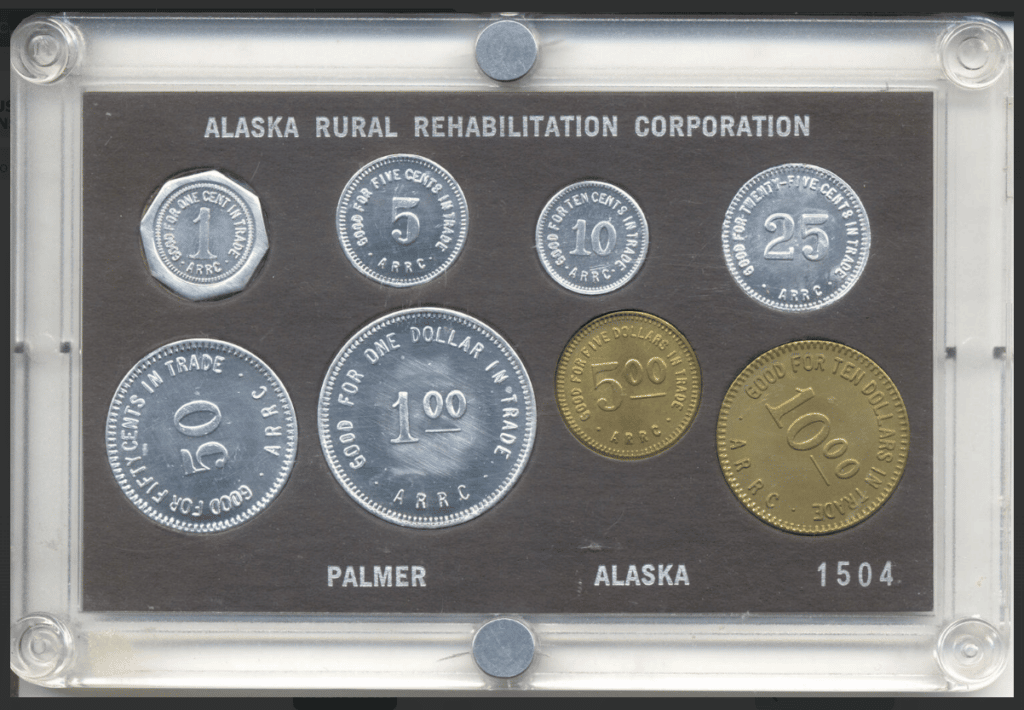 (A 1935-1985 8-coin set of 50th Anniversary Strikes of the Alaska Rural Rehabilitation Token set in the custom anniversary holder. Issued and sold by the Town of Palmer, Alaska in 1985.)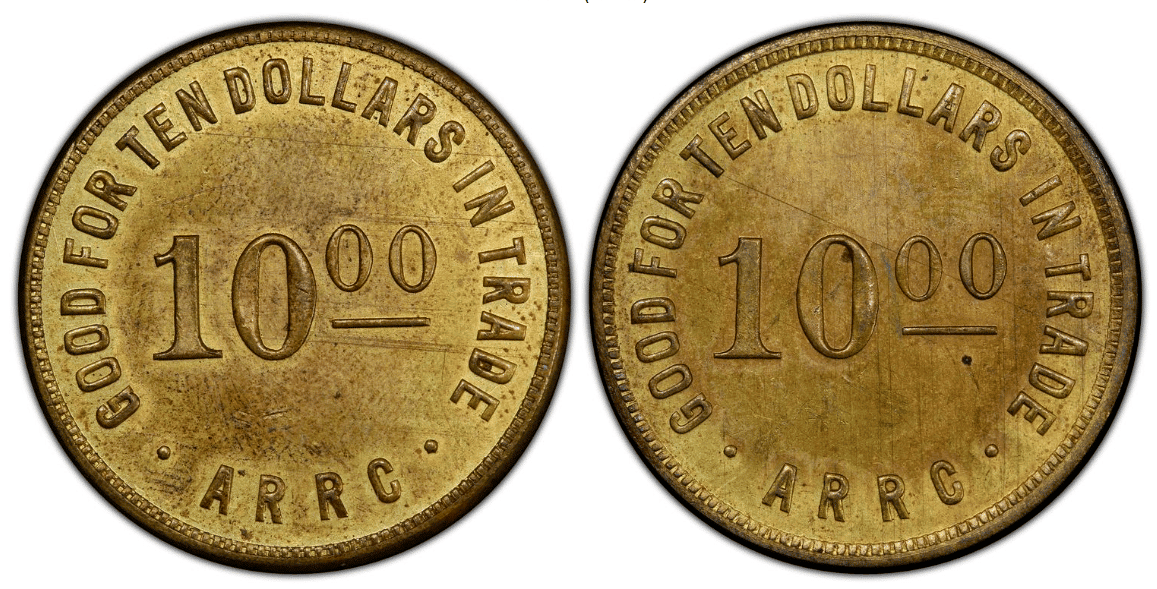 (An original 1935 $10.00 Alaska Rural Rehabilitation Token – Scarce.)