Learn About the History of Silver Quarters 1796-Date
EARLY QUARTERS (1796-1838)
One of the first quarters minted, these quarters were limited production quarters. They experienced important historical points including state expansion and the Louisiana Purchase. Early quarters are rare quarters not only because of the limited mintage but because they were designed and minted to replace the Spanish Two Reales coins. The early quarters helped usher in a coin that was solely for use as American currency, slowly making the use of foreign currency obsolete when the colonies were established. Available in certified quarters as well, collectors have a number of options with great historical significance.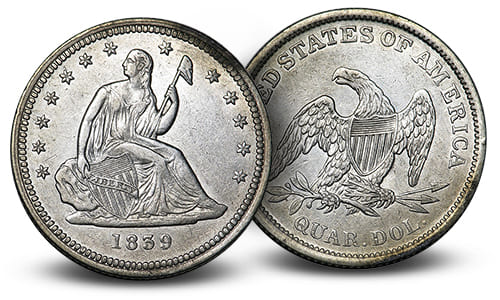 LIBERTY SEATED QUARTERS (1838-1891)
The Liberty Seated design was added to the collection of early quarters. Widely circulated upon its creation, the Liberty quarter was one of the most popular in its time because the design was seen as patriotic and gave a new sense of morale to the country. It was designed by famed designer Christian Gobrecht. These U.S. Silver quarters are popular with investors and collectors because of their rarity and design; the Liberty Seated design only saw seven modifications in its run in circulation. Several design years are available.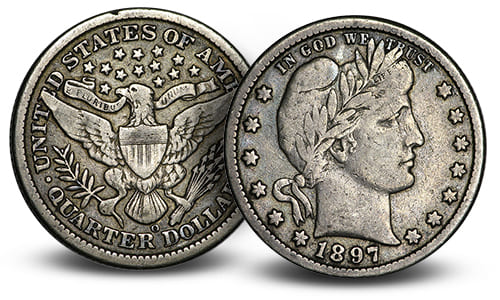 BARBER QUARTERS (1892-1916)
These quarters hold a unique place in history. A national contest was held in 1891 to design a 25-cent piece, voted upon by the public. No design was deemed worthy, but the Barber quarter was the quarter that emerged when the dust settled. These U.S. Mint quarters were part of American coinage in the latter part of the 19th century. Barber quarters look great in any numismatic collection.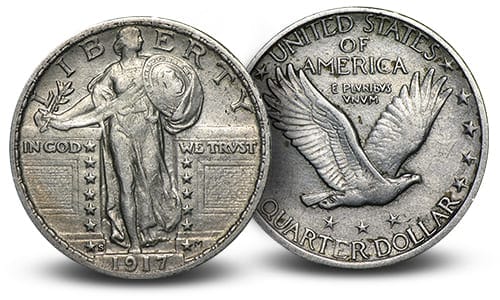 STANDING LIBERTY QUARTERS (1916-1930)
Standing Liberty quarters are significant because they featured a design that was seen as patriotic and metaphorical because it was designed in the early stages of World War I. The Silver quarter features Liberty holding a shield in defensive posture on the obverse and an eagle soaring high on the reverse. Mintage was low for this U.S. Mint quarter making it valuable and popular. The Standing Liberty is an important piece of American coinage. Undergoing minor revisions to the design, the Standing Liberty is popular with collectors.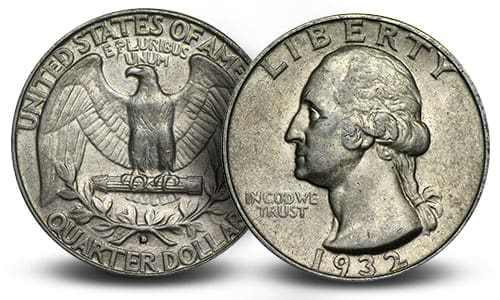 WASHINGTON QUARTERS (1932-1998)
Washington quarters are the quarters we are most familiar with. It was originally designed as commemorative quarters to honor the first president, but then became the most widely circulated and minted quarter to date. These quarters are highly collectible because they are so common to today's coinage. Designed by John Flanagan, a former student of Augustus Saint-Gaudens, Washington quarters are valued and collected all over the world.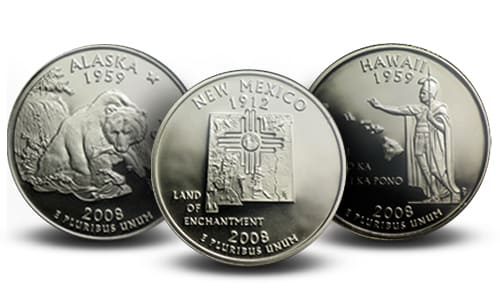 50 STATES QUARTERS (1999-2009)
Widely considered one of the most popular numismatic programs in American history, the United States Mint released commemorative quarters in honor of all 50 states. The 50 State Quarter program was designed to inspire a new generation of coin collectors. All 50 states are honored with a design that is unique to their state. Many Americans collect the set of all 50 states. Silver state quarters are a must-have quarter for any collection.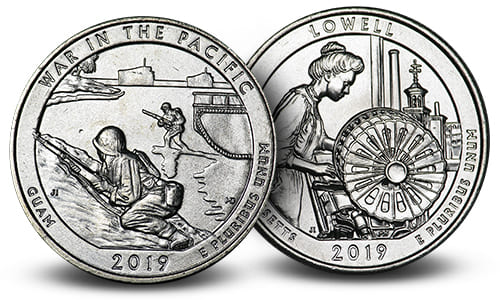 AMERICA THE BEAUTIFUL QUARTERS (2010-DATE) – NATIONAL PARK QUARTERS
These National Parks quarters encapsulate the tremendous views and scenes of various parks throughout the country. They are beautifully and wonderfully designed, giving collectors a glimpse into what makes the national parks so admired and revered by millions across the country.
Expand your collection today and shop our assortment of quarters here.