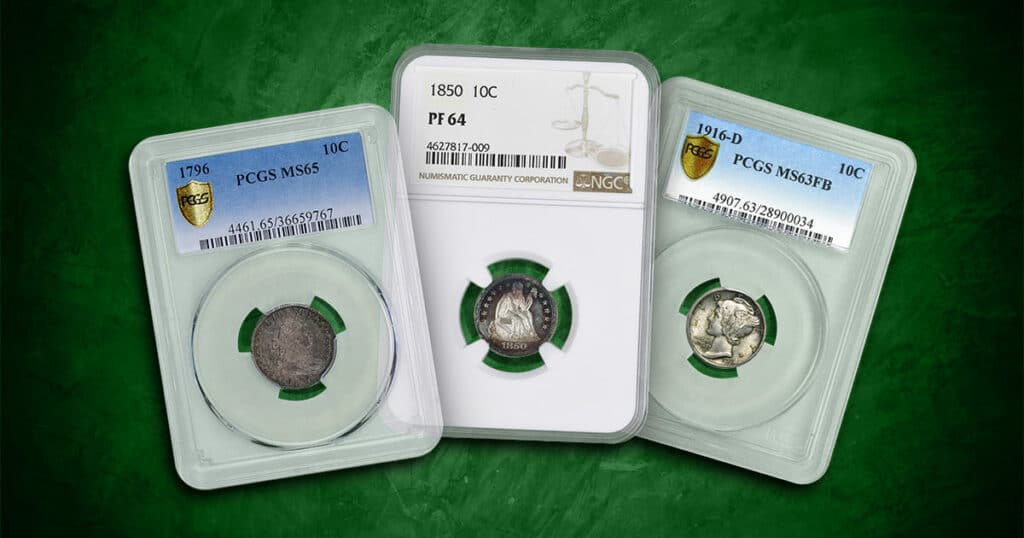 Dimes (Ten Cent coins) are popular coins even today. Although a dime cannot buy much in 2023, they remain important coins for commerce. And collecting silver dimes, which were issued between 1796 and 1964 is as popular today as it ever was. Some collections are worth real money, stretching into millions of dollars.
The first American silver dime was struck at the Philadelphia Mint in 1796. Only 22,135 coins were struck, and this coin is a rarity in virtually any grade. Even an About Good-3 (on a scale of 1 to 70) is worth over $3,000.00 – if you can find one. And a nice Uncirculated (Mint State) coin will be in the neighborhood of $40,000.00! But later coins are much more affordable and much more available.
The myriad of ways to collect this denomination is only limited by your imagination and your budget.
Let's review several ways people collect U.S. dimes to see which ones appeal to you.
The 'Mercs and Rosies' Collection – Includes the last two Silver Dimes series, Mercury Dimes (1916 to 1945) and Roosevelt Dimes (1946 to 1964), and it could be accomplished on limited means. The most expensive coins in the Mercury Series are the 1916-D, of which only 264,000 were struck with a starting price of around $1,200, and the two overdate coins – 1942/1 and the 1942-D/1. These overdated coins are close to $500 in well-circulated condition. The rest of the Mercury Dimes are all available under $10 per coin except for the 1921 and 1921-D, which start at about $75 each.
The Roosevelt Dime set is easily completed at less than $5 per coin, depending upon the price of silver. The three "Double Dates" (1960, 1963, and 1964-D) are $50 – $100 each, but they are NOT part of most collections.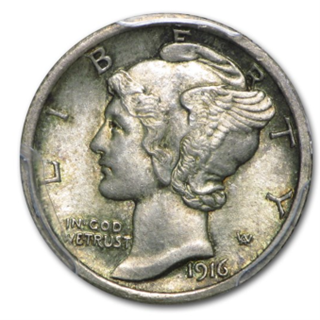 1916-D Mercury Dime, Rare, Obverse (left), Reverse (right).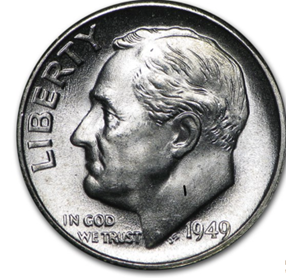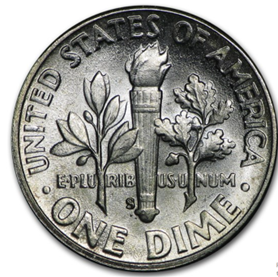 1949-S Roosevelt Dime, Obverse (left), Reverse (right).
The 20th Century Collection – Combines the two sets above (Mercury and Roosevelt) and all of – 1964, including all of the mintmarks. On the Barber Dime series, the 1901-S, the 1903-S, the 1905-O (Micro O), and the 1913-S are the only dates that will cost you $50 to $100. The other 48 dates and mintmarks are less than $10 each. That is a fun series to complete, and you can find some bargains in that series.
The Barber Dimes Collection – These dimes, named after their designer, Charles E. Barber, who was Chief Designer at the United States Mint, is part of a complete Barber series – including Dimes, Quarters, and Half Dollars. This series was struck from 1892 until 1916 and comprised a total of 83 coins. While eight coins are around $100 each in the 1892 to 1900 run, there is also one stopper. The 1894-S is a well-known American coin rarity. There were supposedly only 24 coins struck; of those 24 coins, only nine are known. Unless your budget includes a Million Dollar budget, the 1894-S is a dream more than a reality.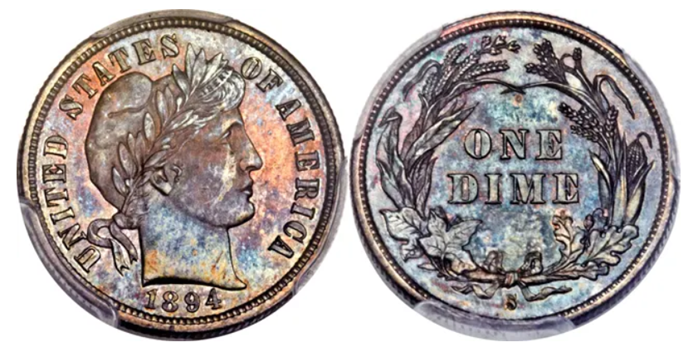 The Finest Known of the 24 1894-S Barber Dimes, Obverse (left), Reverse (right).
The Seated Liberty Collection – The series of Seated Liberty Dimes began in 1837 and were struck until 1891. These coins were designed by Christian Gobrecht, who was also a Chief Engraver at the US Mint. This series was inspired by the British coinage then-currently in circulation, with Britannia seated on a throne on the obverse.
This series encompasses several major design changes as follows:
Variety 1 – No Stars on Obverse (1837 to 1838)
Variety 2 – Stars on the Obverse (1838 to 1853)
Variety 3 – Arrows at Date (1853 to 1855)
Variety 2 – Resumed (1856 to 1860)
Variety 4 – Legend on Obverse (1860 to 1873)
Variety 5 – Arrows at Date (1873 to 1874)
Variety 4 – Resumed (1875 to 1891)
These different varieties often occurred due to the changes in the value of the silver in each dime in these coins. To differentiate between them, the dates were changed as was the design from the one immediately prior.
This is quite a daunting collection, with 127 dates, mintmarks, and major varieties. And, of course, some are difficult to acquire and expensive coins.
1841 Variety 2, No Drapery, Small Stars is reported but unconfirmed.
1859 Variety 4, Obverse of 1859, Reverse of 1860 is at least $10,000.
1873-CC Variety 4, may be UNIQUE, and last sold in 2012 for $1.8 million.
1890-S Variety 4, with a small "s" mintmark, may also be unconfirmed.
Beyond these rarities, a solid collection can be built, but it requires patience, time, and effort.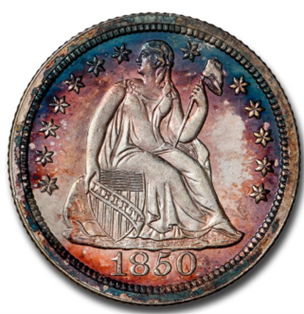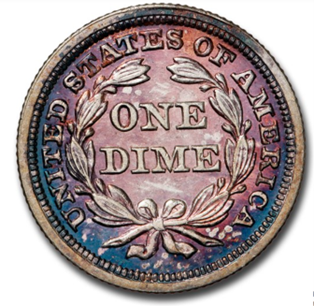 1850 Seated Liberty Dime, Proof-64, Obverse (left), Reverse (right).
Capped Bust Collection – The Capped Bust Dime series, designed by U.S. Mint Assistant Engraver John Reich, was struck from 1809 until 1837. These early coins are unusual in that the denomination is not stated in the usual "TEN CENTS," but rather it is expressed as "10 C."
There are two major types of Capped Bust Dimes. The coins issued from 1807 through 1828 are larger in diameter, so they are called the Large Type while those struck from 1829 through 1837 are called the Small Type. The size was changed to reflect the increase in the silver price, so the coin's diameter needed to be slightly reduced.
The Large Type Capped Bust Dimes are collectible, but there are many varieties – Overdates, Small Dates, Large Dates, STATES OF, Large 0, and other varieties. Some of these coins are very scarce and difficult to find. But a "date set" – one of each date is certainly doable. The toughest date, 1809, had only 51,065 struck and in the well-worn condition is over $1000. But that is a reasonable "stopper."
The Small Type Capped Bust Dimes have almost as many varieties – Small 10 C, Curl Base 2, Medium 10 C., etc. Even all the varieties are affordable, except one. The 1829 Curl Base 2, Capped Bust Dime, starts at $3,500 in well-worn condition. That is the only "stopper."
Overall, these coins are early, neat, collectible, and affordable. It is a fun date set to collect and enjoy.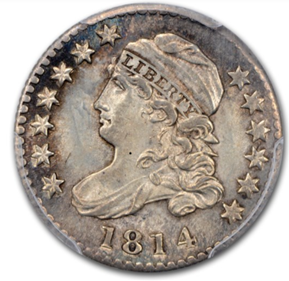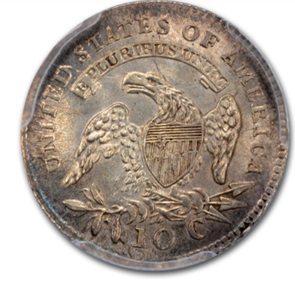 1814 Capped Bust Dime, Large Size Type, Obverse (left), Reverse (right).
Draped Bust Collection – This collection would include all of the earliest-struck dimes, from the very first silver American dime struck in 1796 to the final date of this series in 1807. These coins are veritable pieces of history, first struck during the administration of President George Washington. These coins were designed by the Chief Engraver for the US Mint, Robert Scot.
Two major types of Draped Bust Dimes – the Small Eagle Type struck from 1796 through 1797, and the Heraldic Eagle Type struck from 1798 through 1807. These coins do not display the denomination on either side of the coin – you would know the denomination due to the size of the coin. These coins tend to be fairly thin due to the minting process and the fact that the Mint tried to ensure that the coins only had ten cents of actual silver value when they were struck.
Like other early US coins, there are numerous varieties – 13 Stars, 16 Stars, Large 8, Small 8, 14 Stars, 4 Berries, and 5 Berries but all these early dimes are a bit more expensive. The earliest dates start at a couple of thousand dollars, and the later dates start at hundreds of dollars. But they are historic and fun to locate and collect.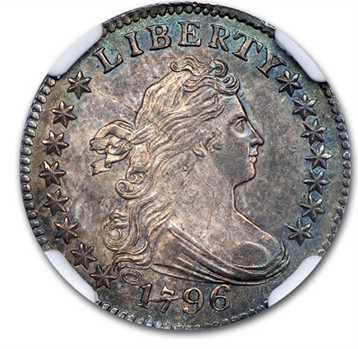 1796 Capped Bust Dime, MS65, Extremely Rare, Obverse (left), Reverse (right). $135,000
But these are not the only collections that you can actively collect. Some additional suggestions are:
One of each major type of dime – 14 different major types
One of the first years of each different type of coin.
One of the last years of each different type of coin.
One of each of the Mint State and one of each of the Proof coins for many types. Some early proof coins are extremely expensive due to the limited populations available.
The possibilities are endless. Find the type(s) of dimes you like and start collecting them. You will be amazed at how much fun the "hunt" for the right coin can be.
United States Dimes by Major Types
| | | |
| --- | --- | --- |
| First Year | Dime Type | Last Year |
| 1796 | Draped Bust Dime, Small Eagle | 1797 |
| 1798 | Draped Bust, Heraldic Eagle | 1807 |
| 1809 | Capped Bust, Variety 1, Wide Border | 1828 |
| 1829 | Capped Bust, Variety 2, Modified Design | 1837 |
| 1837 | Seated Liberty, Variety 1, No Stars Obverse | 1838 |
| 1838 | Seated Liberty, Variety 2, Stars on Obverse | 1853 |
| 1853 | Seated Liberty, Variety 3, Arrows at Date | 1855 |
| 1856 | Seated Liberty, Variety 2 Resumed | 1860 |
| 1860 | Seated Liberty, Variety 4, Legend on Obverse | 1873 |
| 1873 | Seated Liberty, Variety 5, Arrows at Date | 1874 |
| 1875 | Seated Liberty, Variety 4 Resumed | 1891 |
| 1892 | Barber (or Liberty Head) Dime | 1916 |
| 1916 | Mercury (or Winged Liberty Head) Dime | 1945 |
| 1946 | Roosevelt Dime | 1964 |