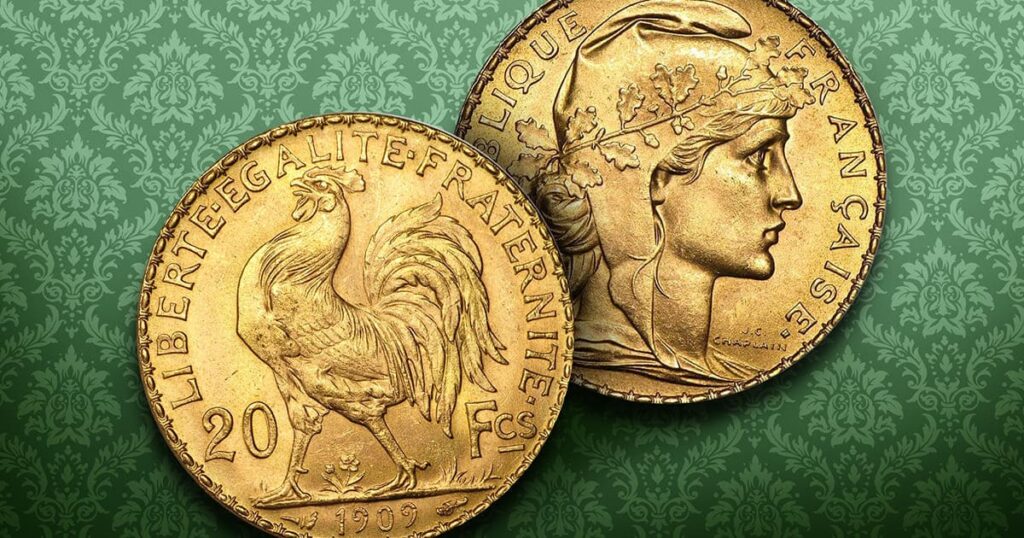 French 20 Franc Rooster gold coins made their debut between 1898 and 1914. Production stopped in 1914 because of the start of World War I. Coins dated from 1907-1914 were officially re-struck at the Paris Mint in 1921 and again from 1951-1960. They are easy to find because so many were minted in their production years, so people buy them for their bullion value. However, as a vintage coin that is no longer in production, it also has numismatic value.  
History
These beautiful gold coins were released during the French Third Republic. The legendary "Angels" and the well-known "Roosters" are part of an extensive collection known as Napoleon coins that were minted since the introduction of France's gold standard by Napoleon Bonaparte. 
Inspired by Napoleon I, the iconic "Rooster" gold coins were initially minted using Napoleonic coins as a base. Thanks to the gold standard, 20 franc coins had 6.45161 grams of gold with a purity level no less than .900. At this time, two denominations were minted–20 and 40 francs–though production of the latter was short-lived. Over the years, Napoleon coins were released in various denominations, including 5, 10, 50, and 100 French francs. Of these options, however, 20 franc pieces are more desirable among numismatists and investors. 
Design
Widely recognized since the Middle Ages as a symbol of faith and optimism, the Gallic rooster has been a beloved emblem of France throughout its history, representing its nation's progress. The iconic rooster, also called "le coq gaulois," is featured on the reverse. The obverse shows the right-facing profile of Marianne, the personification of France, along with the country's classical liberal values: liberty, equality, and fraternity. J.C. Chaplain engraved the designs on these coins. 
Value
These fractional gold coins have 0.1867 troy ounces, or 6.982 grams, of .900 fine gold. They are valued right around the spot price of gold since they are easy to acquire. Let's compare the 20 Franc Rooster with another gold coin that has a similar weight, the Czechoslovakian 2 Ducats. The 20 Franc Rooster contains 6.45161 grams, and the 2 Ducats contain 6.982 grams of gold. In the 20 Franc Rooster's first year of production, 1899, 1.5 million 20 Franc Roosters were minted. Whereas, in the 2 Ducats' first year of production in 1923, there were only 4,000 coins minted. The melt value of the 2 Ducats at the time of this writing is $406.90. In comparison, the melt value of the 20 Francs is $343.33.
APMEX has a random year AU 20 Franc Rooster listed at $371.58 at the time of this writing. NGC has an XF 1929 2 Ducats at the retail price of $2,000, showing that scarcity drives up the premium. This makes 20 Franc Roosters a more affordable gold coin to invest in, thanks to their abundance.