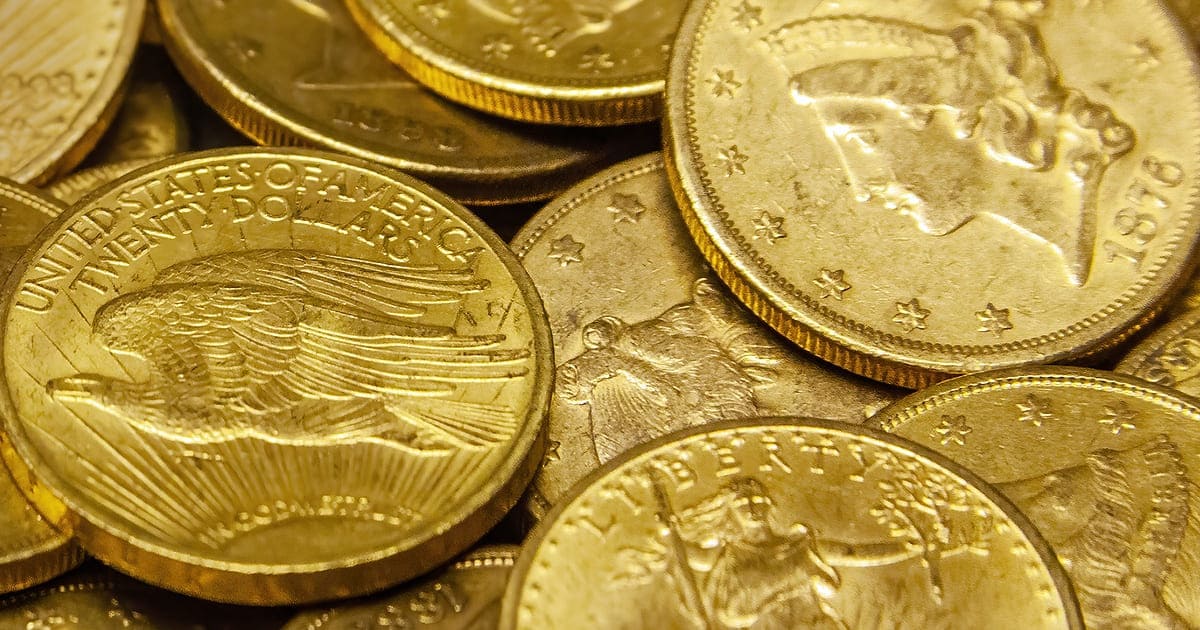 Learn How to Sell Your Gold Coins with This Guide!
You've got Gold coins to sell – and questions on the best way to get started. APMEX provides resources to make this process a little easier. We can help you identify some key points about how and when to sell your Gold coins, as well as what to look for in a trusted buyer. You'll also learn about some of the most common Gold coins and how to calculate the price you can reasonably expect to get.
Is It the Right Time to Sell?
Deciding on the right time to sell your Gold coins can be as much a personal decision as it is a financial one.
If you are investing in Gold and looking for the right time to sell in order to get the best return on your investment, bookmark our spot price page to keep up to date on the daily movements. If you have inherited or come across your Gold coins in some other way, ask yourself whether you're ready to part with them and whether it's the right time to let go of something that could be sentimental in the future.
Either way, the number one reason people sell their Gold coins is that they need to liquidate their investment. It could be to close on a house, to pay for your child's college tuition, or you might just want to splurge on yourself or your family.
APMEX recommends discussing the pros and cons of investing with a financial advisor or professional.
Bullion Vs. Numismatic
The first thing to find out is whether you are holding bullion or a numismatic product.
Sovereign Vs. Private Mints
The second thing you should look for is whether you have (Sovereign) government-backed currency or private mint bullion.
Sovereign mints are sometimes referred to as government mints or national mints. Products produced by sovereign mints are made for legal tender in that country. Oftentimes, there is face value associated with the product and an official legal tender status.
Private mints are privately owned and do not produce bullion for legal tender. With private mints, they make products with their own branding or designs, purity and metal content.
Gold coins are produced by sovereign mints and have a legal tender status associated with them. They can carry higher premiums over the spot price, due to collectibility.
Know the Bid Price Vs. the Ask Price.
Bid Price: Consumers can expect to receive the bid price when selling Gold to a dealer. The Bid Gold price per ounce is the current highest market offer to sell to a dealer.
Ask Price: Dealers will offer to sell Gold to you for the ask price. The current Ask Gold price per ounce is the current minimum price for a dealer to sell in the market.
Learn About the Most Popular Gold Coins to Sell
There are many Gold bullion coins that can be sold for cash. But if you're a novice or intermediate seller, we've compiled a list here that describes and demonstrates some of the most popular Gold coins sold back to dealers:
American Gold Eagles
An ideal expression of the American spirit and based on the famous design by Augustus Saint-Gaudens, the Gold American Eagle is instantly recognizable worldwide. Bearing a depiction of Lady Liberty striding in front of the sun on one side and American bald eagles nesting on the other, this iconic is available in several fractional sizes to fit any budget. The Gold American Eagle enjoys unparalleled recognition and ease of liquidity.
American Gold Buffalos
This gorgeous coin enjoys tremendous popularity largely because its artwork is a rendition of the famous 1913 Buffalo Nickel, by James Earle Fraser. Its obverse features the magnificent profile portrait of a Native American chief, while its reverse depicts a glorious American buffalo inspired by Black Diamond, the American bison that lived in New York's Central Park Zoo in the 1910s. The American Buffalo's .9999 fineness and instantaneous recognizability make it an excellent choice for any Gold enthusiast.
Canadian Gold Maple Leafs
Boasting both iconic beauty and innovative security features, the Canadian Gold Maple Leaf enjoys great international recognition and popularity. This coin is made of .9999 fine Gold and is adorned with a strikingly single maple leaf design. This coin is also available in fractional sizes, providing an accessible entry point into Gold investing for those with a modest budget.
Australian Gold Kangaroos
The Kangaroo series from The Perth Mint is a powerful symbol of Australia. Each iteration of the Australian Kangaroo Gold coin features a fresh depiction of a kangaroo in a different natural setting, making this series coveted by collectors. An exceptional coin made from .9999 fine Gold, the 1 oz Australian Gold Kangaroo is issued with a face value of $100 AUD and is considered highly collectible and generally liquid due to its notable mintage history and its fascinating, recognizable artwork.
South African Gold Krugerrands
The first Gold bullion coin in the world and a perennial favorite outside of the United States, the Krugerrand is generally one of the more affordable Gold coins on the market and is recognizable for its unique hue and depiction of a springbok antelope. More Krugerrands have been purchased than other 1 oz Gold coins available on the market. The Krugerrand contains .9167 fine Gold, with an alloy of 8.33% Copper to bolster the Gold durability.
Chinese Gold Pandas
Each year, the series bears a new image of the giant panda, the revered icon of China. The Chinese Gold Panda bears a weight designation of 30 grams, rather than 1 oz, and also boasts more limited mintages than many other bullion coins. Its unique size and low mintage make it an excellent consideration for any bullion portfolio and one of the most interesting coins for Gold investors.
Austrian Gold Philharmonics
This is the only Gold bullion coin issued in euros and it is guaranteed by the highly-respected Austrian Mint. One side features musical instruments appearing in the Austrian Philharmonic Orchestra, that great national treasure of Austria, while the other side showcases the Golden Hall in Vienna, the site of the orchestra's annual New Year's Day concert. Gold Philharmonics provides a great opportunity to branch into European coins.
British Gold Brittanias
These famous British coins have steadily increased their fineness and coins issued 2013 and later boast .9999 Gold fineness. This, combined with the Britannia's recognizability and the vast respect commanded by The Royal Mint, makes Gold Britannias an excellent value with good potential for liquidity.
Find a Trusted Buyer
Once you understand the value of your Gold coin, you must decide where to sell it. You'll want to find a reputable dealer that offers the best price.
Consider APMEX
Online Precious Metals dealers, like APMEX, can offer you better prices than local pawn shops or coin shops. Over the last 20 years, we've purchased over $1 billion in Precious Metals from people just like you. By selling to us, you can also avoid the high-pressure tactics and get paid fast.
If you are ready to sell your Gold coin, just follow the simple steps below:
Let's Talk
Let us know what you are looking to sell and in what quantity. Our team can also help you identify your products if you aren't quite sure what you have. If you have not already done so, create a free account and then call our experts at (800) 514-6318.
Lock-In Your Price
Once we have determined the product and quantity you want to sell, our team will quote you a price and lock in that price on the phone. Your transaction is locked at that time, so you are not at risk of market movement while your metals are in transit to APMEX.
Ship Your Gold Coins
When you utilize APMEX logistics, we will email you the necessary UPS shipping labels and complete instructions on how to securely package your product in a new, unmarked box. If these packaging instructions are not followed, we cannot guarantee your insurance will be fully covered in the event of damage or loss in transit. Once you have packaged your product, simply visit a UPS facility specified by APMEX or schedule a UPS pickup. Please keep in mind, UPS will not accept any packages that are not properly and securely packaged.
Get Verification
Once your entire order has made it to our facility, our Receiving team will verify the correct product and quantities, and use our best-in-class proprietary processes to authenticate each item. Our knowledgeable Numismatic team is on-site to assist in verifying collectible items as needed.
Get Paid
From the time we receive your full order to the time we send off your payment, we guarantee to process and release your payment by the next business day (restrictions apply). You can elect to receive a check, ACH or bank wire, or trade for a product we sell. Your shipping fees are deducted from your payment, so there is no out-of-pocket cost to you.
Request a Quote
We make it easy to sell your Gold, from locking in your price to getting paid. Start the process today by requesting a quote online.
By following these simple steps, selling your Gold coin can be a quick and easy process.
Learn more about selling Gold coins to APMEX.