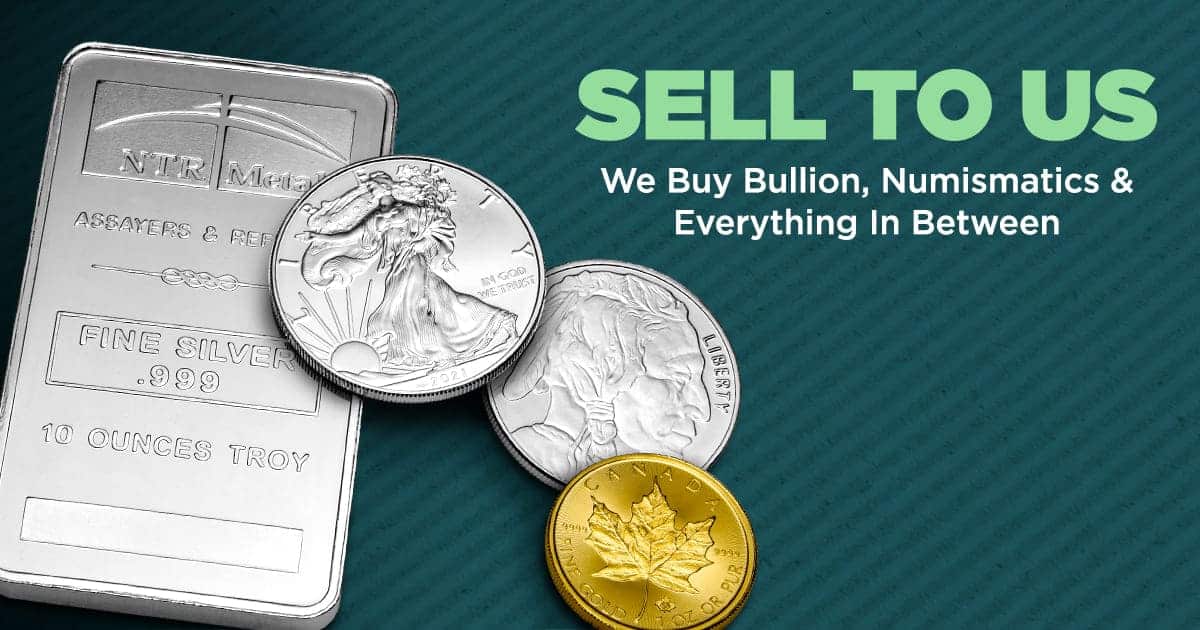 Ready to Sell Your Gold and Silver to APMEX?
If you have ever wondered who buys old coins, or perhaps you are curious who buys old coins near me? APMEX has you covered. As one of the country's largest buyers of bullion, numismatics, semi-numismatics, rare coins and currency, APMEX has purchased over $1 billion of products from the retail market.
Why Sell Your Gold and Silver to APMEX?
Selling your Gold and Silver to APMEX is easy. You can either request a quote through our online form or, if you are ready to sell your products, just follow our simple process.
APMEX Logistics
When you sell your product using APMEX logistics, you get the advantage of our exclusive relationship with UPS, which includes our discounted shipping rates. The expedited shipping times also mean you get paid faster.
Quick Processing & Easy Shipping
Selling through APMEX allows you to take advantage of our direct relationship with UPS, providing a fully insured logistics solution at our discounted shipping rate. As long as your product arrives as advertised and can be authenticated by our team, we guarantee to process your payment by the end of the next business day (restrictions apply). With our exclusive UPS relationship, orders are shipped Next Day or 2nd Day Air so we can start that process quickly.
Product Expertise
Our Purchasing department carries vast product knowledge and at any time we can consult our Numismatic team. This product expertise allows us to offer the best price for your product. APMEX also implements best-in-class propriety authentication processes to guarantee every product, both on the buying and selling side.
Broad Assortment
We carry the widest variety of products in the industry and are always looking to expand our selection. We buy bullion, numismatics, semi-numismatics, rare coins and currency, no matter where you bought from. As the largest online Precious Metals dealer in the country, we are able to make offers on more products than any retailer.
Competitive Pricing
We offer fair, market-driven prices that are locked in when your order is placed over the phone. To find out what you can expect to receive for your product, you can request a quote online at any time.
Step-By-Step Selling Process:
Contact APMEX
Let us know what you are looking to sell and in what quantity. Our team can also help you identify your products if you aren't quite sure what you have. Please keep in mind that our minimum buyback is $1,000.
Lock-In Your Price
Once we have determined the product and quantity you want to sell, our team will quote you a price. Your transaction is locked at that time so you are not at risk of market movement while your metals are in transit to APMEX. If you wish to trade for a product on APMEX.com, that can be discussed at this point.
Pack Your Product
When you utilize APMEX logistics, we will email you the necessary UPS shipping labels and complete instructions on how to securely package your product in a new, unmarked box. If these packaging instructions are not followed, we cannot guarantee your insurance will be fully covered in the event of damage or loss in transit. Please keep in mind, UPS will not accept any packages that are not properly and securely packaged. If you do not send in your product within two (2) business days of the order creation date or if you choose to cancel the transaction, you will be subject to our Market Loss Policy.
Please note: If you absolutely must re-use a box, make sure there is nothing indicating "hazardous materials" or "dangerous contents," as your package may not be fully insured by UPS.
APMEX Verification
Once your entire order has made it to our facility, our receiving team will verify the correct product and quantities and use our best-in-class proprietary processes to authenticate each item. Our knowledgeable Numismatic team is on-site to assist in verifying collectible items as needed.
Get Paid
From the time we receive your full order to the time we send off your payment, we guarantee to process and release your payment by the next business day. You can elect to receive a check, ACH or bank wire, or trade for a product we sell. Your shipping fees are deducted from your payment, so there is no out-of-pocket cost to you.
If you're ready to get started, call our experts at (800) 514-6318 (select option 2) and get paid fast. You can also request a quote through our online form.
Learn more about selling Gold and Silver to APMEX.