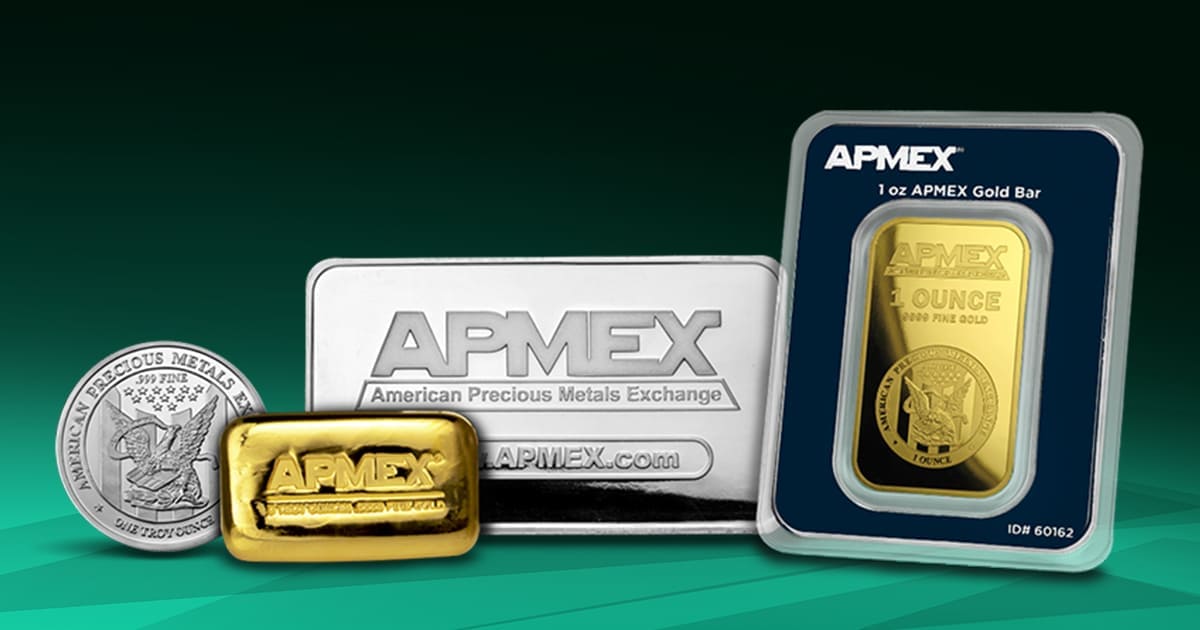 Use This Guide to Get the Most Precious Metals for the Money
How can you buy close to the spot price and really stretch your investment dollar? Here are some ways for you to maximize your capital and get the most bang for your buck in Precious Metals investing:
Decide Which Precious Metal Products Interest You
Bullion pieces such as bars and rounds generally command lower premiums, while coins can boast wildly different premiums depending on each specific item. A certified, mint-condition, rare coin, for example, is likely to have significant numismatic value and therefore a huge premium. Silver, Gold, Platinum and Palladium bullion rounds are available in bulk quantities and can typically offer the best value for your dollar.
Certified vs. Uncertified
It's entirely up to you whether you prefer Precious Metals that have been authenticated and certified by a third party or Precious Metals that are uncertified. However, it is important to be aware of the pros and cons of each choice.
Certified Silver and Gold bullion pieces are generally more valuable because they have been graded according to a standardized rating system and have been assigned a numerical grade. This third-party authentication adds value to Silver pieces, but it does increase the price you must pay for them.
Uncertified Silver and Gold bullion products are generally less expensive, but they also might not hold their value. In other words, if you buy Gold or Silver that was uncertified and then decide you want to sell it, you might not be able to get as much for your bullion as you paid for it.
If You're Not Sure About Something, Ask Questions
Don't be shy – Silver dealers and Silver websites want to make sure you are satisfied. If you have any questions about Silver bullion products or the Silver market as a whole, just ask! Chances are that your Silver dealer has been working in this industry for years and can answer all of your questions.
Stay Informed About The Market
Of course, Silver prices are constantly fluctuating, so you'll want to stay up to date on Silver market news. Fortunately, all the Silver dealers that we have the pleasure of providing Silver price updates on their websites, and most also offer email alerts for Silver.
You can follow the Gold spot price and Silver spot price easily on many websites. Carefully observe the price chart and time your purchases to your advantage. Know where Gold and Silver are trading before you buy.
The Silver spot price is a current estimate of the value of one troy ounce of Silver. The Silver spot price fluctuates based on supply and demand, as well as economic factors such as inflation.
When you read news about the Precious Metals' market, you'll learn about different market trends that could affect the price of Precious Metals in the near future. You can use this information to your advantage when timing Silver, Gold, Platinum and Palladium purchases, or deciding when to sell bullion pieces you already have.
Don't Expect To Get The Most Out Of Your Investment Right Away
Precious Metal prices can be very volatile, and Silver is no exception. Prices tend to rise and fall rapidly; Silver bullion pieces may jump or plummet in price overnight, so it might take a little time for your Silver purchases to really pay off. It's important to stay up to date with Silver prices if you hope to make the most of your investments.
Although Silver and Gold are an investment that many people like because it tends to appreciate over time, however, Precious Metals bullion will not climb in value overnight. Keep this in mind as you set Silver and Gold investment goals and determine when it is a good buy.
Cryptocurrency
No Silver market news would be complete without mentioning Silver's role in the new cryptocurrency boom. When BitCoin first came on the scene Precious Metals became one of its most widely held commodities by market participants. Silver and Gold are commonly purchased with BitCoin because it tends to have a low correlation to other assets BitCoin investors are holding, which increases portfolio diversification and helps mitigate risk.
Understand Any Fees That May Be Attached To Your Purchase
This is a crucial detail that buyers tend to forget in the excitement of making a purchase. What additional costs will you incur with your Precious Metal purchase? You may be charged for shipping and insurance on the package. You may even face a fee for paying by credit card.
Make sure you understand all fees attached to your transaction, as you must consider these additional expenses as part of the total purchase price of your Precious Metals. You can only compare bullion items side by side when you know the whole cost of an item.
Buy Metals In Volume If Possible
Many reputable companies offer significant per-ounce discounts when purchases are made in bulk. For example, on a product page, you will likely see a chart showing different price points based on the quantity you order. Just as it is with many everyday purchases, buying in bulk means you may pay a lower price per unit. This is a great way to help you get the most for your money when buying Precious Metals.
Look For Specials Or Sales From Your Retailer
Look for special deals from Precious Metals retailers, they could provide your ideal opportunity to acquire Gold or Silver for the absolute lowest premium price and help you get the most for your money. It's important to check Silver and Gold prices and Silver and Gold news frequently. You should also keep tabs on retailers' websites for sales and deals. APMEX has alerts and tools that allow you to stay up to date on deals, product restocks, and spot price changes.
Silver is one of the most affordable precious metals on the market today. You can invest in Silver bullion for as little as $10, which is why more and more people are turning to Silver for their savings needs. Whether it's Silver coins or bars, Silver has become popular with investors.
Think About Selling And Start Price Decreases
Be sure to consider what Silver items you might sell if the Silver spot price starts climbing quickly. This is another factor that should be considered before you purchase Silver bullion. Remember, Silver doesn't have any inherent worth beyond its value to collectors and investors. Silver coins and bars are only worth the Silver content value plus any numismatic value. If Silver bullion prices keep rising, you could easily turn a profit by selling your Silver items when you need funds.
Think About Taxes And Where You Plan To Hold Your Silver
Silver can be held in a Self-Directed IRA, which is a great way to buy Silver and Gold without worrying about holding costs. But if Silver bullion will be held in an IRA, you need to check with your custodian before making Silver purchases. You may want to invest in Silver that's exempt from capital gains tax or any other taxes that might apply. Some people might also consider Silver bullion as a home storage Silver to avoid the cost of safe deposit box rental fees.
Key Takeaways
Be sure to stay up to date on the price of Silver, Gold, and other Precious Metals you're interested in. Additionally, Precious Metal bullion comes in a wide range of sizes so it is best to start small and do what is best for your portfolio. It's important to check Precious Metals' prices and buy whatever metal is best for you and your budget before making any Precious Metals purchases.
Learn more about the Gold and Silver spot price.
APMEX recommends speaking with your financial advisor first to discuss the pros and cons of investing in Precious Metals and what makes the most sense for your financial goals.