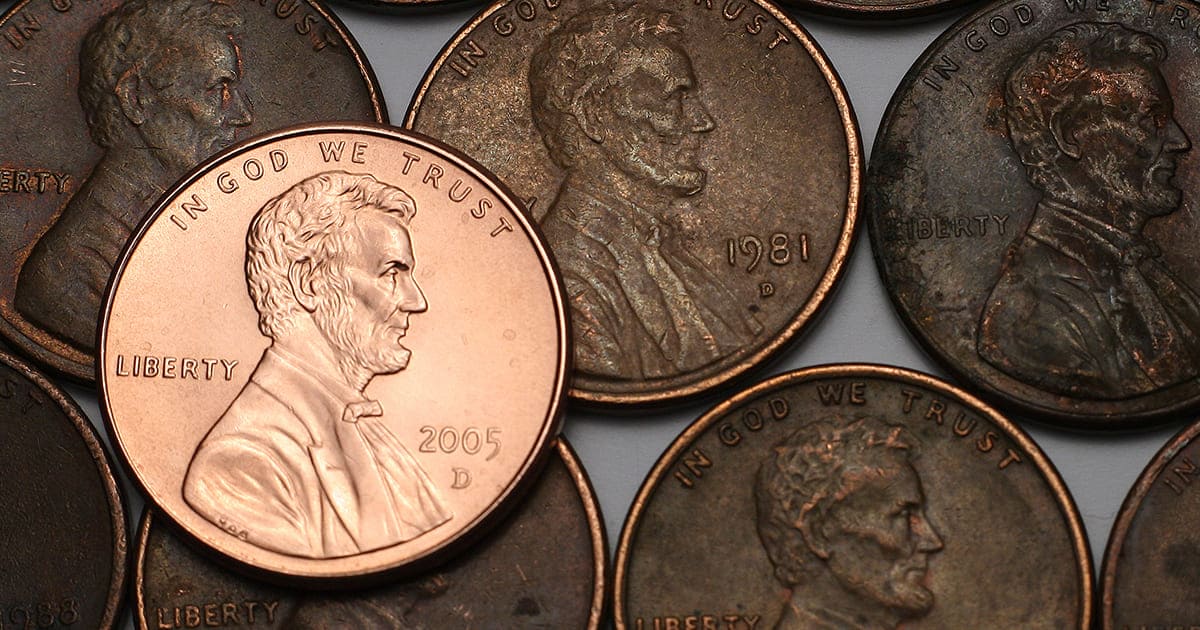 Henry De Saussure and the 1796-1805 Draped Bust Half Dime
The reaction to the "Flowing Hair Half Dime" was not mixed – at all. Seemingly no one, other than Robert Scot and some Mint officials liked the design and so this type of coin was ended after two brief years. What most people objected to was the "Flowing Hair' on Miss Liberty. Some thought it scary; others thought that it was undignified for our coinage.
One of the first objectives for the new Director of the US Mint, Henry De Saussure, was to redesign the Flowing Hair coinage. Wanting something radically different from what Robert Scot had previously provided, De Saussure turned to artist Gilbert Stuart. Stuart was becoming the preeminent portrait artist in early Federal America. Stuart's numerous portraits of General Washington were well known and widely appreciated. Two patrons of artist Stuart were Martha Washington and Mrs. William Bingham of Newport, Rhode Island. Both had ordered two full-length portraits of General Washington for their homes. De Saussure asked Stuart to submit sketches for a new vision of Miss Liberty. Stuart asked his friend and patron Mrs. Bingham to model for Miss Liberty and she did.
Robert Scot and John Eckstein took the sketches of Stuart's and, using Mrs. Bingham as the model for Miss Liberty, created a different and more appealing coin. Miss Liberty faced right and had the date below, the motto "LIBERTY" above and 7 stars to the right and 8 stars to the left. The reverse was essentially unchanged from the Flowing Hair style with an American eagle holding an olive wreath with "UNITED STATES OF AMERICA" around it.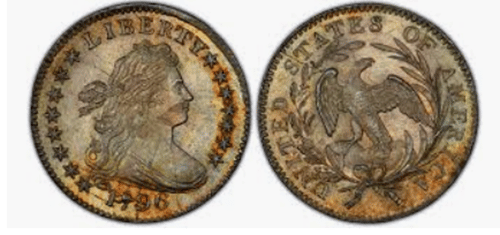 In 1796 only 10,230 coins were produced but that included a normal date, and over date of 1796/5 and a 1796 coin where the letter "B" in "LIBERTY" was actually a defective "R" that looked like a "K"- "LIKERTY." Then in 1797, a mere 44,527 coins were struck and there are 3 varieties among the stars. The first coins struck had 15 stars, 1 for each state in the Union. Later in the year, Tennessee became a state so a 16th star was added and finally a 13-star variety because the Mint realized it could not strike an attractive and aesthetically balanced coin if they were to keep adding stars to the design. It permanently became 13 stars from that point forward.

No Draped Bust Half Dimes were struck between 1798 and 1799 but production resumed in 1800. However, now the reverse American eagle design was in for a major renovation. This created the two major types of Draped Bust Half Dimes – the Small Eagle and the Heraldic Eagle. The Small Eagle (scrawny) was replaced by the Heraldic eagle as its wings are outspread, a shield in front of the eagle, and arrows and an olive branch are in the talons to demonstrate that America was ready for war or peace. Above the eagle are 13 stars with clouds above the stars. "UNITED STATES OF AMERICA" surrounds the design.
In 1800 24,000 normal coins and 16,000 of the LIKERTY variety were struck. Production dropped to 27,760 coins in 1801. The year 1802 was a very bad year for the Draped Bust Half Dime as only 3,060 coins were minted due to a silver shortage and production problems. 1803 saw two varieties – a large "8" and a small "8" in the 37,850 coins minted. No coins were struck dated 1804. In the final year of this design, 1805, 15,600 coins were minted. There were to be no more Half Dimes until 1829.
Although the half dime was an important coin in the commerce of the country, yellow fever in Philadelphia and poor mint strikings combined to limit the production of these important coins. Expand your collection and shop our array of rare coins and currency today.
| | | | | |
| --- | --- | --- | --- | --- |
| Date | Type | Mintage | Fine Value | Unc Value |
| 1796 | Draped Bust, Small Eagle | 10,230 | $4,000 | $18,000 |
| 1796 6/5 | Draped Bust, Small Eagle | Included | $4,500 | $28,000 |
| 1796 LIKERTY | Draped Bust, Small Eagle | Included | $3,950 | $18,000 |
| 1797 15 Stars | Draped Bust, Small Eagle | 44,527 | $4,000 | $18,000 |
| 1797 16 Stars | Draped Bust, Small Eagle | Included | $4,000 | $17,500 |
| 1797 13 Stars | Draped Bust, Small Eagle | Included | $5,000 | $45,000 |
| 1800 | Draped Bust, Heraldic Eagle | 24,000 | $2,500 | $14,000 |
| 1800 LIKERTY | Draped Bust, Heraldic Eagle | 16,000 | $3,750 | $17,500 |
| 1801 | Draped Bust, Heraldic Eagle | 27,760 | $3,500 | $18,000 |
| 1802 | Draped Bust, Heraldic Eagle | 3,060 | $85,000 | $400,000 |
| 1803 Lg & Sm 8's | Draped Bust, Heraldic Eagle | 37,850 | $2,750 | $19,500 |
| 1805 | Draped Bust, Heraldic Eagle | 15,600 | $3,000 | $60,000 |
The holiday season is almost here and it's time to think about showing our loved ones how much they mean to us. If you are looking for Black Friday numismatic deals, your search is over. At 11:00 PM EST on Friday, November 25, shop hundreds of ancient and rare coins, collectible notes, and currency on sale. Don't wait- this numismatic savings event will end at 11:00 PM EST on Sunday, November 27th.