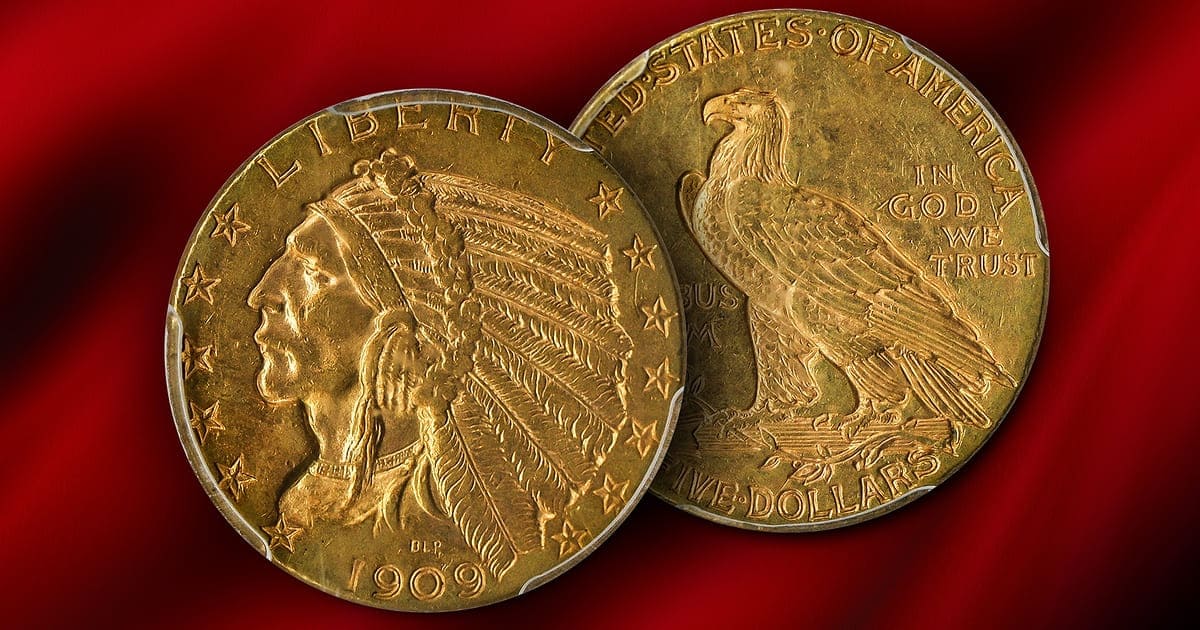 Saint-Gaudens and the 1908-1929 $5 Gold Indian Head
These coins were designed under the authority of President Teddy Roosevelt who, at the beginning of the 20th Century demanded that our boring and unartistic coinage get a make-over. Roosevelt sought out his friend Augustus Saint-Gaudens to redesign all of our gold coinage ($2.50, $5.00, $10.00 and $20.00) as well as the One Cent pieces.
But Saint-Gaudens was ill and nearing the end of his life. He created the $10.00 Gold Indian Head and also his masterpiece, the $20.00 Saint-Gaudens Double Eagle gold coin. By the end of 1907, both the $10.00 Gold Eagle and $20.00 Gold Double Eagles were already in circulation. The Mint had wanted to take Saint-Gaudens $20.00 Double Eagle design and strike it in smaller $2.50 Quarter Eagle and $5.00 Half Eagle sizes. But President Roosevelt didn't want that. He wanted new designs.
Roosevelt suggested to US Mint Director Frank Leach that on small coins if the designs were lower than the background, they would give a high relief effect to the viewer. Such coin and medal designs were already being experimented with by Boston Sculptor Bela Lyon Pratt! Pratt was pressed into service and created these new incuse design coins. The Mint's Chief Engraver, Charles E. Barber tinkered with the designs until the Mint was happy with them and they were easily reproducible.
Pratt's design was iconically American, with a male Indian (instead of Miss Liberty) wearing an Indian headdress and facing left. There were six five-pointed stars in front of him and seven five-pointed stars behind him. The word "LIBERTY" was above him and the date was below him.
The reverse was dominated by an American eagle also facing left. "UNITED STATES OF AMERICA" surmounted the coin, "E PLURIBUS UNUM" was in front of the eagle while "IN GOD WE TRUST" was behind the eagle. The eagle is standing on a bunch of arrows and holding an olive branch in his left talon.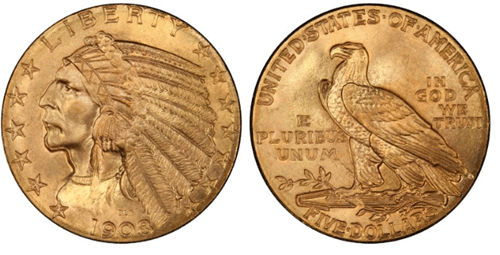 This coin and its $2.50 counter-mate are the first two American coins ever to have an incuse design. They met the requirements of commerce as they stack well but also their appearance pleased Roosevelt since their appearance gave the impression of a high relief design – exactly what Roosevelt wanted!
In the first year, 1908, the Philadelphia mint struck 577,845 coins, while Denver struck 148,000 and San Francisco struck 82,000 coins. Coins were struck between 1908 and 1916. After 1916, which was only struck at the San Francisco Mint, production ceased as all gold and silver coins were being hoarded by the public due to World War I. No further coins were produced until 1929, and nearly all of that date were recalled and melted due to the economic recession that was in full swing.
| | | | | |
| --- | --- | --- | --- | --- |
| Date | Type | Mintage | Very Fine Value | Unc Value |
| 1908 to 1916-S | Indian Head Type | 1,416,000 to 164,000 | $400 | $1,500 |
| 1909-O | Indian Head Type | 34,200 | $5,000 | $90,000 |
| 1911-D | Indian Head Type | 72,500 | $750 | $42,000 |
| 1929 | Indian Head Type | 662,000 (Most Melted) | $20,000 | $50,000 |
Expand your collection today and shop our assortment of $5 Indian Half Eagle Coins (1908-1929).