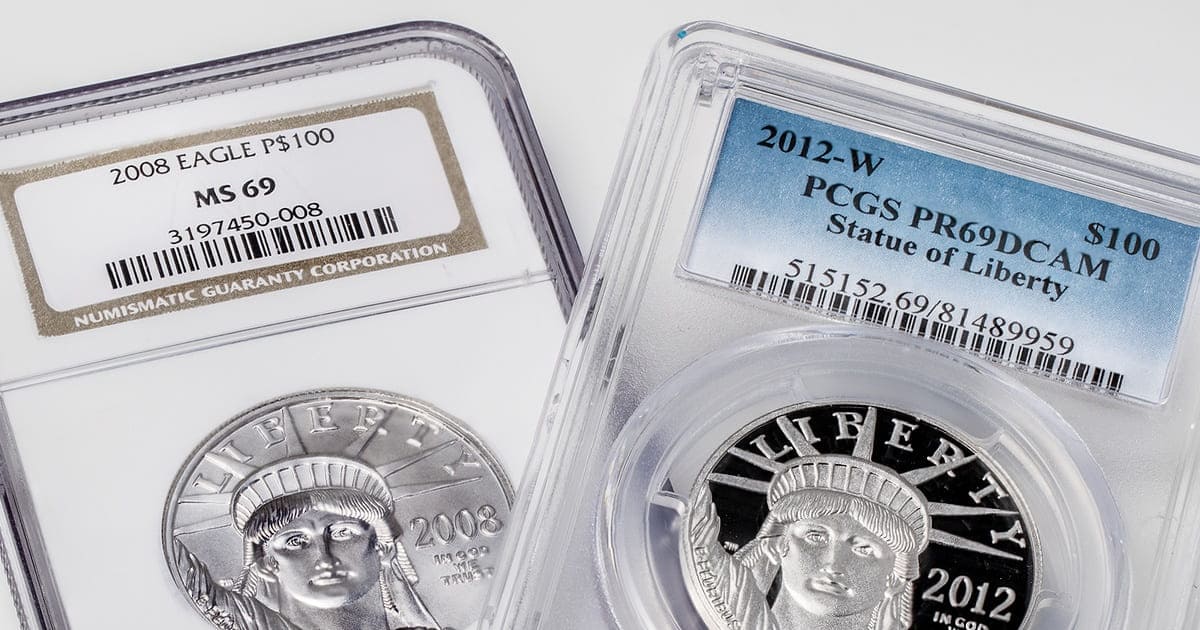 Do PCGS and NGC Graded Coins Make Good Investments?
The Professional Coin Grading Service (PCGS) and the Numismatic Guaranty Corporation (NGC) are the two most important, independent, third-party coin grading services worldwide. Every coin submitted for grading is first authenticated to ensure the coin is genuine. Then each coin is closely examined to make certain that the coin has not been cleaned or enhanced in any way.
Each coin is independently graded by a minimum of three world-class expert graders. At least two of them must agree on the coin's state of preservation by assigning it a numerical grade. NGC and PCGS work hard to ensure that every coin they deliver is impartially graded. None of the graders know who the owner of any coin happens to be. NGC and PCGS strive to be the best and completely impartial – they do not financially benefit by assigning a higher grade to any coin.
When you purchase a PCGS or NGC coin, you can be sure that the coin's grade and quality are guaranteed. These companies use the industry-standard Sheldon grading scale, which represents a coin's state of preservation numerically from 1 to 70, with 70 being a coin in perfect condition. There are several reasons why these coins can make good investments:
Provides peace of mind for beginning and experienced collectors, as well as all investors.
As a coin collector, you may understand coin grading. But you wish to maximize your profits and the value of the collection. Owning PCGS or NGC-graded coins guarantees the determination of the exact grade and quality of the coin has been made. In addition, any concern about a coin's authenticity is removed.
As an investor, you do not need to spend countless hours determining the authenticity and condition of any coin you wish to add to your portfolio. It has been done for you by NGC and PCGS and their grading is accepted as the industry standard.
Encapsulated and guaranteed for your protection.
Not only is your coin grade guaranteed, but it is delivered to you encapsulated for protection while in storage or on display. Guarantees are important in shipping rare coins because the majority of the coin's value lies in its state of preservation.
Rare Coins are a distinct and separate asset class from Socks, bonds, or other traditional investments.
Rare coins are similar to other tangible asset investments like diamonds, fine art, or antiques, but rare coins are much more liquid, and the market for these assets is growing at a phenomenal rate. In addition, rare coins and gold and silver bullion tend to move contrary to the movements of stocks, bonds, and mutual funds. That can provide stability in times of stock market manipulations.
Rare Coins are private investments and can easily be handed down to the next generation.
Unlike stocks, bonds, and mutual funds, there is no reporting by the selling dealer to the government on your holdings. Only you and those you choose to tell know about your investments.
When selling, PCGS or NGC-graded coins bring substantially higher returns.
Selling NGC coins or PCGS coins commands higher prices than uncertified coins due to the guarantees offered by these grading services and industry-wide recognition of the acceptance of their stated grades. Liquidity for PCGS and NGC-graded coins is far superior to that of uncertified coins.
The Rare Coin Market is stable, dependable, and has drawn the attention of investors worldwide. Can they be a good investment?
Rare coins have been collected since Roman times. Gold has been a store of value for over 5,000 years. Throughout man's history, collecting coins has been considered the "Hobby of Kings."
But today's grading services make buying choice rare coins at all budget levels easy. From the record price paid of $18.9 million for an extremely rare 1933 $20.00 Gold Double Eagle to coins costing less than $500, rare coins are affordable
PCGS created its Index of Rare Coin Values, called the PCGS 3000 Fund. An investment of $1,000.00 in selected rare coins in 1970, would be worth over $71,000 in September of 2022.
Even Wall Street has reluctantly given rare coins their due as this recent article by MarketWatch will attest: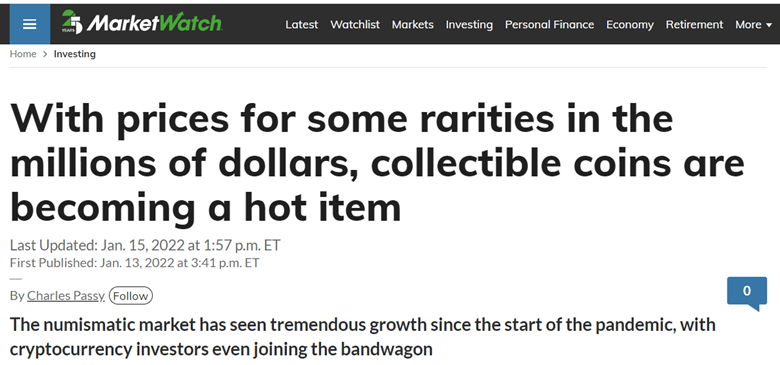 In our opinion, rare coins may help diversify an investment portfolio containing stocks, bonds, mutual funds, and other traditional investments due to their ability to attract investors as a "safe haven" when the more traditional investments tend to be volatile in times of economic uncertainty.
APMEX recommends discussing the suitability of any investment with your tax and investment professionals.