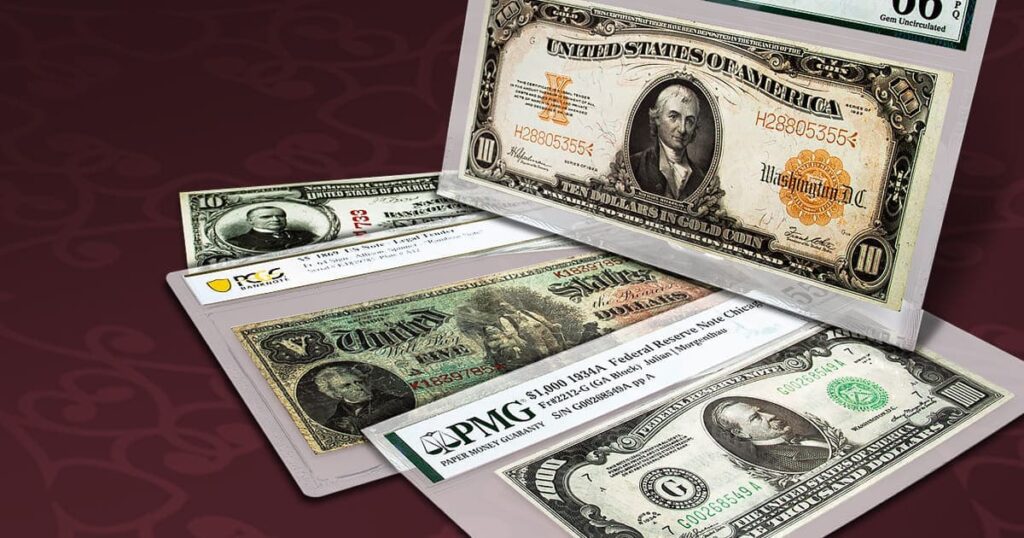 Ready to Start Collecting Currency?
Coin enthusiasts and investors pay attention to the happenings of the coin world and think a great deal about Precious Metals and numismatic coins. However, there is another facet of collecting that goes hand-in-hand with numismatic coins — currency. Catering to our customers' varied interests is important to us at APMEX. Our commitment to diversifying our inventory and offering the best possible selection means that in addition to Precious Metals products, APMEX carries a wide assortment of currency items. We are pleased to offer many popular and accessible currency items as well as elite collectibles for the discerning archivist.
No matter if your interest lies in Federal Reserve Bank Notes or in Colonial Currency, APMEX has a product that is right for your collection. When you're collecting for fun, a big part of that fun is the hunt! Browse through our large inventory for the exact piece of currency you desire. Perhaps you're starting out small and looking at $1-$10 Silver Certificates. Compile those notes by type or block letter and make a set. The thrill of finding the right piece is a joy every collector can relate to. Best of all, shopping with APMEX allows you to enjoy that thrill from the comfort of your own home or while on the go.
Another exciting aspect of collecting currency is the beauty of the notes themselves. The fine art of engraving is at its best on many pieces of currency. The ornate designs and detailed scenes are truly works of art, but they are art that can be had for a modest sum and held in your hand. If you appreciate the beauty of fine engraving, you will admire the bright and intricate artwork on so many currency items in our selection. For example, the central portrait of Michael Hillegas, first treasurer of the United States, on this 1907 $10 Gold Certificate XF-40 PMG possesses a delicate quality that would not be out of place under the brush of a fine miniaturist. The fun of owning art like this is a pleasure.
Of course, we could not overlook the fun of owning a piece of history. Currency items are part of our living history. The expression, "if these walls could talk" applies in a roundabout way to currency. A family might have bought groceries or paid a doctor's bill with that currency. It could have passed through a hundred hands at the tavern, the tailor, the bank and the livery. Tangibility is an underrated connection with history that can easily be sought with currency.
Further, any history buff would delight in possessing a piece of currency featuring a favorite historical figure or representing a particular era. The possibilities are limitless. A piece of currency from a particular year or state might perfectly celebrate achievement in a historian's education or career.
We at APMEX revel in Precious Metals. At the same time, we want to remind you that collecting currency can be fun, too. Expand your collection today and shop our assortment of currency.
If you're searching for Black Friday deals on currency and collectible notes, rejoice! The APMEX numismatic savings event begins on Black Friday at 11:00 PM EST and you'll find hundreds of rare coins, ancient coins, currency, and collectible notes on sale.