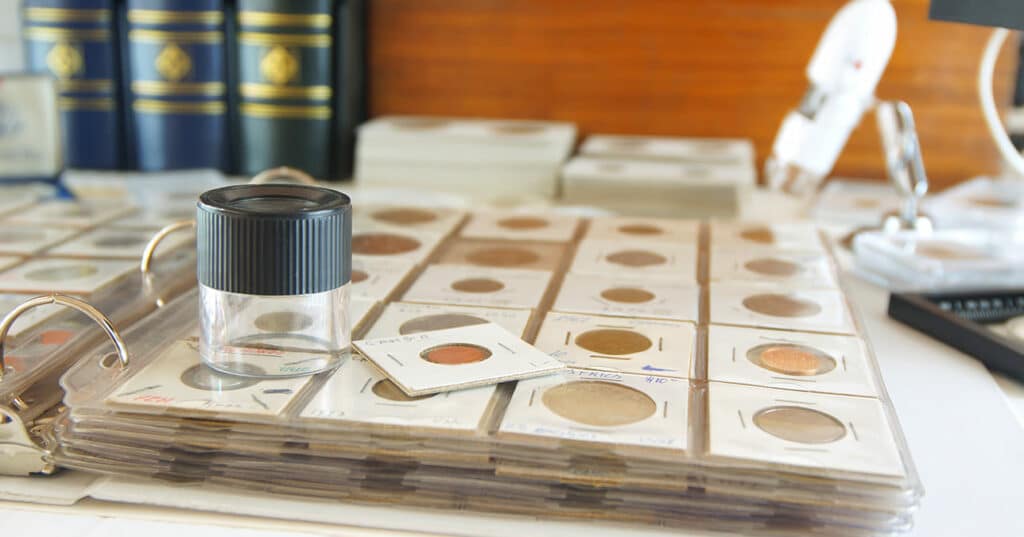 Coin collections and bullion accumulations are valuable assets, and you want to keep them as safe and secure as possible. Coin collections stored in albums and bullion accumulations, especially of silver, can be pretty cumbersome. So, what are the risks that you are possibly insuring against?
Some of the risks are:
Theft, of your complete collection, missing coins, or bullion items
Damage through natural disasters- fire, flood, tornado, etc.
Damage through careless handling
Unexplained losses
As a collector, you like having your collection to review and 'work on' whenever you have the time. But your collection becomes more complete and more valuable, and so does your risk.
Some collectors store their coins and bullion in a home or gun safe. There are benefits and detriments to doing so. One benefit is access to your collection 24/7. Whenever you want to see your collection, you can. The downside is that unless your home is fully alarmed and the safe that you are using is very heavy and very secure and cannot easily be removed, your coins are at risk of theft. Perhaps no one knows that you have a coin collection in your home, but is there coin-related mail that is delivered to your home? Do you routinely get CoinWorld, COINage, The Numismatist, or other trade publications delivered to your home? Do you ever buy coins or bullion and have them delivered to your mailing address? More people may know about your collection than you think.
You can ask your insurance agent, from whom you hopefully have apartment or homeowners insurance, about adding a 'rider' to your insurance policy to protect your collection. To get this insurance you may have to complete an inventory or advise the company of coins in your collection of a specific value and all of the bullion items. You may also need to disclose where and how you store the collection so the insurance company can assess their level of risk and determine the cost to you. Many insurance companies offer 'riders' for expensive jewelry, artwork, or collections. It is not cheap but you can sleep better at night knowing you have some financial protection.
Another option for obtaining insurance is to join the American Numismatic Association (ANA) (https://www.money.org/) as a collector. One of the benefits (and there are MANY) is group collection insurance. As part of a group (the ANA), your rates are generally lower than if you bought insurance on your own. Currently, the ANA offers discounted collection insurance through insurer Hugh Wood International for collectors at a discounted, group rate (https://hwinternational.com/us/). Again, I am certain that they impose some requirements and restrictions, but your collection will be insured for loss. The savings on insurance alone are often cheaper than the annual membership fee that the ANA charges.
A simple Google search will also reveal a number of other insurers who offer collection insurance and it is never a bad idea to compare rates, options, and requirements before making a decision.
Alternative options for securing your coin collection
Another safe and secure storage option is to store your collection in a bank-safe deposit box. These boxes are highly secure, guarded by a steel vault, locked boxes, and high-security measures. However, banks tend to find reasons to eliminate safe deposit boxes from many branches. In addition, banks have numerous rules and regulations about what can be stored and what they do not want you to store within their safe deposit boxes. Some banks do not want to store cash or bullion items. These rules are also subject to change at any time and without prior notice.
Additionally, bank lobby hours are being shortened at many locations so it might be a hassle to try to get your coins out when YOU want them. Safe deposit box fees have continued to increase at certain banks so check costs and availability with several local banks to compare benefits. Unlike bank checking or savings accounts, the contents of safe deposit boxes are NOT covered by the bank's FDIC insurance. Since they do not know what you store in their boxes, they can't/won't/are unable to insure those contents. But, bank safe deposit boxes offer extremely secure storage, so insurance from collection insurers or your favorite insurance company is lower once they understand that your collection resides in a bank. Also, banks are closed on many holidays, so access may be limited.
There are also companies that offer private safe deposit boxes. These companies offer storage for a fee, but they generally are much more generous with their access. Often, these companies will set up in an old bank's prior locations and use those same vaults. Many have added racks of additional safe deposit boxes inside their vaults and offer extended hours to make their services attractive. Some have excellent locations and security – others offer less, so compare, compare, compare.
Likewise, there are bullion depositories that will store your bullion items for you for a fee. Many will not accept rare coins for storage but widely accept bullion items. APMEX, for example, has a wholly-owned subsidiary called Citadel Global Depository Inc. which will store your bullion items at a Brinks depository. For only 55 basis points, based on the value of your holdings, Brinks will securely store your items in one of their massive vaults while Citadel offers you portfolio management tools to monitor the growth of your holdings. One of the best reasons to consider this is that all items stored at Brinks through Citadel are fully insured. Your items are safe and secure, and Brinks is fully responsible for their security.
You now have myriad options to consider for protecting your coins and bullion. Whatever you chose, do not put your assets at risk. A theft or natural disaster can strike at any time and without warning, so protect your collection and get it insured today!