Toning refers to the coloration of the coin. It is sometimes a result of chemical or natural reactions on the coin. Artificially toned and naturally toned coins are different by way of value. When dealing with toned coins, it is important to determine if the toning is natural or artificial. It's also important to understand that toning is not equal to corrosion or decay.
Seeing the Difference of Toned Coins
No matter how you feel about toning, all of the reputable coin-grading companies refuse to grade artificially toned coins, instead assigning those coins a 'details' or net grade. People do fake the color of the coins for various reasons. One instance is when toning is used to bolster the color of the coin or bullion. Other reasons are to give the appearance of natural toning in hopes of expanding the value of the coin.
While many numismatists can spot the differences between an artificially toned coin and naturally toned coin, there is still abuse from those who want to tone coins artificially. There are a variety of ways to tell the difference in coins.
This is a good example of a naturally toned Morgan Dollar:
An example of an artificially toned Morgan Silver Dollar: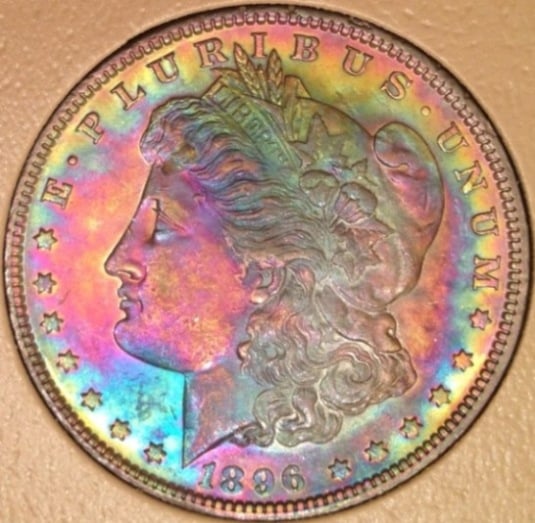 The differences between the two are stark, but this is just one example of the differences between both tones. The artificially toned coin has a varied and deeper color pattern than the natural coin. With a naturally toned coin, the colors blend into each other more smoothly.
Other Ways to Tell the Difference Between Artificial and Naturally Toned Coins
Here are some characteristics of an artificially toned coin that you will not find on a naturally toned coin:
The toning has bright colors, as you would find in a box of crayons.
Toning appears to "float" on the surface, rather than having greater depth.
The toning appears yellow-brown or smoky. This indicates the use of cigar or cigarette smoke, common among artificially toned coins.
The toning occurs over hairline marks.
With practice, collectors can tell the differences between naturally toned coins and artificially toned coins.
Expand your collection today and shop our assortment of rare coins and currency here.