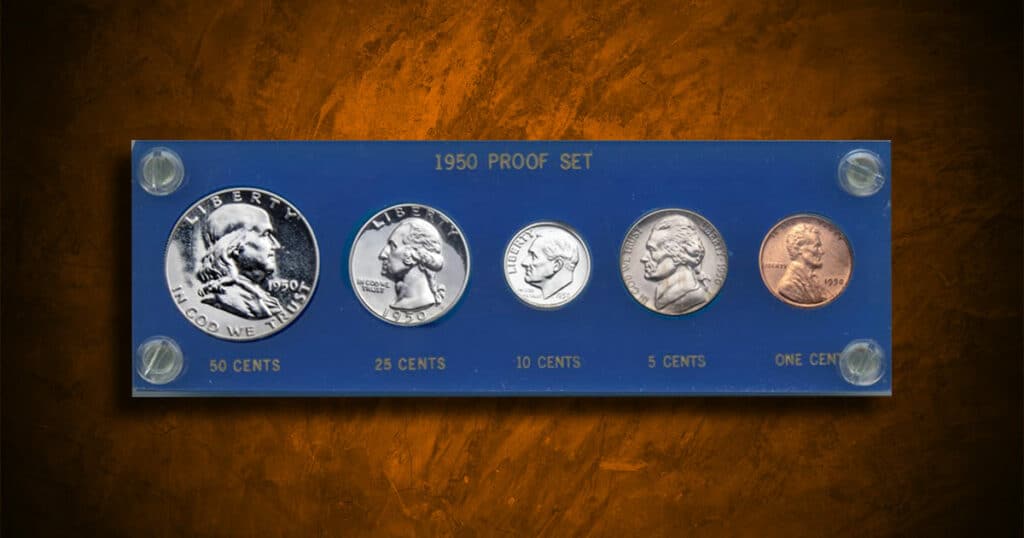 The United States Mint Proof Coin Sets
A "PROOF COIN" as struck by a United States Mint facility is a coin that is struck specifically for collectors, and it is not intended for general circulation. It receives some special attention – either a stronger than normal strike, strike on a specially polished planchet, or receives some special type of handling. Proof generally refers to a coin's method of manufacture and NOT the coin's grade. A Proof-65 coin is not closer to perfect than a Mint State-65 coin. Beginning collectors often confuse this and inadvertently think that if a Mint State coin is exceptionally nice, it could be graded as Proof. This is never the case. Proof coins are generally struck with a higher amount of pressure in order to make the designs as strong as possible. Modern Proof coins also have more protective and attractive packaging than uncirculated coins, which are often stored and shipped loose in bags, causing all kinds of marks during transit.
Proof Coins have been struck by the United States Mint since the early 1800's (some sources state 1817 as the first year, other sources state 1818). But through the 1830s many Proof coins were struck by the Philadelphia Mint. Proof coins struck prior to 1836, when the US Mint technology became stronger with the advent of coinage presses driven by steam power rather than by manpower, may be difficult to discern. After 1836, most Proof coins are much better struck than their Mint State colleagues.
As coin collecting increased in the United States in the 1850s, many advanced collectors would write to the Mint in Philadelphia and ask them to provide them with Proof versions of not only current coins, but also some prior issues. Generally, the Mint had no problem striking Proof coins, even back-dated ones. The Mint would be especially accommodating if the collector happened to have some coins that were not present in the US Mint's collection and were willing to trade those desirable specimens for other Proof coins. Pre-1858 Proof coins are generally very scarce and have miniscule mintages.
By the 1850s the Mint would TYPICALLY strike a small number of Proof examples of the current circulating coinage. Only the Philadelphia Mint would ever strike any Proof coins was the general rule until 1968. Occasionally, a "Branch Mint Proof" of an 1800's issue would command a huge price even in lower quality. These Branch Mint Proofs are very, very rare. Between the 1850s and about 1916, the Mint offered Proof coins on request. Starting in 1917, the Mint stopped striking Proof coins in general, due to a lack of interest from the public.
Beginning in 1936, the United States Mint once again began to strike proof coins for collectors and sold directly to the public them in sets containing one denomination of each current coin. During 1942, the metallic composition of the nickel coin changed from copper and nickel to Silver and manganese as nickel and copper were required for the war effort. During the 1936 to 1942 period, the Philadelphia Mint would sell each Proof coin separately or as a set. The coins were shipped to collectors in tissue paper and in mailing envelopes. The coins are often certified today in order to keep the set together, but they often are graded at different grade levels and the values may vary widely.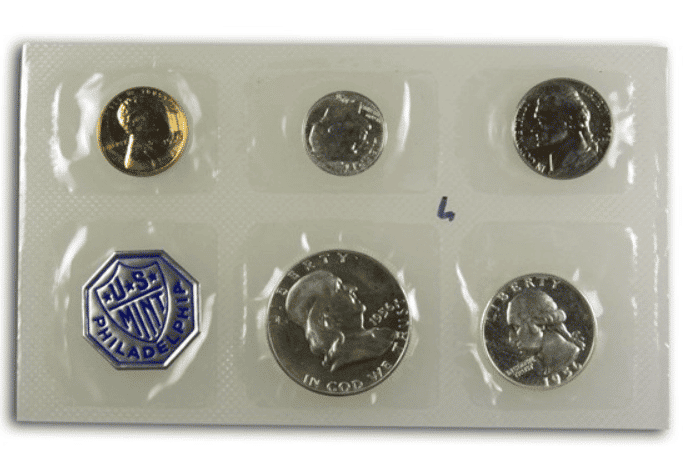 (A typical 1936 U. S. Proof Set – note the disparity in grades from Proof-62 to Proof-66.)
But in 1950 the Mint began selling complete "Proof Sets" – comprised of one of each denomination. These coins were individually wrapped in cellophane and mailed in a small cardboard box in hopes of keeping the coins together.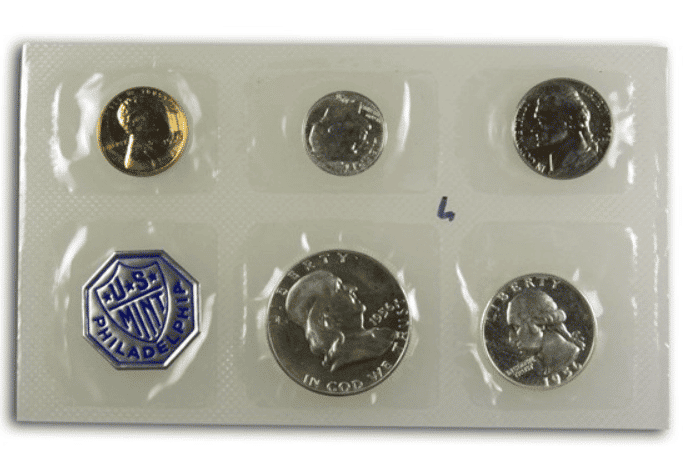 (A 1950 – 1955 U.S. Proof Set in original box.)
From 1956 to 1964, the United States Mint struck proof sets and sealed one coin of each denomination is see-through Pliofilm – a type of clear, flexible plastic.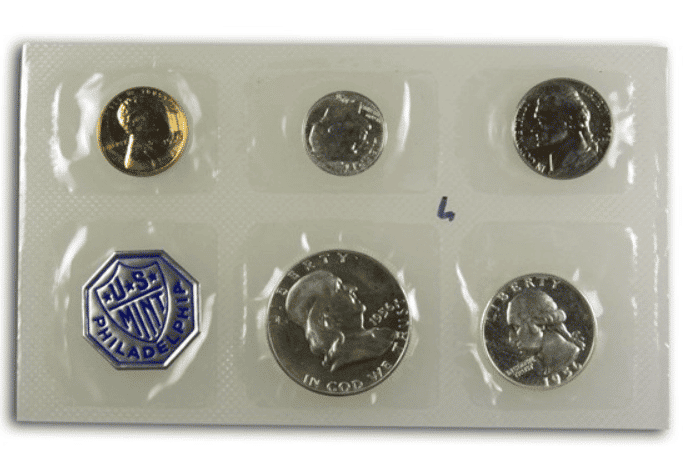 (A typical 1956 to 1964 Proof Set in the original Mint packaging.)
Between 1965 through 1967, no proof coins were struck at the Mint. Instead, Special Mint Sets were issued. These coins were like uncirculated coins, but they were treated to have a special satin finish on them, and they were sealed to prevent marks or mishandling at the Mint.
(A typical 1965-1967 Special Mint Set in original Mint Packaging.)
In 1975, the San Francisco Mint began striking proof set coins and each bore the "S" mintmark to indicated that they had been struck at that branch mint. Since 1975, the Proof Set was the major series of coins struck by the San Francisco Mint.
Since that time, a variety of additional circulation and special coins – including Commemorative coins have been added and removed from proof sets while the annual coins – One Cent, Five Cents, Ten Cents, Twenty-five Cents and Fifty Cent pieces have always been included. Some of the additions have been:
Various Commemorative Silver Dollars (in some Prestige Proof Sets)
Various Dates of American Silver Eagle Bullion Coins (in some Limited-Edition Silver Proof Sets)
Dwight D. Eisenhower Dollars
Susan B Anthony Dollars
Sacagawea Dollars
Presidential Dollars
State Quarters
Westward Journey Nickels
Abraham Lincoln Bicentennial Cents
50 State Quarters Proof Sets
Territorial Quarters
America the Beautiful Quarters
The Mint has also added a Silver Proof Set in 1992 and offered them on an annual basis. Between 1992 and 2018, the silver coin purity was the standard 90%. In 2019, silver purity was increased to 99.9% to compete with silver bullion proof coins worldwide.