Learn About Ten of the Top Gold Coins to Invest In
Below is a list of the best Gold coins for investment. Although this list does not encompass all Gold investment opportunities, it has Gold coins that are easily identifiable, are easy to liquidate and are a "bang for your buck" when it comes to returns on investment.
Buying Gold is a great way to hedge against inflation and preserve the value of your investment even when the dollar's worth fluctuates. Additionally, Gold generally maintains its value over time and is a good way to pass down investments and diversify your investment portfolio.
The high-quality yellow metal is also beneficial to have during times of crisis when the economy experiences ups and downs. Finally, it is an asset that is easy to liquidate and will always maintain its value, even more so as the global Gold supply shrinks.
Whether you're interested in Gold legal tender or Gold bullion, investing in even one Troy ounce of Gold has its benefits. Before purchasing precious metals, APMEX recommends discussing the pros and cons of investing in these assets with a financial adviser or professional.
This list is made up of Gold coins that have typically been the most attractive to investors who want to buy and sell precious metals.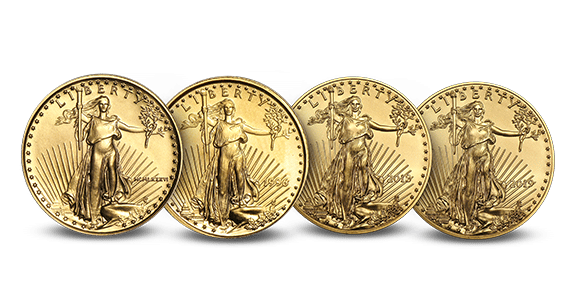 1. Gold American Eagle
An ideal expression of the American spirit and based on the famous design by Augustus Saint-Gaudens, the Gold American Eagle is well known worldwide. Bearing a depiction of Lady Liberty striding in front of the sun on the obverse and an American bald eagle either nesting, standing, or with just its head on the reverse, depending on the year or size it is.
This iconic Gold coin is available in several fractional sizes to fit any budget. These sizes include 1 oz, 1/2 oz, 1/4 oz and 1/10 oz Gold. The Gold American Eagle has unparalleled recognition and is easily liquidated.
2. Gold American Buffalo
The gorgeous Gold American Buffalo enjoys tremendous popularity largely because its artwork is a rendition of the famous 1913 Buffalo Nickel, by James Earle Fraser. Its obverse features the beautifully detailed profile portrait of a Native chief, while its reverse depicts a glorious American buffalo.
The buffalo depicted on these coins was inspired by Black Diamond, the American bison that lived in New York's Central Park Zoo in the 1910s. The American Buffalo's .9999 fineness and distinct look make it an excellent choice for those who want to buy Gold. This coin comes in 1/10 oz, 1/4 oz, 1/2 oz, 1 oz and even 20 oz sizes and weights.
3. Gold Canadian Maple Leaf
Boasting both iconic beauty and innovative security features, the Canadian Gold Maple Leaf enjoys great international recognition and popularity. This coin is issued by the Royal Canadian Mint and is made of .9999 fine Gold. It is said to be one of the purest official bullion coins in the world.
This Gold coin is adorned with a single, striking maple leaf design on the reverse with Queen Elizabeth II of Canada's portrait on the obverse. This coin is also available in fractional sizes like 1/20 oz, 1/10 oz, 1/4 oz, 1/2 oz, 1 oz, 10 oz and up to 1 gram.
The variety of Canadian Gold Maple Leaf sizes provides an accessible entry point into Gold investing for those with a modest budget.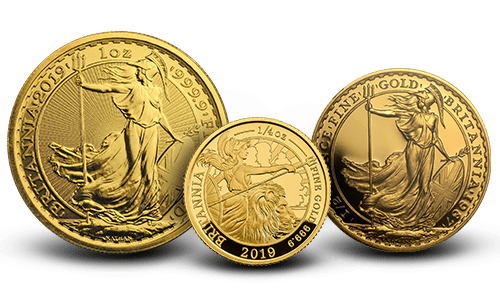 4. Gold British Britannia
These famous British coins have steadily increased their fineness and coins issued in 2013 and later have .9999 Gold fineness. The Gold British Britannia holds excellent value and good potential for liquidity. This is due to their artistic design and The Royal Mint's well-respected reputation.
Britannia has been depicted on coinage for many centuries as the symbol of the British islands during the Roman Empire. This striking coin will likely continue to be a prominent figure in Gold investors' portfolios. They come in 1 oz and 10 oz weights.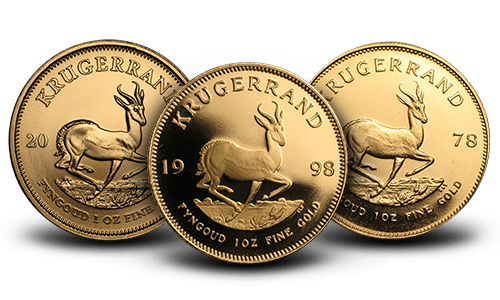 5. Gold South African Krugerrands
The first Gold bullion coin in the world and a perennial favorite outside of the United States, the Gold South African Krugerrands is generally one of the more affordable Gold coins on the market and is notable for its unique hue and depiction of a springbok antelope. While some buyers feel it is not as detailed as other, more elaborate, Gold coin reliefs, this simple design has been around since 1967 and has proven staying power in the investment market.
More Krugerrands have been purchased than all other 1 oz Gold coins available on the market. The Krugerrand contains .9167 fine Gold, with an alloy of 8.33% Copper to bolster the Gold durability.
Recommended as an excellent investment item for both new and experienced buyers, Krugerrands are generally liquid on the open markets worldwide. This beloved coin comes in different sizes including 1/50 oz, 1/10 oz, 1/4 oz, 1/2 oz, 1 oz, 1.85 oz and 2 oz.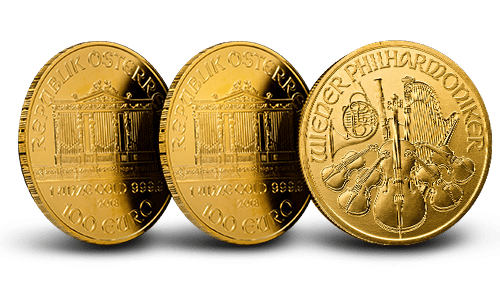 6. Gold Austrian Philharmonic
This is the only Gold bullion coin issued in Euros and it is guaranteed by the well-respected Austrian Mint. The Austrian Gold Philharmonic is a low-mintage coin that many believe outshines even the Canadian Maple Leaf and Mexican Libertad in its beauty. The Austrian Gold Philharmonic comes in many different sizes such as 1/25 oz, 1/10 oz, 1/4 oz, 1/2 oz, 1 oz and 10 oz. Not only is this coin stunning in design, but the variety of options also makes it perfect for any collection.
One side features musical instruments appearing in the Austrian Philharmonic Orchestra, that great national treasure of Austria, while the other side showcases the Golden Hall in Vienna, the site of the orchestra's annual New Year's Day concert. Gold Philharmonics provides a great opportunity to branch into European coins and to purchase coins that have reasonable premiums.
7. Gold Mexican Libertad
Struck by one of the oldest North American mints, la Casa de Moneda de Mexico, the Mexican Libertad Gold coin is one of the most famous and beautiful Gold bullion coins available today. Made from .999 fine Gold, this stunning Gold coin resembles the design of the renowned 50 Peso Gold Coin known as the Centenario. A beautiful depiction of Winged Victory between two Mexican volcano peaks is shown on the reverse while the obverse features the Mexican shield.
The artwork featured on the Gold Libertad is both arrestingly beautiful and important to the history of Mexico. Its legendary design and limited mintage make the Mexican Libertad Gold Coin a sought-after addition to any coin portfolio. This coin is available in 6 weights, including 1/20 oz, 1/10 oz, 1/4 oz, 1/2 oz, 1 oz and 1.9 oz.
The Banco de México bullion coin's numerous weights and the availability of equally beautiful Mexican silver Libertad bullion make these pieces excellent and affordable additions to any collection.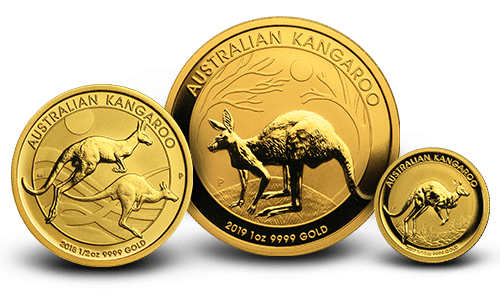 8. Gold Australian Kangaroo
The Kangaroo series from the respected Perth Mint is a powerful symbol of Australia. Each iteration of the Australian Kangaroo Gold coin features a fresh depiction of a kangaroo in a different natural setting, making this series coveted by collectors. The 1 oz Australian Gold Kangaroo is .9999 fine Gold and is issued with a face value of $100 AUD.
The Australian Gold Kangaroo comes in a variety of weights ranging from 0.01 oz, 1/10 oz, 1 oz, 10 oz, and even a kilogram. The wide spectrum makes this series perfect for any budget. This coin is considered to be highly collectible and generally liquid due to its notable mintage history and its fascinating, world-renowned artwork.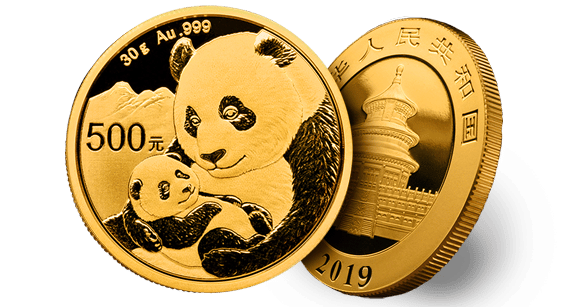 9. Gold Chinese Panda
Another solid investment option is the Chinese Gold Panda coin. This series has a new image of the giant panda each year. The panda is a revered icon of China.
Issued by the People's Republic of China Mint, The Chinese Gold Panda has a weight designation of 30 grams, instead of 1 oz. It also comes in 1/20 oz, 1/10 oz, 1/4 oz, 1/2 oz, 1 oz, 5 oz, 12 oz, 1 gram, 8 gram, 15 grams, 100 grams and even a kilogram.
The Gold Panda also boasts more limited mintages than many other bullion coins. The unique size and low mintage make The Chinese Gold Panda a fine addition to any bullion portfolio and one of the most interesting Gold coins for investors.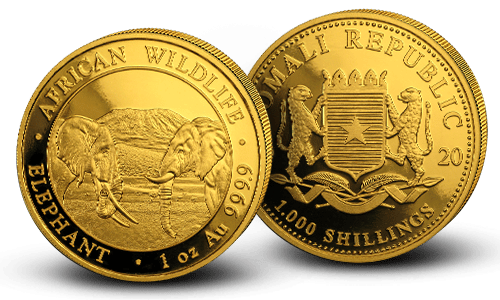 10. Gold Somalian Elephant
Struck by Munich's famous Bavarian State Mint, the attractive Somalia African Elephant Gold coin is famous all over the world due to its ever-changing reverse design. There is a new image of the magnificent African elephant on the reverse every year. This keeps the designs fresh and the new releases exciting.
This 1 oz .9999 fine Gold coin bears a face value of 1000 Shillings but has a much greater intrinsic value. Additionally, the Somalia Gold Elephant is available in the fractional sizes 1 oz, 1/2 oz, 1/10 oz and 1/2 gram. Having numerous sizes provides an excellent opportunity for new Gold buyers to get involved in Gold investing.
Expand your collection today and shop our assortment of Gold coins.
APMEX recommends discussing the pros and cons of investing in Gold coins with a financial adviser or professional.