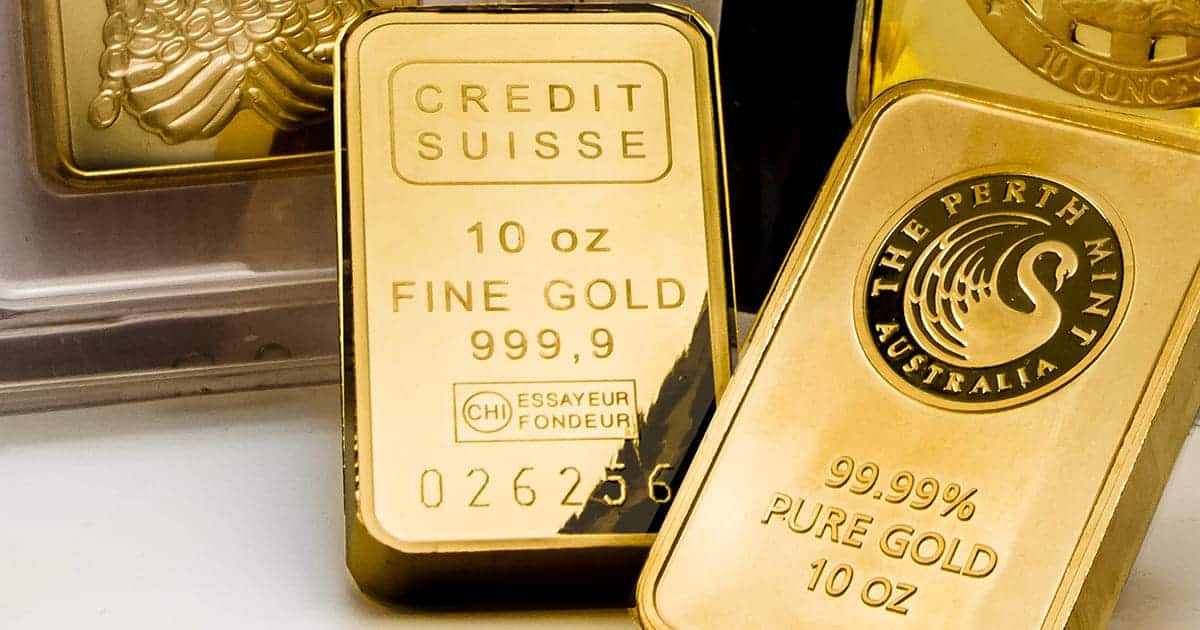 Ready to Start Investing in Gold? Start Here
Gold provides more financial insurance than other investments because it is a universal commodity that can be held and protected. For anyone trying to become more familiar with buying Gold, here are the most common ways to get started.
Types of Gold Investments
Physical Gold
Gold Bars and Rounds
When you buy bullion, you get the actual metal to hold in your hands. Typically sold in the form of bars and rounds, you oversee storing your Gold in the location of your choice and selling it or trading it as you see fit. This is a popular option for those who want to physically pass their Gold investments to heirs.
Gold coins, bars and rounds all have a unique value proposition that gives each an advantage over the others depending on your personal needs and purchase power. If you choose to buy with a dealer, there is likely going to be a minimum amount you will need to invest in order to get the product that you want. However, there is a smaller premium attached to bars and rounds which will save you money when compared to coins.
Gold bullion bars and rounds are another common Precious Metal investment option. They give you the opportunity to purchase a lot of metal in a single transaction while still giving you good liquidity by trading at a high value per ounce compared to numismatic coins. There is also no need for insurance as the worth is determined by the Gold spot price.
Bars tend to be the most efficient way of buying Gold when investing large amounts of money as they have a lower premium over spot when compared to other forms of Gold bullion. In addition, these come in a variety of sizes to meet your budget, storage needs or amount of Gold you want.
Gold Coins carry a similar value to Gold bars and rounds in terms of Gold content but may also carry an additional premium based on rarity and collectibility. This type of Gold investment is preferable to people who enjoy history or have portfolios that include antiques and works of art. Consider these top 10 Gold coins for investment.
Gold Coins come in a variety of options, from Gold American Eagles to South African Krugerrands. There are also other Gold coins that have been used as legal tender for several hundred years, such as Chinese Gold Pandas or Austrian Philharmonics. Gold Bullion Coins and Bars can be bought and sold anywhere in the world, making them a great investment to add to your portfolio.
Numismatic Coins
Owning rare or collectible Gold coins is a great way to add diversification to your investment portfolio, while also owning a tangible asset. These special Gold coins can be found in many popular sizes including 1/10 oz, 1/4 oz, 1/2 oz and even the extremely scarce 1 troy ounce coin – but knowing what these coins are and which ones are the most reputable is important.
A coin's scarcity, state, and historical significance contribute to a numismatic coin's value. Additionally, collectors enjoy completing their collection and can value coins that are not traditionally seen as valuable. There are prestigious numismatic grading companies like NGC and PCGS that certify a coin's value and authenticity. Having a graded coin in your collection adds more value because the value is guaranteed.
Stocks and "Paper" Gold
Securities give you ownership over the changes in the value of the price, and you can make money when the price of Gold goes up. Examples of common Gold stocks include mining companies, commercial mints and publicly held companies that deal in Gold.
Gold ETFs are Exchange Traded Funds (ETFs) that give you exposure to the price and changes of Gold without physically buying the metal. Gold funds work similarly for simplicity and diversification.
Precious Metals IRAs allow you to include Gold, Silver and other Precious Metals into your 401(k) or IRA retirement accounts. This helps diversify your retirement portfolio and allows you to protect the value of your savings from inflation.
Gold Accounts
With an allocated Gold account, a bank will take your money, purchase real Gold and store it in a secure location until you are ready to sell. With an unallocated Gold account, the bank will invest your money in Gold but will not obtain the actual metal for storage.
When you are ready to cash out, the bank will return your money based on the current price of Gold compared to when your investment originated. Gold bars and coins can be included in Gold accounts, which makes this a preferred investment choice for many investors.
Investing in Gold Charts
Gold stocks trade like any other type of share on public stock exchanges while mining stocks may trade over-the-counter (OTC), which is similar to the NASDAQ. Gold ETFs are not physical Gold investment funds, but they typically track gold prices to offer investors an alternative to investing in physical bullion.
There are several ways you can invest in the financial market using Gold Graphs:
Dow Jones-UBS Commodity Index
This index represents a basket of commodities that include energy, agriculture, base metals, precious metals, livestock and other natural resources. The UBS index has been in existence since 1969 measuring the commodity markets' performance.
Gold/Euro Currency Index
Created by J.P. Morgan, the Gold/Euro currency index is a reliable indicator of trends in commodities against the Euro currency. This index is a trade-weighted index that consists of a basket of seven commodities: Gold, Crude Oil, Copper, Zinc, Lead, Nickel and Cotton.
Gold/XAU Currency Index
The world's most liquid commodity index is the Goldman Sachs Gold/XAU index. It calculates an average of 11 highly liquid commodities, which include Gold, Silver, Platinum and three industrial metals.
Gold/Oil Index
Invented by ARA Asset Management, the gold/oil index tracks the performance of a basket of commodities that includes gold, crude oil and heating oil as well as other commodities. The principle behind this index is an attempt to find a better measurement for inflation.
Gold/S&P 500 Index
The SPDR Gold Shares GLD ETF seeks to reflect the performance of the price of gold bullion, less its expenses. While it is similar to an index fund that tracks gold prices, this exchange-traded fund uses a security share structure rather than the mutual fund structure used by most index funds.
Gold/Silver Index
The Gold and Silver Sentiment indexes correctly identify major market turning points in both gold and silver prices, and because of the nature of its design provide an excellent contrary indicator capable of identifying long-term buying opportunities for contrarian investors. By providing a short-term indication of sentiment it is possible to anticipate price reversals.
Gold Spot Price
The Gold spot price refers to the price at which an ounce of gold could be bought or sold right now. The exposure to the spot price is what makes bullion coins and bars the desired investment among investors. The Gold spot price is quoted for 1 troy ounce of pure 24 karats (9999 fine) Gold.
Keep up with the price of Gold today and download the APMEX app. Find it on Google Play and the App Store.>
There is a vast number of Gold coins with different values, origins and specific designs. One benefit of buying gold coins is they can be purchased in grades ranging from AG-3 to MS-70. Some buyers like the investment potential of rare or collectible coins, which can really pay off if bought correctly.
Gold Bullion Coins are one of the most common ways individuals invest in gold. Investing in Gold bullion coins provides many benefits to the investor, from liquidity to ease of transport. Gold coins are readily available in a variety of weights and denominations for both modern and historic collectors' coins.
Gold is expensive, but it can help protect your money against inflation and unpredictable economic downturns. Investing in Gold can be an effective long-term strategy, as its value has been seen to rise over the last several years.
If you choose to buy Physical Gold and have it delivered to you, consider the best storage options for protection from theft and environmental damage. When buying Gold stocks, it is imperative to research the companies behind your investment.
Expand your collection today and shop our assortment of Gold products.
APMEX recommends discussing the pros and cons of investing with a financial adviser or professional.