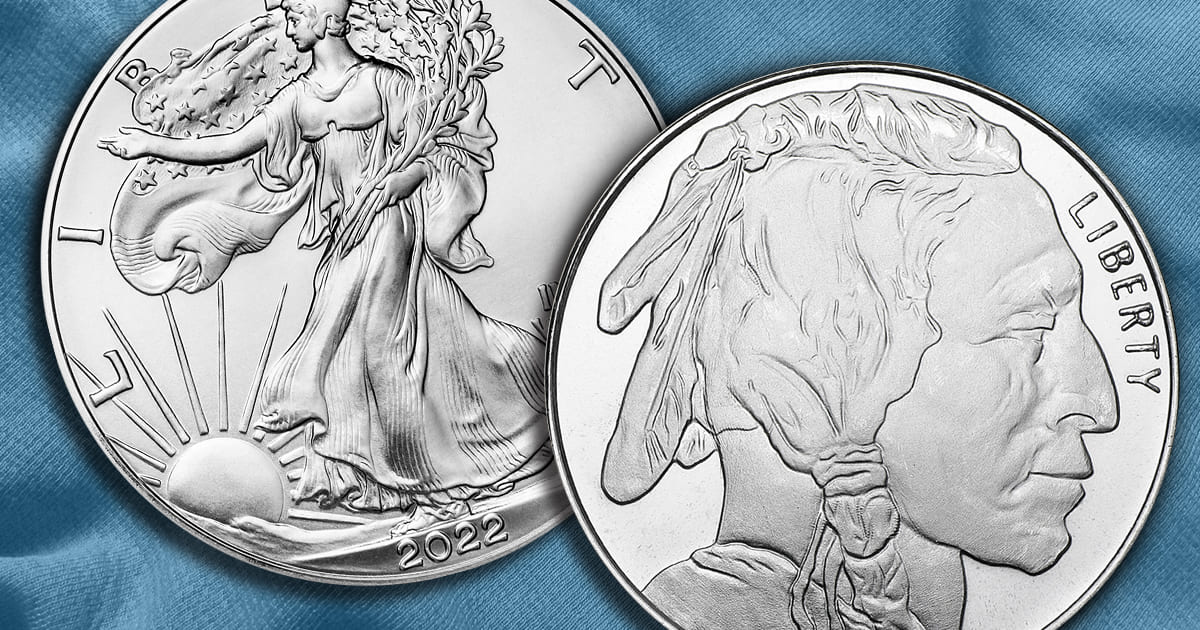 Silver American Eagles are a go-to choice for those looking to invest in bullion coins. With their widespread recognition and U.S. government backing, these coins offer reliable security that makes them an excellent investment option! However, the price of Silver Eagles has increased in 2022 and has made some buyers reconsider investing for fear of losing out when they sell their Eagle later. 
Luckily, numerous other reliable silver bullion options that are comparable to Silver Eagles exist. A popular alternative is the Silver Buffalo round. 
Why Are Silver Eagles More Expensive? 
Silver Eagle devotees have been subjected to premium increases over the last two years, and sadly it doesn't seem like the trend will be reversing any time soon. 2023 appears just as grim for those who buy Silver Eagles. With demand for Eagles having outpaced supply in 2022, one might assume that the U.S. Mint would increase production of this highly sought-after coin; however, it is planning to mint fewer Eagles than before – but there's a solid explanation behind its decision.
Instead of producing their own blanks, the U.S. Mint must purchase them from a third party at an approved cost by the government. Years ago, the U.S. Mint discovered that it was not financially feasible to keep producing their own blanks (or planchets). Consequently, they decided to stop this area of production and outsource instead. Realizing that the demand for Silver Eagles could fluctuate from one year to the next, the U.S. Mint determined they needed a better way of managing personnel and equipment resources – especially during years when demand was lower than anticipated. It was determined that outsourcing the production of silver blanks was the most cost-effective option. Suppliers agreed to a long-term contract with predetermined prices and a little room to account for fluctuations in demand caused by normal market conditions.
It can be incredibly hard to secure extended contracts with suppliers during times of high demand when they can make more money elsewhere. Suppliers are eager to get the highest price possible for a scarce product. Therefore, not entering a deal with the Mint now would be passing up on potential profits.
The United States Mint has just one supplier for blanks: the Sunshine Mint. That said, they are more apt to offer its silver to other purchasers—simply because it can turn a higher profit with every transaction. Furthermore, due to governmental pricing mandates, the Mint has limited flexibility when it comes to negotiating costs. Even though Sunshine Mint could decide to send a larger quantity of its supplies to the U.S. Mint, it would have to bear all the costs itself. This means the U.S. Mint is on allocation, which is like a budget for silver supplies. Because their supplies are limited, they have fewer blanks to mint and can offer fewer Silver Eagle coins.
The silver lining of expecting a reduced production of Silver Eagles in 2023 is that scarcity and rarity often go together. Coin collectors, after all, appreciate the exclusivity associated with rare coins! If you are a collector of PCGS-graded Silver Eagles, 2023 will be a good year to acquire more and add to your collection. As we move closer to the future, it will become increasingly difficult to obtain a 2023 Eagle, thus driving its value up.
How Silver Buffalos Compare to Silver Eagles 
Featuring a stunning design, these 1 oz Silver Buffalo Rounds are not recognized as legal tender. These rounds have a gold counterpart–the Gold Buffalo–that is minted by the U.S. Mint and has a legal tender of $50. Instead of being minted by the government mint, Silver Buffalos have been created by private mints across the country. Privately minted rounds offer the same quality as a 1 oz silver round but at a lower cost compared to government-issued coins.
This is a distinct difference between Silver Eagles and Silver Buffalos. Buyers know exactly where to get Silver Eagles since they are manufactured by the U.S. Mint. However, this also makes them more difficult to acquire since they come from one source.
Silver Buffalo rounds are accessible because they are manufactured by a wide variety of private mints. APMEX's 9Fine Mint produces them, as does the Sunshine Mint, the Asahi Mint, the Golden State Mint, the Highland Mint, the Mason Mint, Republic Metals Corporation, and many more. They are more broadly available since so many mints manufacture them. Unfortunately, this can result in more fake Silver Buffalos being passed off as legitimate, so make sure to purchase Silver Buffalos from a reputable retailer.
Both Silver Eagles and Silver Buffalos contain one troy ounce of .999 fine silver and are stamped with their weight and purity. Eagles and Buffalos are also highly recognizable in the investing and stacking communities, making it easy to sell them when needed.
Silver Buffalos feature the iconic Indian Head Nickel design that was used from 1913 to 1938 that was created by James Earle Fraser. The obverse depicts a Native American man's profile while the reverse shows a magnificent American bison. This design reflects a historic time in American coinage.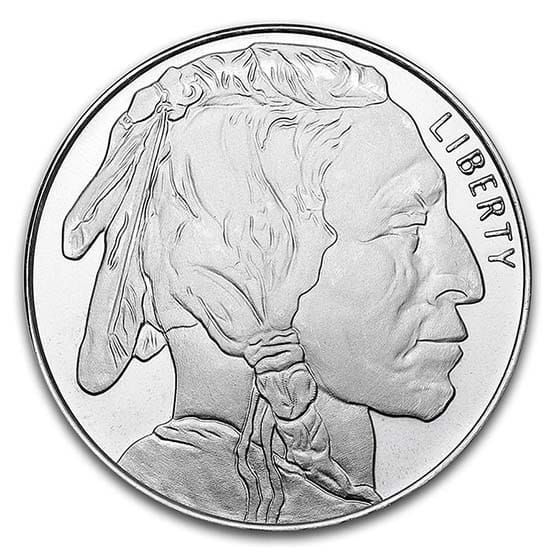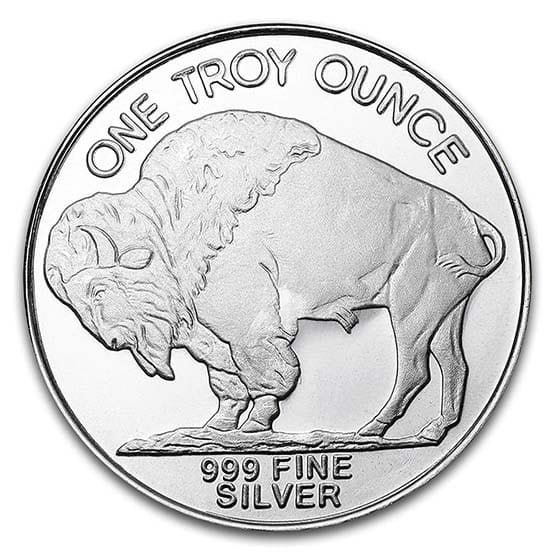 Investing in American Buffalo Silver Bullion Rounds is one way of getting more silver per ounce than other investment options. They do not have any additional government markups that come with Silver Eagles. Plus, since these rounds are not legal tender, their value mainly depends on the metal value.
Price Differences
Because the price of Silver Buffalos depends primarily on the spot price of silver, these rounds are less expensive than Eagles. Silver Buffalos do not have a government mint premium, so they are the more affordable option if you want to add larger amounts of silver to your stack or portfolio.
Based on the spot price in January of 2023, Silver Buffalos can be anywhere from $5-$10 less than Silver Eagles. Silver prices fluctuate depending on supply and demand, so the rates listed here reflect what is happening in the marketplace at this moment. However, bear in mind that market conditions may have shifted by the time you read this.
Key Takeaways
With the U.S. Mint unable to keep up with skyrocketing demand for silver, finding additional silver bullion may be a wise decision. Silver Buffalos are a good alternative to Silver Eagles because they contain the same purity and weight and can be bought from various private mints. There is no concern regarding Silver Buffalo supply. Plus, they do not have high premiums because they are privately minted and are valued based on the price of silver.
Not having that government assurance can be a downside to purchasing Silver Buffalos. There are instances of fake Silver Buffalos trying to be passed off as legitimate Buffalos, so if security is a priority for you this round may not be for you. However, buying from reputable mints and retailers will prevent this from happening.
If you want more silver at a lower cost, Silver Buffalos could be the bullion for you!