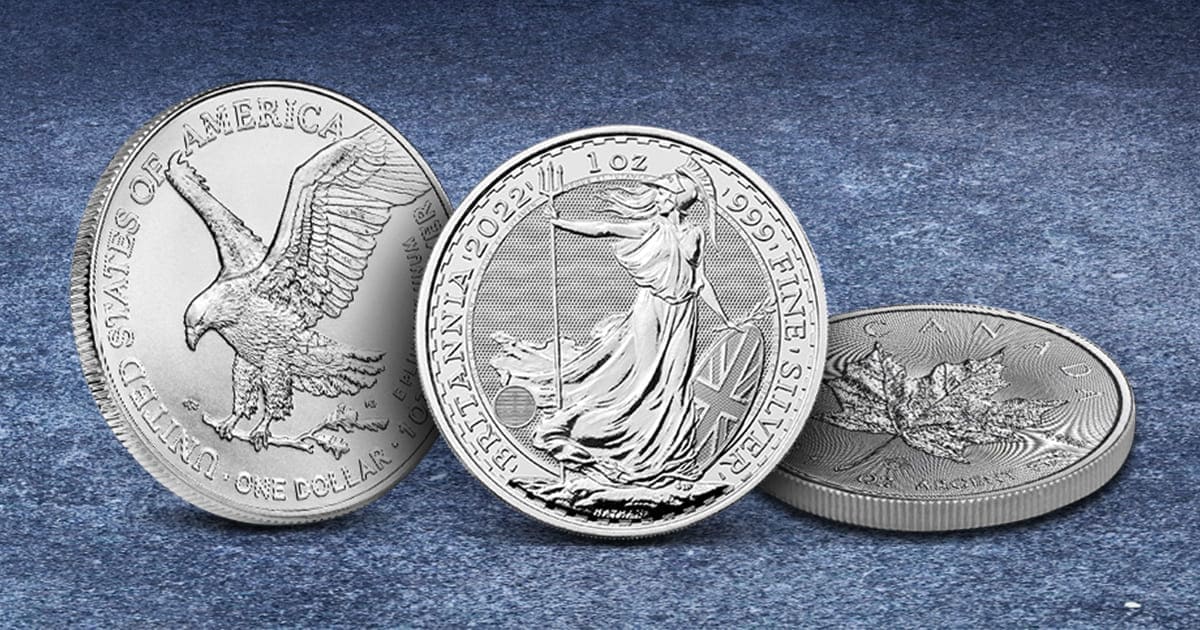 Learn About the Top Ten Silver Coins for Investors
Silver coins are a great place to begin building an investment portfolio because they come in various finishes, from Brilliant Uncirculated (BU) to Proof, in a range of designs. Proof Silver coins are ideal for investors because they often contain the same Silver content and design as their bullion counterparts but are perfect for portfolios with high-quality, mirror-like finishes.
Investors typically choose Silver coins from sovereign mints due to their government backing and guaranteed Silver content. These sovereign Silver coins are generally annual releases with a set weight and Precious Metal content with every new release. There are numerous choices for investment-grade, sovereign mint Silver coins for investors to choose, which may appear overwhelming at first glance.
To improve your Silver buying experience, below is a current list of the best Silver top coins for investment. This is not a definitive list but is based on recognizability, liquidity, and the potential return on investment. These are the Silver investment pieces most attractive to investors.
1. American Silver Eagles
The American Silver Eagle is the official investment-grade Silver bullion coin of the United States Mint, making it one of the few Silver bullion coins guaranteed for weight, content and purity by the U.S. government. The American Silver Eagle consists of 1 oz of .999 fine Silver with a face value of one dollar. Investors of Silver Eagles enjoy unparalleled recognition and liquidity with this particular investment.
The American Eagle program first debuted in 1986, featuring an obverse design depicting the Walking Liberty design, which remains much the same today, designed by Adolph A. Weinman for the Walking Liberty Half Dollar in 1916. The reverse design was updated in 2021, celebrating 35 years of this iconic series, displaying a single eagle with an oak branch in its talons to add to a nest.
2. Canadian Silver Maple Leafs
The Canadian Silver Maple Leaf has great recognizability, featuring the iconic single maple leaf that is a powerful symbol of Canada. Since its introduction in 1988, the Silver Maple Leaf has consisted of 1 oz of .9999 fine Silver – making them among the finest of all Silver dollar-sized coins across the globe. The Silver Canadian Maple Leaf coin offers good liquidity and value.
Featuring the Royal Canadian Mint's MintShield™ white spot reducing technology, this popular Silver coin is unmatchable. The coin also features an added security measure with its unique design of the light diffracting pattern of radial lines.
3. British Silver Britannias
Initially introduced in 1987, these famous British Silver coins have steadily increased their fineness and coins issued over the years now boast a .999 fine Silver content. This Silver coin is the perfect depiction of British history, displaying a portrait of a more mature likeness of Queen Elizabeth II on the obverse and the Standing Britannia in a horse-drawn chariot on the reverse.
The high Silver content, along with the vast respect and recognizability commanded by The Royal Mint, makes Silver Britannias an excellent value with good potential for liquidity.
4. Mexican Silver Libertads
Struck by one of the oldest North American mints, la Casa de Moneda de Mexico, the Silver Mexican Libertad coin is one of the most famously beautiful Silver bullion coins available today. Released in 1982, these Silver coins consist of .999 fine Silver and come in various sizes, including 1 oz, 1/2 oz, 1/4 oz, 1/10 oz and many more to fit any portfolio or budget.
The artwork featured on the Silver Libertad is both arrestingly beautiful and essential to the history of Mexico. Its legendary design and limited mintages make the Mexican Libertad Silver Coin a sought-after addition to any coin portfolio.
5. Somalian Silver Elephants
Somalian Silver Elephants are one of the most intriguing coins in the African Wildlife Coin Series, celebrating the well-known fauna of Africa. In 2017, the Somalian Silver Elephant series expanded to include a variety of sizes, perfect for any budget or collection, including 1/10 oz, 1/4 oz, 1/2 oz, 1 oz, 2 oz, 5 oz, 10 oz and 1 kilo Silver coins.
Since 1999, Somalian Elephant Silver coins have held enormous potential for return on investment. Particular issues of these coins, when graded as MS-70 by third-party grading services, have produced a return on investment of more than 300%. It is struck from .9999 Silver and should have the growth potential of any respected Silver coin.
6. Morgan Silver Dollars
Morgan Silver Dollars were minted from 1878 to 1904 and then again in 1921. These Silver coins are struck from planchets comprised of 90% Silver and 10% Copper. Although particular Morgan Silver Dollars command enormous numismatic premiums, lower-quality coins from years with large mintages can be purchased just over the current Silver spot price.
Morgan Silver Dollars boast such wide recognition that they are extremely popular among Silver collectors and investors alike.
7. Austrian Silver Philharmonics
First released in 2008, the Austrian Silver Philharmonic is the newest annual-release program on our list. Many believe that the Philharmonic Silver coin is a low-mintage coin that outshines even the Canadian Silver Maple Leaf in its beauty. The Philharmonic is the only Silver coin denominated in euros, bearing a legal tender value of €1.5. Consisting of .999 fine Silver, the Austrian Silver Philharmonic is perfect for any investor or music enthusiast.
The obverse of this Silver coin depicts the Golden Hall in Vienna, the site of the orchestra's annual New Year's Day concert. At the same time, the reverse features musical instruments from the Austrian Philharmonic Orchestra – the grand national treasure of Austria. Silver Philharmonics offers a great way to branch into European coins with reasonable premiums.
8. 90% "Junk" Silver Dimes
From 1837 to 1964, United States ten-cent pieces were made of 90% Silver and 10% Copper, just like the aforementioned Morgan Silver Dollar. Dimes, naturally, are smaller, and thus these contained less Silver at approximately 0.0715 troy ounces per coin. Although some of these older dimes have become numismatic collectibles, those commonly called "junk" 90% Silver Dimes can be purchased by the bagful from reputable Precious Metals dealers, like APMEX.
The per-ounce premium may seem a bit high, but if you invest in Silver coins as a hedge against the collapse of fiat currency, then the increased liquidity of the smaller coins may justify the premium.
9. Australian Silver Kangaroos
Since its introduction in 1993, the Australian Silver Kangaroo series from the respected Perth Mint has been a powerful symbol of Australia. Each Australian Kangaroo Silver coin iteration features a classic red kangaroo mid-bound in front of a stylized starburst, making this series coveted by collectors.
An exceptional coin made from .9999 fine Silver, the 1 oz Australian Silver Kangaroo, is issued with a face value of AUD 1 and is considered highly collectible and generally liquid due to its notable mintage history and its fascinating, recognizable artwork.
10. Chinese Silver Pandas
A final respectable investment option is the Chinese Silver Panda coin. The obverse of this popular Silver coin features the Hall of Prayer for Good Harvest in the Temple of Heaven in Beijing, a great example of classic Chinese architecture. Each year, the series bears a new reverse image of the giant panda, the revered icon of China. Since its initial release in 1983, collectors and investors alike have looked forward to seeing the newest giant panda design featured on this famous Silver coin.
The Silver Panda coins are .999 fine Silver and are Chinese legal tender, boasting more limited mintages than many other bullion coins. Its unique size and low mintage make it an excellent addition to any bullion portfolio and one of the most exciting coins for Silver investors.
Expand your collection today and shop our assortment of Silver coins.
Silver coins make excellent investment opportunities; for any questions regarding the eligibility of specific Silver products in your investment portfolios, APMEX recommends consulting a financial advisor or professional.