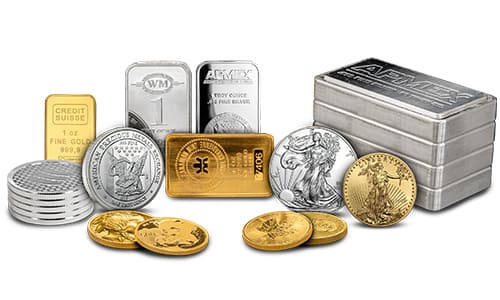 How to Care for and Store Your Bullion
APMEX is here to guide you through your investment in Precious Metals, from selecting the right pieces to liquidating items should you need to and everything in between, including the care and storage of your Precious Metal bullion.
CARE OF YOUR BULLION
Most of your Precious Metal bullion will come to you in protective packaging. Clear capsules, plastic flips and assay cards all do an excellent job of protecting the finish of your bullion coins and small bars. You may also want to have some cotton gloves, a loupe and drawstring money bags on hand, too.
STORAGE OF YOUR GOLD AND SILVER BULLION
There are four main ways to store your bullion. The most common and popular method is secretive storage. It's simple, inexpensive and keeps a small collection of investment bullion close at hand. Simply select a secure hiding place in your home and stash your bullion there. This is the easiest method, but it is the least secure. Hiding your Gold or Silver might conceal it in the event your home is burglarized, but it doesn't offer any security at all from damage or loss in the event of a disaster, such as a house fire. If you do want to keep a small stash of bullion close at hand, be sure to think of an unlikely place to hide it.
The second and third ways to store your bullion are in a home safe or in a bank. Both methods offer greater security for Gold and Silver storage than just hiding it, and there are advantages and disadvantages to each. With a safe, you can keep your Precious Metals at home and have personal access to them at all times, but some people fear that owning a safe may make them targets for thieves. Bank storage offers superior security and even insurance against loss or damage, but you can only access your holdings during bank hours.
The fourth method of bullion storage is in a Precious Metal depository. These vault storage facilities offer several advantages in terms of storing and securing your Precious Metal assets. Not only do they provide plenty of space if you have a larger collection, but their climate- and moisture-controlled facilities safeguard your items against accidental environmental damage. The most appealing feature of depository storage is the truly breathtaking level of security. Precious Metals depositories are highly guarded sites operating under constant surveillance.
Services like Citadel, a wholly-owned subsidiary of APMEX, provide security provided by the worldwide leader in security, Brinks. Citadel offers an excellent storage option to clients who desire security, transparency, accessibility and insurance for their investments.
Learn more about APMEX's trusted storage solutions here.