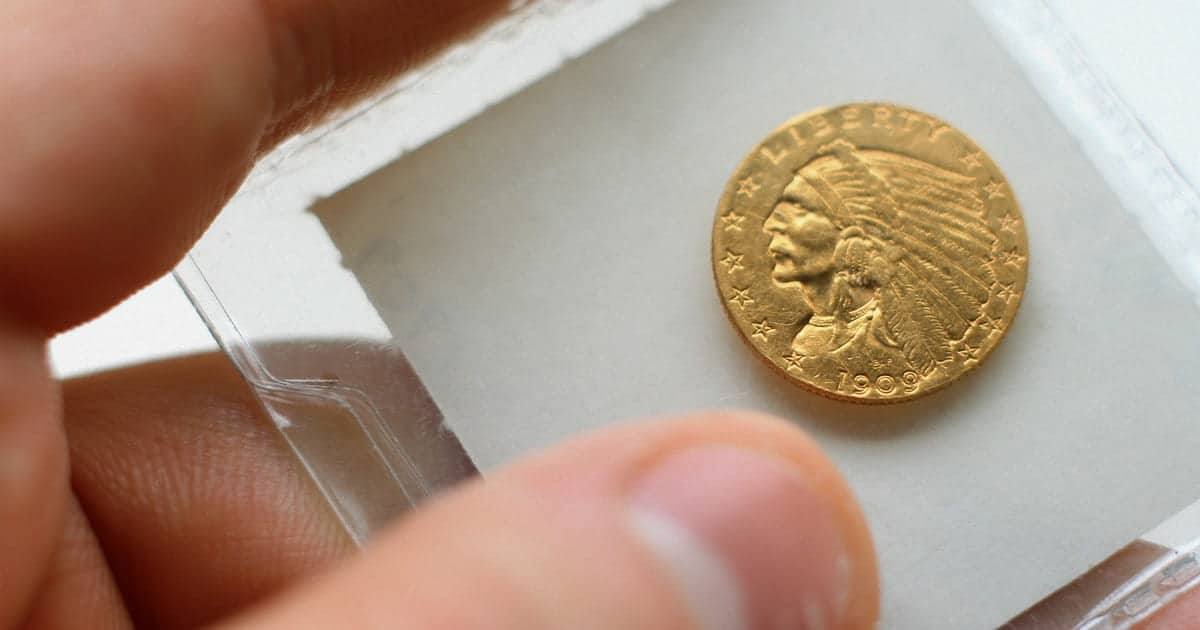 Use This Guide to Begin Collecting U.S. Coins
So you would like to start a US coin collection but don't know where to begin. We can provide some pointers that might help you. Let's give you some issues to think about so that we can point you in the right direction.
Is this collection for you? For your children? For your grandchildren? If the coin collection is for you, then you should look at the various coins online and decide what you like. Collecting what you like will help you enjoy the time you are spending building the collection. Pick a series that looks good to you in the grade that you can afford. You want all of the coins in your collection to match so you want to pick a series of coins that looks good in the grade that you would enjoy collecting.
If the series is for a child then pick a series that is inexpensive and one that you can maybe fill some of them out of circulation. For example, a Jefferson Nickel collection is challenging because there are so many dates, it was minted from 1938 to the present date. But other than the Silver War Nickels, you may be able to find the majority of dates and mintmarks by buying rolls of coins at the bank and looking for dates and mintmarks that you need. You simply roll up the ones you don't want and cash them back in at the bank – or exchange them for other rolls to search. It will teach the child to look closely at our coins and examine them. They will get a kick out of filling the holes in an album with coins that they found by looking.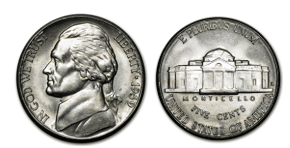 If it is for an older child, or for yourself, you might want something more challenging. Completing a Lincoln Cent Album is quite a challenge as you will be able to get many of the Lincoln Memorial Cents (starting in 1959) from circulation but you will have to buy many of the Lincoln Wheat cents (1909 to 1958). But in average circulation, the coins are relatively inexpensive, except for a handful of dates. Lincoln Cents are the oldest circulating coins you can find and put together a collection can be started fairly cheaply.
Buffalo Nickels cannot be found in circulation any longer but they can be purchased at coins shops or local coin shows for less than $1 or $2 for many dates. What a great iconic coin!
A Native American chief on one side and an American Buffalo on the other. Conjures up visions of the Old West! They were minted between 1913 and 1938.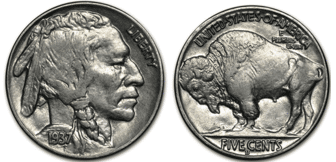 Liberty or "V" Nickels are also available at coins shops and coin shows for $1-2 each and are even older than Buffalo Nickels. They were struck between 1883 and 1912. Well, actually until 1913 but there are only 5 of the 1913 Nickels known to exist and they are worth a fortune. It is an easy series to finish with only a couple of dates that are a little bit more expensive. Very cool-looking coins with that "Roman V" for "5" on the reverse.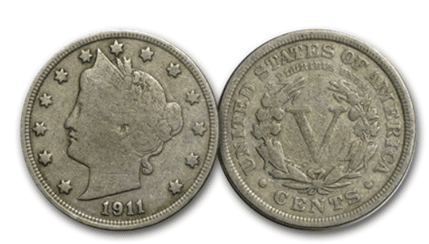 A Roosevelt Dime collection is easy and hard to complete. They were minted between 1946 and today so all coins from 1964 and earlier are silver. That means that every one of those coins is worth at a minimum its Silver content. With Silver currently at $15.00 per Troy Ounce, a silver Roosevelt Dime would cost you about 14 x Face Value ($1.40 each). But you can buy $5 roll (50 coins) of Roosevelt Dimes for $65.00 and find a number of the coins you need. You can use your duplicates to trade with other collectors or sell them to a dealer.
A few other suggestions for a more sophisticated collection would be an Indian Cent collection. They were minted from 1859 to 1909 and many dates are only a few dollars each. People liked the idea of collecting coins that circulated during the Civil War and Spanish American War. They are very historic coins that have many 10 pieces that are fairly expensive.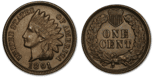 Another more serious suggestion is a Type Set of US Coins. There are albums that list every single type of coin that the US ever created. The complete set from the 1790s is very expensive but some Type Sets are from the 1900s only. If the coin was struck during the 1900's one of those types is in the album. It is a nice change and you can do it with or without the Gold Coins.
A final suggestion is a type set of US Commemorative Half Dollars. Commemorative coins were issued to honor famous people and historical events. They were issued between 1892 (for the Worlds Columbian Exposition) and 1954 (To honor George Washington Carver and Booker T Washington). There are 144 different dates and mintmarks for the Silver coins and 11 gold coins. Many collectors prefer to collect only the Silver Coins and get one of each type instead of one of each date and mintmark. In that case, there are 50 coins – 48 silver half dollars, a silver quarter and a silver dollar. If you think completing a set of coins that all look alike is boring, then collecting classic commemorative half dollars is for you! Every one of them is different with many famous designers creating these beautiful coins.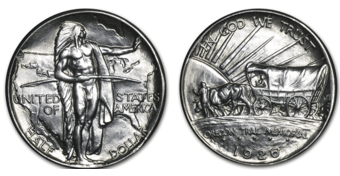 Expand your collection today and shop our selection of Jefferson Nickels!
Collect what you enjoy and you will enjoy your hobby for the rest of your life!