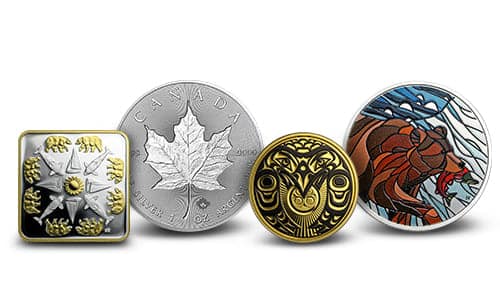 Learn What Sets RCM's Products Apart
In 2001, the Royal Canadian Mint became the first mint in the world to use laser technology in its manufacturing process. The molten pattern is recorded by a scanner and cataloged. That way, every coin can be traced back to the exact day it was struck and the die with which it was struck, making Canadian coin values an investor haven.
Laser Technology and Micro-Engraving
Thanks to micro-engraved radial lines on both the obverse and reverse sides, the Silver and Gold Maple Leafs are among the most sophisticated coins in the world. The radial lines make the bullion extremely difficult to replicate, and therefore almost impossible to counterfeit. Every die used to produce the Gold and Silver Maple Leaf coins is laser micro-engraved with an anti-counterfeiting security mark — a textured maple leaf. Using digital non-destructive activation (DNA) technology, the scanning and registration process captures images encrypted with a string of code. Then the Bullion DNA process stores each code in the Royal Canadian Mint's secure database.
Innovative Attitude
If you are looking to buy Gold or buy Silver, the Canadian Mint has a history of inventive, state-of-the-art coin production. Their attention to detail and security has earned the RCM many award-winning coins and notable firsts. All told, the Royal Canadian Mint is one of the most innovative mints in the world. Some of the Royal Canadian Mint's notable achievements include:
First colored coin
First hologram coin
First irregular-shaped (square) coin
First 5 oz .9999 fine Silver coin
First coin colored using plasma technology
First million-dollar face-value .99999 pure Gold coin
The Canadian Mint also offers storage services. The Royal Canadian Mint allows branded Precious Metals owned by businesses to be vaulted in the Ottawa and Winnipeg mints in addition to 15 other locations across Canada, the United States and Asia.
Metal Refining
The Canadian Mint originally refined Gold by electrolysis in its assay department. This complex electrochemical process proved to be time-consuming and, as early as 1915, the Mint introduced a new chlorination process. Originally developed in Australia, chlorination reduced processing times and enabled the Royal Canadian Mint to increase its refining capacity. Today, they use both processes for optimal results.
Numismatic Coin Production
The Royal Canadian Mint consistently produces coins recognized as the pinnacle of commitment to the highest standards of minting. Many collectors consider each coin to be an individual, unique work of art. Coins are produced either by automatic or manual presses. These two types of presses serve different, but equally important purposes:
Automatic presses – Mainly used to strike coins made of non-Precious Metals like nickel or copper, automatic presses occasionally strike more precious pieces. In an automatic machine, the dies will strike an average of 2,000-5,000 hits before they are changed.
Manual presses – Used to strike Precious Metal blanks to create collector or numismatic coins, most proof coins are struck twice or even three times by manual presses. Tool steel dies, placed inside each press, are used to imprint the desired design on the coin's surfaces.
Circulated Coin Production
While the Ottawa Mint produces most of the Royal Canadian Mint's collector coins, the Winnipeg Mint oversees its currency coinage. It houses some of the industry's most technologically advanced processes and equipment. The Winnipeg Mint can produce up to 15 million plated coins each day for Canadian and foreign circulation.
Historical Prestige
A longstanding history of producing Gold and Silver means the Royal Canadian Mint is a steadfast presence in the Precious Metals industry. Its prestige is matched only by the purity of its coinage.
Expand your collection today and shop products from the Royal Canadian Mint.