Gold From a Scientific and Historic Perspective
In 2013, scientists discovered evidence that suggests Gold comes from the collisions of ultra-dense objects called neutron stars after witnessing a short gamma-ray burst (GRB) 3.9 billion light-years away. After the brief flash of light, astronomers observed radioactive afterglow that produced huge quantities of heavy metals, like Gold. Calculations suggest the explosion produced 20 Earth-masses worth of Gold.
On Earth, however, Gold only exists in the crust at 5 parts per billion. It is often found as nuggets or particles in the beds of streams. Most of what is here are thought to have arrived with asteroids and meteorites.
Our fascination with Gold existed long before 2013. According to Gold historian Timothy Green, Gold has been mined for more than 6,000 years. It is estimated that roughly 165,000 metric tons of Gold have been mined throughout history. Gold's unique elemental properties give it a special luster, durability, malleability and aversion to rust and erosion that make it one of the most sought-after metals in the world. Learn about todays Gold spot price and other Precious Metals with APMEX.
Gold Periodic Table
In the periodic table, elements are grouped according to electronic structure. The Gold periodic table placement is in period 6 (horizontal row) and family 11 (vertical column), along with other coinage metals like Silver and Copper. These metals are great for circulation because they have excellent wear resistance. Shared properties with the Gold element include being inert, corrosion-resistant metals with low electrical resistivity.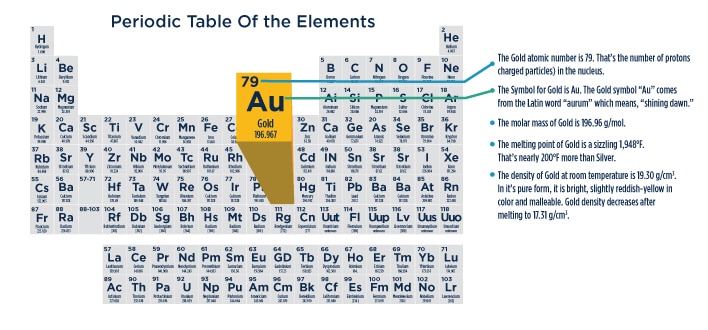 GOLD ELEMENT PROPERTIES
The symbol for Gold is Au. The Gold symbol "Au" comes from the Latin word "aurum," which means "shining dawn."
The Gold atomic number is 79, which is the number of protons (positively charged particles) in the nucleus.
The molar mass of Gold is 196.967 g/mol.
The melting point of Gold is a sizzling 1,948°F. That's nearly 200° more than Silver.
The density of Gold at room temperature is 19.30 g/cm3. In its pure form, it is bright, slightly reddish-yellow in color and malleable. Gold density decreases after melting to 17.31 g/cm3.
INTERESTING FACTS ABOUT GOLD
Pure Gold is 24 karat, which translates to .9999 fine. 18 karat Gold is 75% pure and 12 karat is 50% pure Gold.
No one knows who discovered Gold, but the first Gold coins as currency appeared in Turkey under King Croesus of Lydia around 550 B.C.
Gold is so malleable and ductile, that an ounce can be beaten into a sheet covering 300 square feet or drawn into a wire 60 miles long.
Abu Dhabi, a city known for luxury, has the world's first Gold vending machine.
Gold is in demand by many industries. Its practical application extends from space travel to exquisite jewelry. Here are a few practical uses of the Precious Metal:
NASA needs to build space vehicles with the most dependable parts possible. For this reason, Gold is used in many applications involving space travel. The circuitry of the space vehicle is Gold because the Precious Metal is a highly dependable conductor of electricity.
Gold is the most malleable of all Precious Metals. This allows Gold to be hammered into sheets as thin as a few millionths of an inch. The hammered sheets are known as Gold Leaf and are used to add Gold to furniture, picture frames and other household items. Gold does not easily corrode, making Gold Leaf applicable to decorating external and internal surfaces of buildings.
If you use a cell phone, laptop, desktop or tablet — you own Gold. Gold is able to transmit digital information better than any other Precious Metal. The mounting of microprocessors and memory chips uses Gold plating as well as the connectors used to attach cables. Gold is even used in GPS systems and calculators.
More than 75% of the newly mined Gold is used in jewelry. Gold has been used in jewelry for centuries because of its gorgeous luster, color, malleability and resistance to tarnishing.
Shop our selection of Gold products and expand your collection today.