As an industry leader for more than 20 years, APMEX wanted to introduce competitively priced Silver, Copper and Gold products that could be manufactured using clean technology. After years spent researching different techniques, we were able to launch 9Fine Mint and create a modern take on a truly classic production process.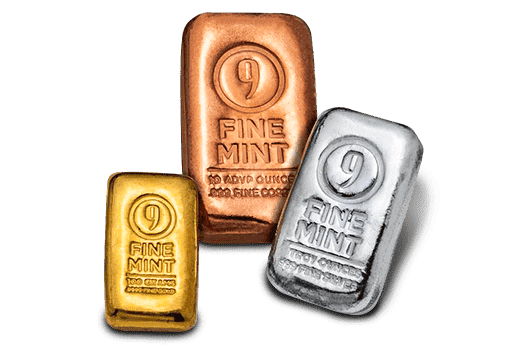 Cast-Poured Gold Bars
In our ongoing efforts to keep creating new and exciting options for our customers, 9Fine Mint has introduced elegant cast-poured Gold bars. These .9999 fine Gold bars are available in a large selection of sizes and at competitive price points.
A Silver Classic
The 9Fine Mint rounds contain 1 oz of .999 fine Silver, offering a high-quality investment option for anyone. These rounds come in four different designs that cater to multiple tastes while offering the same outstanding quality. All 9Fine Mint individual rounds come in protective packaging, and multiples of 20 come in storage tubes to offer simple and convenient protection.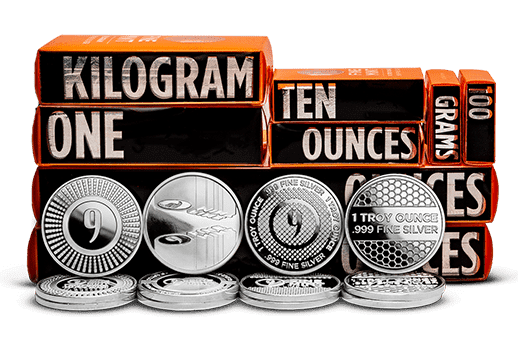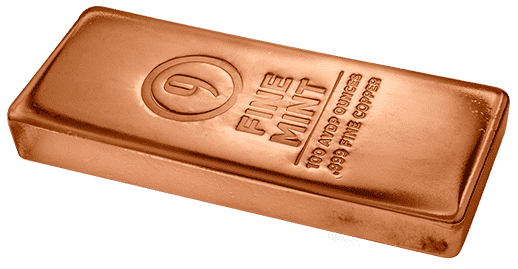 Sleek Copper Bars
Designed, minted and packaged in America, Copper bars from 9Fine Mint are easy to stack and store, but also make for impressive display pieces. These cast-poured bars allow you to diversify your portfolio with sleek pieces made from .999 fine Copper.
High-end Silver Bars
Each 9Fine Mint Silver bar contains .999 fine Silver, with options from 100 grams up to 100 oz. These bars are cast and have a struck look with clean lines. The bold orange and black packaging was custom created to perfectly fit each bar, adding a fresh look to Silver while also providing safe storage. We also offer the 100 gram, 5 oz, 10 oz and 1 kilo bar in a multi-pack option, which provides multiple bars, in their bold packaging, encased in a custom 9Fine Mint box for secure storage and easy display.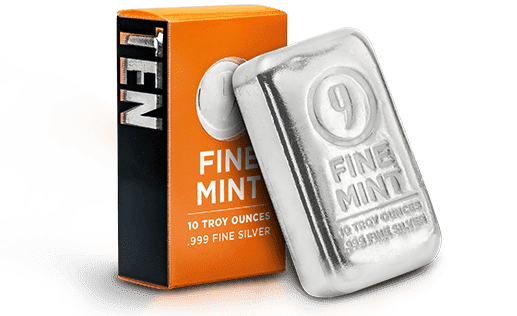 Fine Silver, Gold & Copper
Our 9Fine Mint line uses only the finest grain, resulting in high-quality .999 fine Silver bars and rounds, .999 fine Copper bars, and .9999 fine Gold bars. 9Fine Mint also carries ISO 9001 certification, which requires that we demonstrate the ability to consistently provide products using processes that meet customer and regulatory requirements, per the ISO 9001: 2015 standards. Your investments don't have to be ordinary – our unique 9Fine Mint products and bold packaging prove that.
Expand your collection today and shop our assortment of rounds and bars from 9Fine Mint.