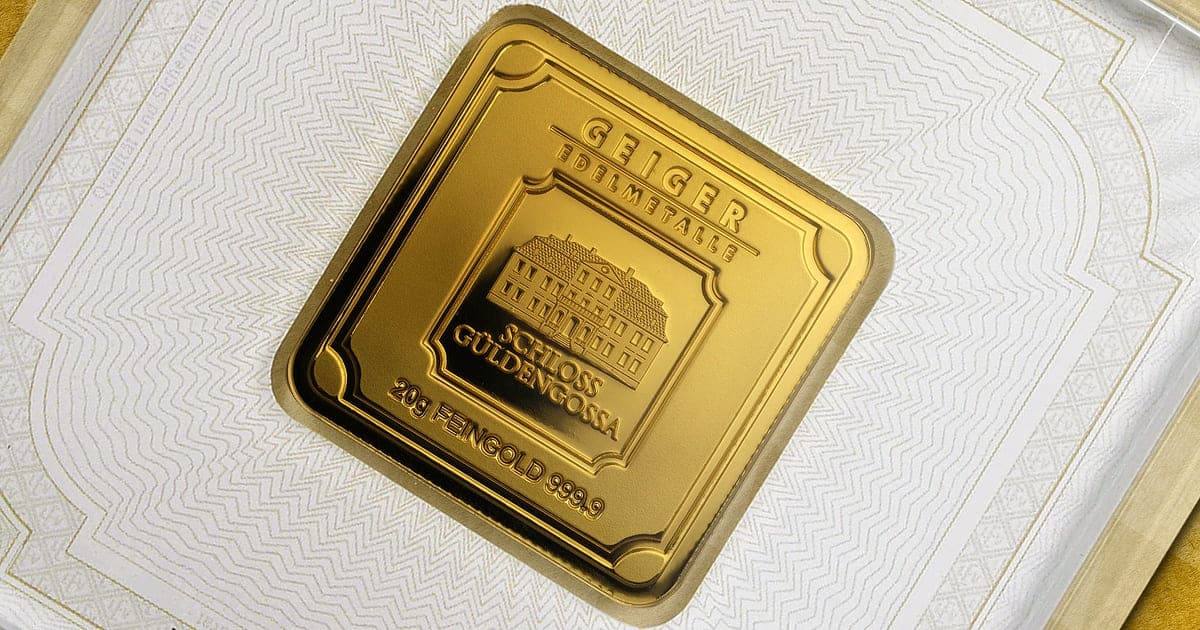 Recognizable Geiger Edelmetalle Products
Geiger Edelmetalle holds a long and esteemed history and has a series of internationally recognized Silver and Gold products. Its reputation is world-renowned, as is the purity and value guarantee of their Silver products.
Some of the most popular products from Geiger Edelmetalle include the 1 oz Silver bar, 10 oz Silver Security Line bar and the unique 1 oz or 500 gram Silver Hearts. Additionally, the Gold and Silver Noah's Ark coins are popular with investors and collectors for their metal content and timeless designs.
Geiger Silver bars contain .999 fine Silver while Geiger Gold coins and bars are struck in .9999 fine Gold. Beyond their beauty and Precious Metals content, these bars also have world-class security measures.
Minting Advances
The Geiger Edelmetalle Security Line bars have exclusive security features, including the breaking away from the typical smooth edges. Instead, they are reeded similar to many coins.
Additionally, Geiger Edelmetalle paints specific spots on the reverse of each bar with a proprietary varnish. Under regular light, this varnish is invisible. Under UV light, the bars display the distinct markings of a LEV-rhombus and the year the bar was minted.
Combined, these proprietary features present serious obstacles to counterfeiters and offer investors additional protection and value. Geiger's centuries of experience make their products both prized and secure.
Simplistic Elegance
Geiger Edelmetalle is proud of their heritage but also embraces today's technology and looks ahead to future advances. All Gold and Silver bars feature the iconic Schloss Güldengossa, now home to the Geiger offices. Additionally, each product is stamped with its metal weight and purity, and all are guaranteed by Geiger, so customers can be sure their product is genuine and comes from one of the oldest mints in the world.
History and Technology
Geiger Edelmetalle dates back to 1218 when its founders worked to establish the first Silver trade in Germany. It started in Leipzig and was embraced by the rest of the world. Now, Geiger has offices near the grand Schloss Güldengossa castle and houses its production facilities in a nearly abandoned 1930s factory. Geiger continues its role as a longstanding institution that represents excellence in Precious Metals.
The mint's two current locations represent the two facets of Geiger Edelmetalle: state-of-the-art technology and tradition. Each product holds a special place in the history of Geiger but the mint also continues to look forward with technological advances while maintaining the highest minting standards.
Expand your collection today and shop our assortment of products from the Geiger Edelmetalle Mint.