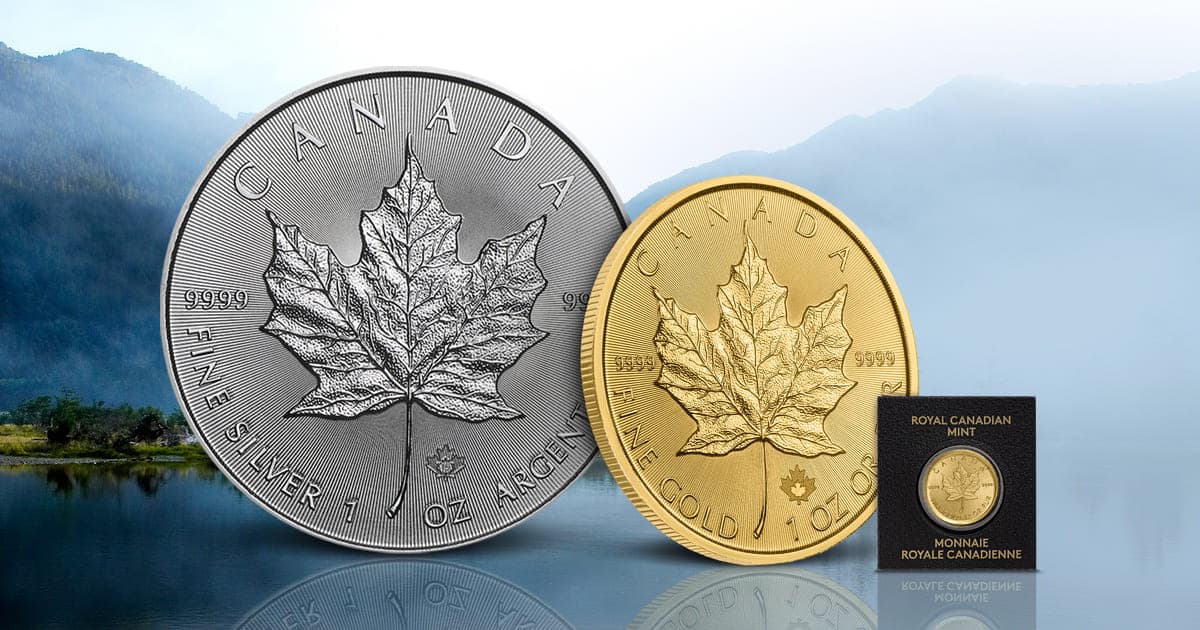 Royal Canadian Mint
The Royal Canadian Mint got its start in 1908, corresponding with an era of expanding Gold production in the Yukon and British Columbia. A refinery was needed to perform the complex chemical work of bringing raw, recently mined Gold up to coinage standards without shipping it back to the United Kingdom.
The Canadian Mint's original refinery in Ottawa was opened under the watchful eye of Governor-General Earl Grey on January 2, 1911. Under his direction, the mint struck Canada's first domestically produced coin, a 50¢ piece. Countess Grey closed the ceremony by striking Canada's first bronze cent.
In 1979, the Gold Maple Leaf coin was introduced to widespread popularity. Four years later, the mint increased the Gold content of their Maple Leaf series to .9999 fine Gold bullion. Following the continued success, just six years later, the Royal Canadian Mint launched the Silver Maple Leaf bullion coin series.
Popular Canadian Products
The Royal Canadian Mint is a longstanding producer of incredible Gold coins and Silver coins. Canadian coins' value stands out among competitors from around the world. Some of the RCM's most well-known coins include the Gold and Silver Maple Leafs, featuring the iconic single maple leaf design.
One series the Royal Canadian Mint produces that outshines many mints is the .99999 fine Gold Series, which contains a higher purity of Gold than many mints produce. Lunar designs are popular with mints around the world, and the Royal Canadian Mint produces their own Gold and Silver Lunar series each year. Additionally, Platinum Maple Leafs and Palladium Maple Leafs open the mint to different levels of collectors and investors.
Classic Beauty
As the Royal Canadian Mint's flagship series, the Maple Leaf coins, produced in Gold, Silver, Platinum and Palladium, showcase the signature maple leaf so closely associated with Canadian patriotism and reflective of Canadian pride. The design has remained unchanged since its first release, though there have been additions for anti-counterfeiting purposes. The Maple Leaf coin is recognized and truly treasured around the world.
Production Processes
The Royal Canadian Mint consistently produces coins recognized as the pinnacle of commitment to the highest standards of minting. Many collectors consider each coin to be an individual, unique work of art. Coins are produced either by automatic or manual presses. These two types of presses serve different, but equally important purposes:
Automatic presses are mainly used to strike coins made of non-Precious Metals, like nickel or copper. The dies strike an average of 2,000-5,000 hits before they are changed.
Manual presses strike Precious Metal blanks to create collector or numismatic coins. Most Proof coins are struck twice or even three times by manual presses.
Browse our assortment of products from the Royal Canadian Mint and expand your holdings today.