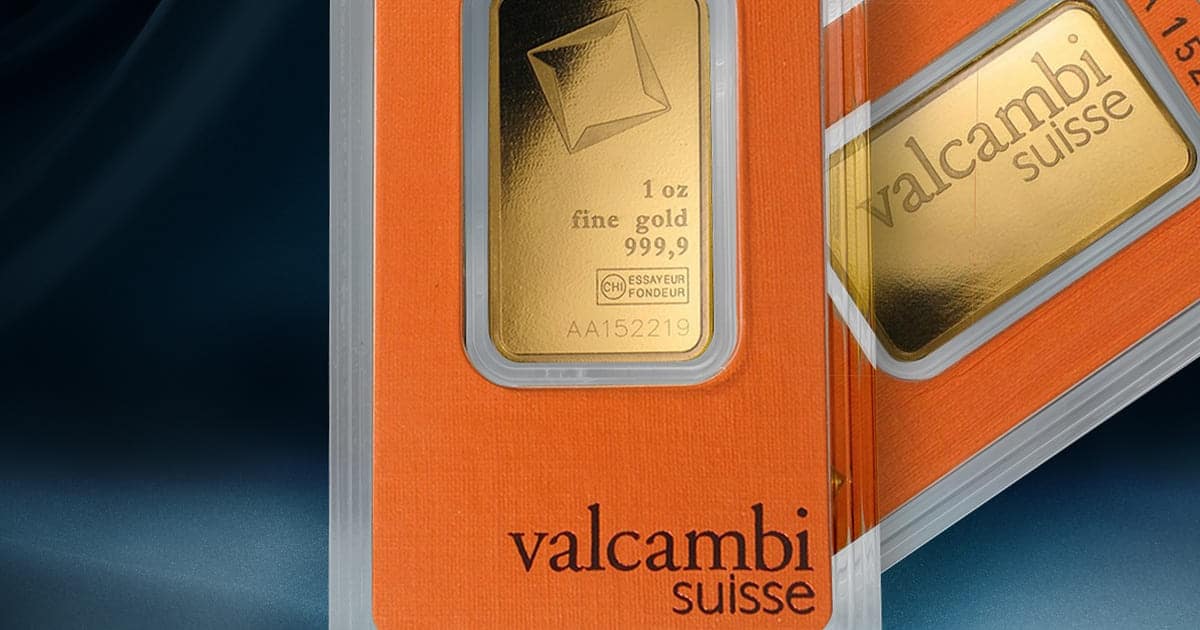 Headquartered in Balerna, Switzerland, Valcambi is one of the world's best-known Precious Metal mints. They manage their refining operations in one of the world's largest facilities, covering more than 8.1 acres, with the ability to process roughly 2,000 metric tons annually.
Passionate about contemporary technology, stringent security and quality control, Valcambi embraces a range of refining techniques. They work with a variety of Precious Metals, including Gold, Silver and metals from the Platinum group.
The range of services Valcambi offers spans refining, assaying and manufacturing. They even develop semi-finished products for the watch industry and manufacture medals, blanks and complex alloys.
Popular Mint Products
Products from the Valcambi Mint include extremely fine Gold bars and Silver bars. A few of their most popular Precious Metal products are the 1 oz Gold bar and 1 gram Gold bar. Of course, their unique CombiBar™ products are enjoyed by all investors. This innovation can be found on 10x 10 gram Silver bars or 50x 1 gram Platinum bars, to name just a few. Additionally, the exquisite 2 gram Cook Islands Gold Sphere coins demonstrate Valcambi's variety and willingness to push the Precious Metals envelope.
Valcambi is known for manufacturing beautiful and innovative Precious Metal products. These Gold, Silver, Platinum and Palladium products are sought after around the world for their purity and reputation.
Timeless Designs
Valcambi is one of the most well-respected mints in the world. They not only produce exceptional Gold, Silver, Platinum and Palladium bars under their own brand, but they also mint beautiful Gold coins and even jewelry items. One of their most revolutionary product lines is the CombiBar™, which provides an option for investors to purchase larger amounts of Precious Metal that is able to be broken apart with the idea that liquidating fractional pieces is often easier and more manageable.
Unique Production
Valcambi produces CombiBars™, which are detachable bullion bars designed to meet the current investment trend toward purchasing many small bars instead of large ones. This drive toward flexibility gave Valcambi the idea to produce 1 gram and 10 gram bars, in sheets up to 100 grams total weight, with predetermined breaking points so it is easy to break apart without losing any of the Precious Metal.
Another exceptional Valcambi-produced item is a 2015 1 oz Gold Cook Islands Armillary coin. At first glance, this item looks like any of flat Gold coin, but upon removal from the assay package, the coin can be twisted into a beautiful shape resembling an armillary sphere. This coin also incorporates CombiBar™ technology, meaning each ring can be separated to create an even more unique experience.
Browse our assortment of products from Valcambi Mint.