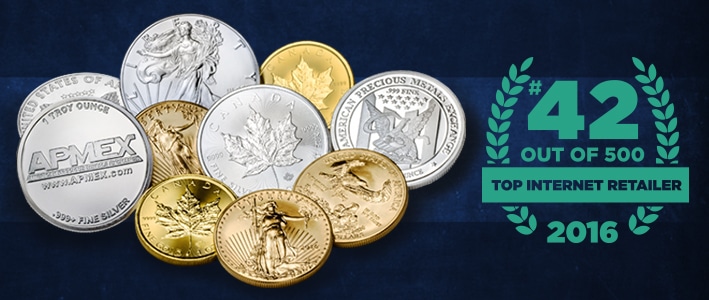 This is the Second Year APMEX has Been Listed in the Top 500
APMEX, Inc. was recently listed by Internet Retailer® as #42 out of the Top 500 Internet Retailers in all of North America and remained #1 among specialty e-retailers. This is the second consecutive year APMEX has been listed in the magazine's top 500, increasing its rank from #46. APMEX was ranked #1 specialty e-retailer in 2015 as well.
Each year, Internet Retailer® releases its list of top 500 e-retailers in North America. APMEX made its private-company holdings public for the first time in 2015 to be considered in these rankings. In 2016, APMEX is ahead of many familiar names such as Lands' End, Cabela's Inc., Nike and many more.
"Our wide assortment of over 10,000 products includes not only bullion items, but semi-numismatic and collectible pieces as well and is a big part of our success," APMEX Chief Executive Officer Ken Lewis said. "We also work hard to be relevant in online search, share valuable educational material online to assist in the buying decision and continue to leverage technology to provide a best-in-class shopping experience and wow the customer with how we execute to maintain our 98% customer satisfaction approval rating."
APMEX was founded by President Scott Thomas when he began selling his grandfather's old coin collection. The business has grown from a small shop in Edmond, Oklahoma to the former Federal Reserve building in downtown Oklahoma City, Oklahoma. Being in the heart of Oklahoma City, APMEX is a 'hidden gem' within the community. With more than 200 employees, APMEX handles every aspect of the business, from operations to product preparation and shipping, directly from their facilities. Providing this kind of service is one of the many ways APMEX stands out from its competition.
"It is a great honor to be recognized by Internet Retailer® Top 500 for the second year in a row and to move up within the rankings. We work daily to improve our customers' shopping experience and take great pride in being an innovative e-commerce industry leader," Vice President of Digital Marketing Jean-Marx Mantilla said. "We enjoy the work we do and look forward to the future as we look for more ways to surprise and delight our customers with new digital experiences."
APMEX is proud to be ranked among well-known brands like GameStop, Barnes & Noble and Estée Lauder on the Internet Retailer® Top 500. The business is looking forward to the coming year and looks to continue making strides, not only within the Precious Metals industry but among all e-commerce companies, with excellence in customer service remaining their top priority.
Learn more about the fully shoppable APMEX mobile app.
About APMEX, Inc.
For more than 15 years, APMEX has been one of the nation's largest Precious Metals e-retailers. Boasting over $8.2 billion in transactions, APMEX was recently ranked the #1 Specialty E-Retailer and #42 out of 500 e-retailers by Internet Retailer Magazine. APMEX has the largest selection of bullion and numismatic items provided by a retailer, boasting more than 10,000 products. Product offerings include all U.S. Mint bullion such as Gold, Silver and Platinum American Eagle coins. APMEX also sells products from leading mints around the world including The Royal Mint, The Perth Mint, Royal Canadian Mint and many others. APMEX is a member of the American Numismatic Association, the International Precious Metals Institute and the Industry Council for Tangible Assets. For additional information, visit www.APMEX.com or call (800) 375-9006.