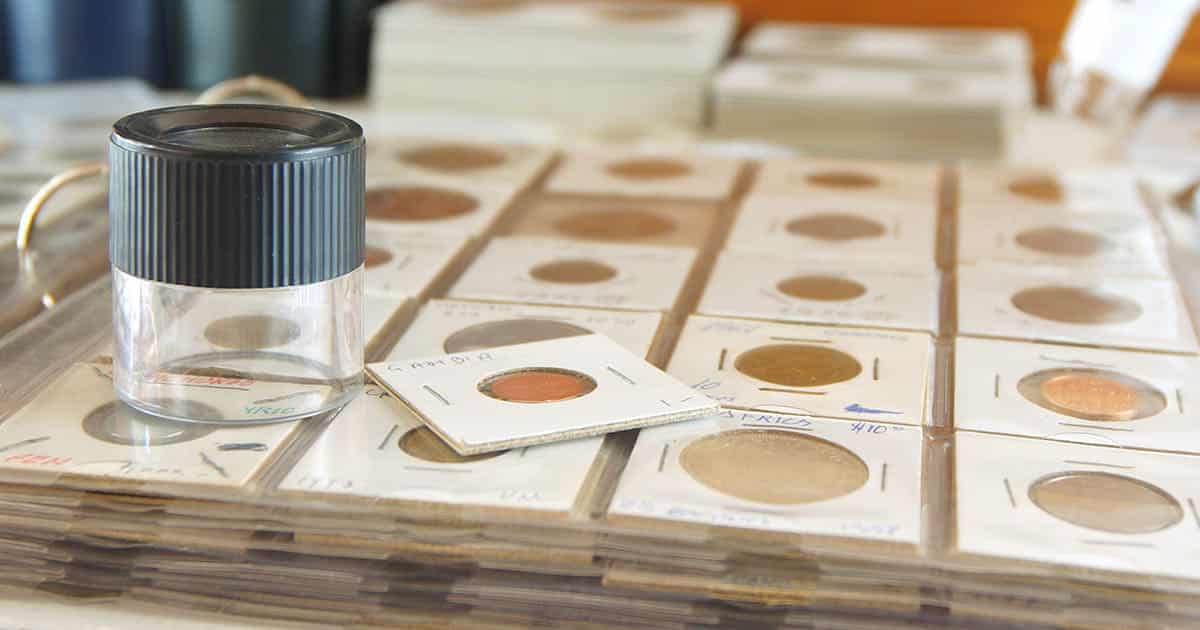 Use this guide when you're ready to sell a coin collection.
Coins have been a traditional store of value for millennia, but if you're dealing with something older and possibly collectible or a valuable bullion coin, do you know who you can sell it to?
Since most newer circulating coins no longer have much intrinsic value, Precious Metal and numismatic coinage is now the province of dealers. You can't necessarily take a Gold American Eagle down to the store and buy your groceries with it. And if you use that pre-1964 Silver to get a candy bar from the convenience store, you'll probably regret it.
Coins can be bought and sold for a reasonable price, but you have to know where to look. Just about every place you can sell your coin, it will be under the actual cost of the coin. Since you're usually selling to a dealer of some sort, they have to be able to make some money on the transaction, so they'll usually buy for a little less than the going price. But where do you actually go?
Pawn Shops
Many pawn shops deal in coins, particularly Precious Metal coins. However, not every pawn shop has someone trained in numismatics. Many shops will work off the value of the Precious Metal in a coin, or perhaps the Red Book value if they know enough to check for collectible price. These shops are not primarily in business for coins, and any coin knowledge they have (especially in smaller shops) is usually incidental, as they're much more likely to be dealing with things like guns, musical instruments and jewelry.
Cash for Gold Buyers
There are a lot of cash for Gold shops that have sprung up since the price of Precious Metals shot up, and many of them also deal in Silver, Platinum and other Precious Metals. These buyers are looking for bullion and melt value, and though they may have some grasp of numismatic value, it's not their primary focus.
Coin Shops
Local coin shops are a great place to trade coins. Since that's their specific function, the owner or proprietor is likely to have a lot more knowledge about numismatic value than someone who's a generalist. Specialty coin shops are usually run by a numismatist who may provide other services like auctions or servicing want lists. Many of these hobby shops also embrace other collectibles like comics, baseball cards or stamps. It depends. If the shop's primary focus is one of these other collectibles, it may not have someone with the numismatic experience to deal with some of the rarer issues you may run into, but they should know their way around common coins.
Vest Pocket Dealers
A vest-pocket dealer is someone who doesn't necessarily have a storefront but still deals in coins. Many of these numismatists have spent a lot of time doing arbitrage at coin shows, lining up deals between separate dealers and taking a little bit of profit on the transaction. Many of these dealers have websites or Facebook pages where someone can sell them coins, and they have often been in business for many years and know what they're talking about.
Coin Shows
Coin shows gather up a wide variety of dealers in one place. You'll usually see many tables with individual dealers that may or may not have storefronts, and there are often smaller vest pocket dealers circulating between the tables facilitating transactions. These are good places to get a variety of quotes and learn about your coins in one place.
Coin dealers are interested primarily in numismatic collectible coins, not bullion coins sold primarily for the value of their precious metal. Even if they deal with them, that's not the primary focus of a coin show. These are only worth your time if you have something interesting, old or rare.
Some dealers will actually come to you if you have an estate or an interesting large collection to liquidate. They often will if the collection is impressive enough, especially if they're a larger dealer. Some travel out of state as well, and if they're in the area for a coin show they may schedule side trips.
Auctions
Splitting up numismatic coins one at a time and selling them via auction is the best way to get the most money, but it's also one of the more challenging. Usually, the auction company will take a percentage of the price (eBay also falls under this category). Auctions are primarily used for coins of significant value to collectors that might not get their potential value if sold over the counter.
Online, Mail and Phone
Selling coins online or through the mail is also possible, but there are a few caveats. Be aware of the issues that you can run into if you're shipping registered mail. You can only purchase up to $50,000 of insurance on USPS, so If the value of the package exceeds that, you may run into trouble if anything bad happens.
Sell to APMEX
APMEX purchases many from both dealers and private individuals. APMEX has a special relationship with UPS with reduced shipping rates, and when you ship your coins through the APMEX buying program you are eligible for $60,000 of insurance from UPS. One of our representatives can advise you on what to do if you have a coin that may exceed that. Requesting a quote is easy and you can get paid quickly. We buy and sell the widest variety of bullion and numismatic products on the market, so we know what your coins are worth. We buy on a regular basis from many of the coin shops and dealers you would sell to.
There are a wide variety of places where you can sell your coins. Depending on whether you're selling bullion or numismatic coins, there's a dealer out there that's right for you. Consider the best place for you to get the best value and make the right decision.
Learn more about selling your coin collection to APMEX.