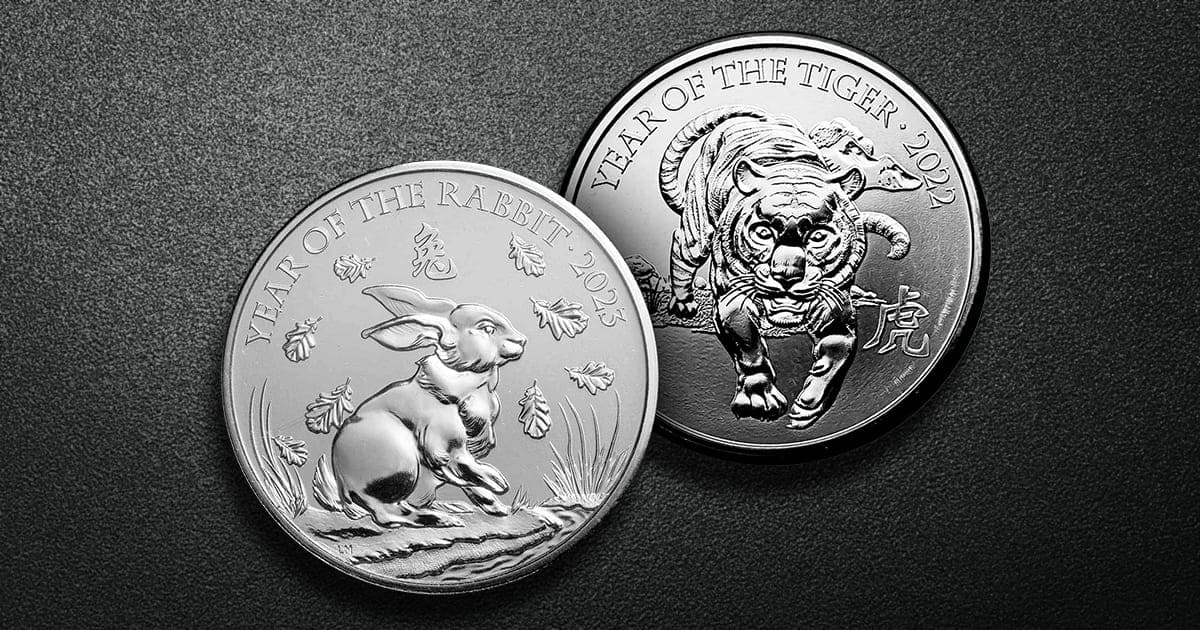 What Designs do the 2022 and 2023 British Silver Lunar Series Feature?
The British Royal Mint introduced the Lunar Shēngxiào series in 2014 with the Lunar Year of the Horse and will feature 12 designs over 12 years. These coins honor the Chinese tradition of exchanging gifts and tokens on the Chinese New Year.
What Animals Does the Silver Lunar Series Feature?
Each year, the release features a different animal from the Chinese Zodiac, which corresponds with character traits those born in that animal's year possess.
These are the first legal tender lunar coins issued for use in the United Kingdom and celebrate the diversity of the UK's multi-cultural society. The silver Lunar coins highlight a unique animal design for the year's lunar cycle, as well as the year of issue, weight, and purity.
The 2022 silver British Royal Mint Lunar release honored the Year of the Tiger, and the 2023 release celebrated the Year of the Rabbit.
How is the Chinese Zodiac Different from the Western Zodiac?
The Chinese Zodiac is a cycle that repeats every 12 years, as opposed to the 12 months that Western astrology covers.
The Western zodiac is largely based on Tetrabiblos by Ptolemy (C. 90-18 A.D.) which was a continuation of a Hellenistic tradition, which in turn borrowed from Babylonian astrology.
The Chinese Zodiac dates to the 5th century, B.C. While the date of adoption is unknown, the cycle was formally identified during the Han Dynasty, between 206 B.C.- 9 A.D.