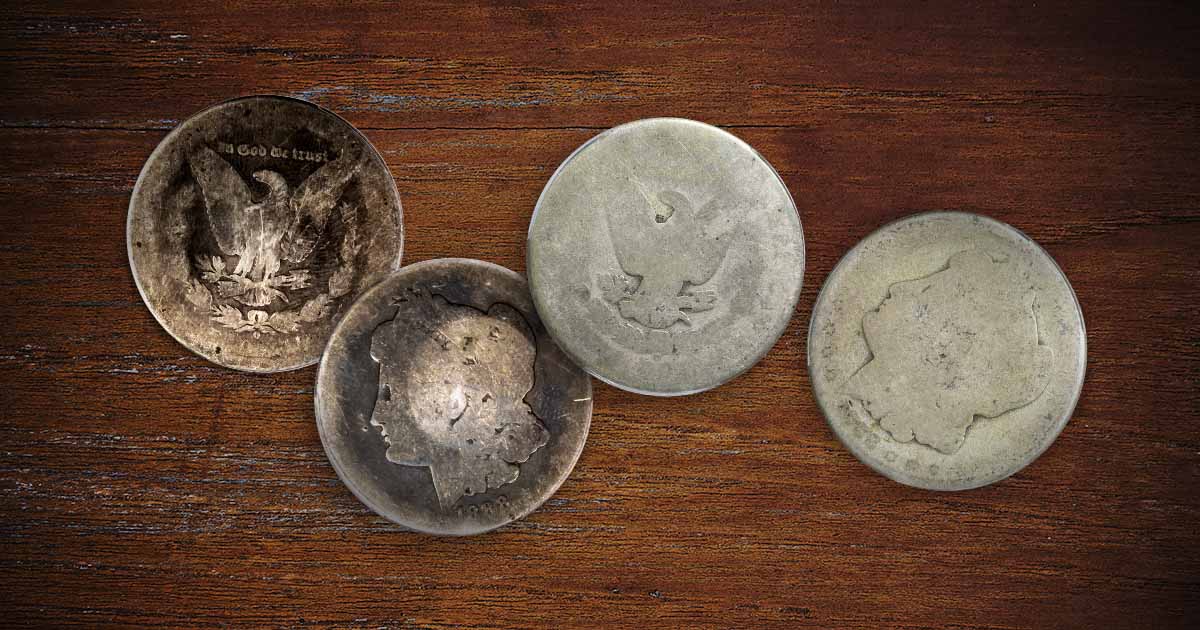 The primary difference between Poor-1 and Fair-2 in coin grading is the wear exhibited on the coin's design, date, and other features. With a Poor-1 grade, a coin may be closer in similarity to a flat disc or blank planchette than a coin. Traces of the design and date may be decipherable.
A coin graded Fair-2 is not likely to demonstrate astonishing detail and design elements, but it will have greater detail than a Poor-1 coin. It will be more recognizable as a coin and have greater preservation than a Poor-1 coin or a coin in a basal state.
Understanding the Poor-1 Grade
Let's start with Poor-1. This indicates a coin that demonstrates substantial wear and tear, leaving only the most basic design elements discernible.
The overall condition of a coin graded as Poor-1 is, as the name suggests, quite poor. The surfaces are very worn, with little to no remaining mint luster.
The major features of the coin, such as the date and main design motifs, are barely visible, if at all. Poor-1 coins often have a smooth, worn texture, and the edges may be rounded due to extended circulation.
PCGS Definition of Poor-1
PCGS defines coins in the Poor-1 (PO-1) state as identifiable to the type, date, and mintmark, even if the coin is barely identifiable. All other design elements may be smooth but if the coin can be identified by these three factors, it is still considered gradable.
NGC Definition of Poor-1
NGC standards dictate that coins in a Poor-1 or PO-1 state demonstrate just enough detail to identify a coin and exhibit flat or almost flat rims. These identifying details may be as little as the outline of a design, such as the silhouette of George Washington's head on the Washington quarter.
Understanding the Fair-2 Grade
Moving on to Fair-2, we find a slightly greater preservation compared to Poor-1.
While Fair-2 still signifies significant wear, it suggests that design elements are more visible compared to the lower grade. In a Fair-2 graded coin, collectors may observe details that were not visible in a Poor-1 coin.
The date and main design features may exhibit slightly more definition, allowing numismatists to glean more information about the coin's origin and historical context.
One key aspect that distinguishes Fair-2 from Poor-1 is the level of wear on the coin's surfaces. Fair-2 coins may show a bit more of the original surface texture, providing a glimpse into the coin's initial minting.
Despite the wear, there might be remnants of mint luster in certain areas, adding a touch of the coin's original brilliance. The edges, while still likely to be worn, might retain more of their original shape compared to the smoother and more rounded edges of a Poor-1 coin.
PCGS Standards for Fair-2
For a coin to receive a Fair-2 or FR-2 grade from PCGS, the entire coin would be worn down to a flat state. Only traces of lettering would still be visible. If the lettering remained legible, the coin could be eligible for an AG-3 grade.
NGC Standards for Fair-2
NGC standards for Fair-2 or FR-2 dictate some details remaining visible to the naked eye with rims worn down to a barely visible state.
These humbler grades carry more weight than meets the eye. When we explore the world of Poor-1 and Fair-2 graded coins, we uncover not just a glimpse of their physical state but a portal to their historical significance.
These coins, weathered and worn by extensive circulation and use in commerce, become storytellers of their time. Every scratch, abrasion, and flattened detail narrates a journey through countless hands and transactions.
For collectors, it's not just a coin; it is a tangible piece of history and a time machine.