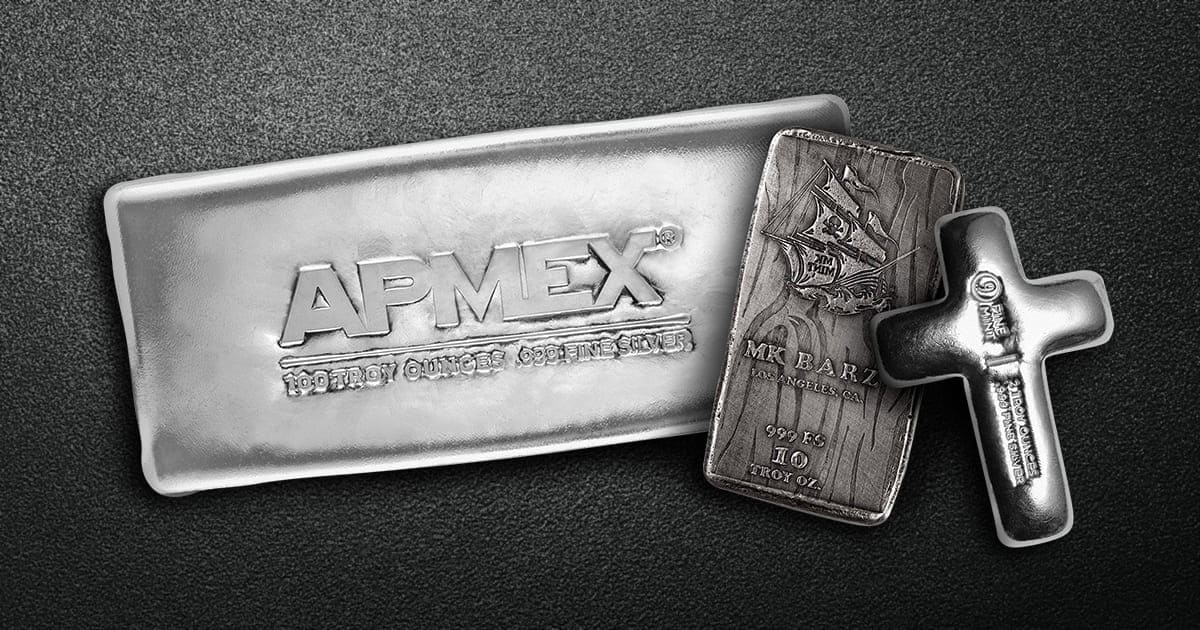 Are Cast and Hand-Poured Silver the Same?
Hand-poured silver bars and cast-poured silver bars involve different production methods, and there is a visible difference in the finished product.
Both hand poured and cast silver bars begin with silver that is poured, placed, or injected into a mold.
How are Hand-Poured Silver Bars Produced?
Hand-poured silver bars are made by pouring molten silver from a crucible into a mold that typically consists of only one piece: The face of the bar. The back of the bar is left exposed, and the metal is allowed to cool, at which time it is cleaned.
What Makes Hand-Poured Bars Unique?
Hand-poured bars have character. They have a very hand-made look and feel. They may display waffle backs or ripples, as well as pour lines. This is due to the rapid cooling of the silver in the mold and the absence of an enclosed mold.
There may be minor variations in the thickness or height of a hand poured silver bar. Almost every hand-poured silver bar will be unique. The production process can result in air bubbles, textures, and other minor fluctuations in the surface of the silver.
Almost every hand-poured silver product will possess unique characteristics due to the process of pouring and molding. One thing most hand-poured silver products share are soft edges and a slightly dull finish when compared to highly polished silver that is produced by striking or extruding.
Why is Hand-Poured Silver More Valuable than Cast Silver?
Hand-poured silver is a labor-intensive process that is often more expensive for manufacturers. As hand-poured silver bars become less common, their value increases.
Over time, hand-poured silver becomes more valuable than cast-poured and minted silver, and some poured silver bars are valued twice as much as their minted counterparts. The soft edges, dull finish, and minor imperfections provide an aesthetic that appeals to many buyers.
How are Cast Silver Bars Produced?
Cast silver bars are produced by placing silver shot or ingots into a mold. The mold will have a top and a bottom face, enclosing the metal. The mold is then heated, often with induction technology.
Once the silver has cooled, it is removed from the mold and finished.
Some cast silver bars are produced by injecting molten silver into the mold through a small opening.
Cast bars often have a flat, smooth surface and uniformity compared to the textures and variations in hand-poured bars.
Which Kind of Silver Bar is Right for Your Collection?
While the finish of a hand-poured bar is aesthetically pleasing to some collectors, other collectors might prefer the look of a cast silver bar. Which do you prefer?