Learn About 1792 Silver Center Cents
The 1792 United States Pattern coinage is probably the most important pattern coin as they were the precursors to the regular coinage that was to follow in the years to come. These coins were the basis for the United States monetary system, during its infancy, which became the world standard for coinage.
Only 12-14 specimens of the Silver Center Cent are known to exist today, including one that is housed in the Smithsonian's collection in Washington, DC.
The Mint Act of 1792 not only provided for a United States Mint to be built, it also specified the coinage required. A Cent would be 1/100th of a dollar and should contain 264 grains of pure copper. But a cent containing that much copper would be too large to be practical for commerce. For comparison, the large cent produced between 1793 and 1857 would contain only 208 grains of copper.
Thomas Paine, the famous American Patriot, who wrote "The Rights of Man" and "Common Sense" which were meant to inspire American colonists to rise up against England, suggested to his friend, Thomas Jefferson, that he has a solution for the nation's coinage. Instead of making a copper penny large enough to accommodate 264 grains of copper, he suggested that the cent contain ¼ of a cent's worth of copper and ¾ of a cent's worth of silver. In that way, the coin could be small enough in size to be practical but give the recipient their full monetary value.
Now the government needed a design that would appropriately capture the spirit of the fledgling nation at that time. Many politicians of the day favored a likeness of the new American President, George Washington. It would certainly be in keeping with the traditions of most nations to place a likeness of their leader on their coinage.
But Washington would have none of that. He argued long and loudly that he didn't think it was appropriate to place his likeness on our coins, especially after we had spent nearly a decade trying to gain our independence from a monarchial nation, whose coinage was based on portraits of the reigning monarchs for hundreds of years.
Instead, the Mint – either Robert Birch or Henry Voight – created a design that was acceptable. The central vignette was an allegorical representation of Miss Liberty, facing right, with the date, "1792", just below the bust of Miss Liberty.
Around the periphery would be the inscription "LIBERTY: PARENT OF SCIENCE AND INDUSTRY."
The reverse of the coin has the words "ONE CENT" on two lines inside of an olive wreath. Around the entire reverse periphery was the inscription: "UNITED STATES OF AMERCA" and"1/100" for the denomination.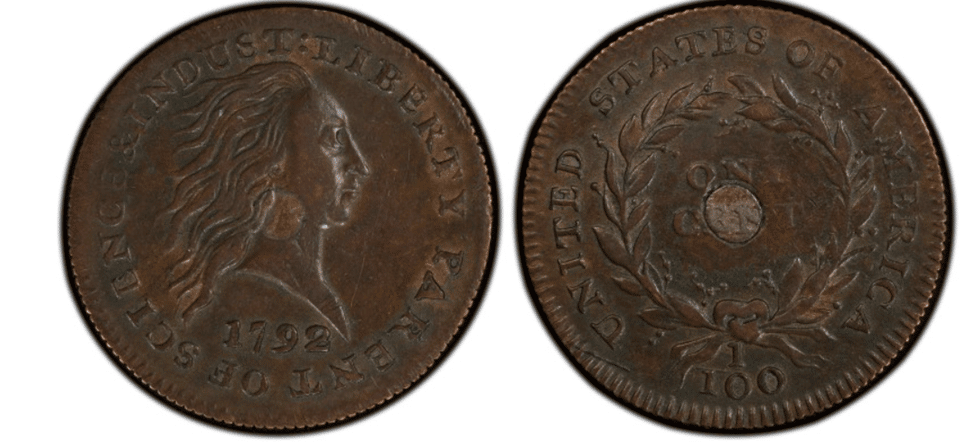 These Silver Center cents became the very first coins that were struck inside the brand-new United States Mint in Philadelphia. On December 17, 1792, approximately 50 of these Silver Center Cents were struck.
But none of the 1792 cent patterns were approved for circulation because the value of copper dropped significantly in 1793. That made it possible for the Mint to produce a cent coin that had one cent's worth of pure copper and the coin's size was practical for commerce.
Today the Silver Center Cent is considered a true American rarity and one of the most historic coins that the United States Mint has ever produced. A tiny handful of pieces (3-5) are known in Mint State condition.
| | | | | |
| --- | --- | --- | --- | --- |
| Date | Type | Mintage | Fine Value | AU Value |
| 1792 | Silver Center Cent | 50 Originally, 12-14 Known | $250,000 | $700,000 |
| 1792 | As above, but without a Silver center plug | 9 Known | $300,000 | $750,000 |
Broaden your collection and shop our wide range of rare U.S. coins today.