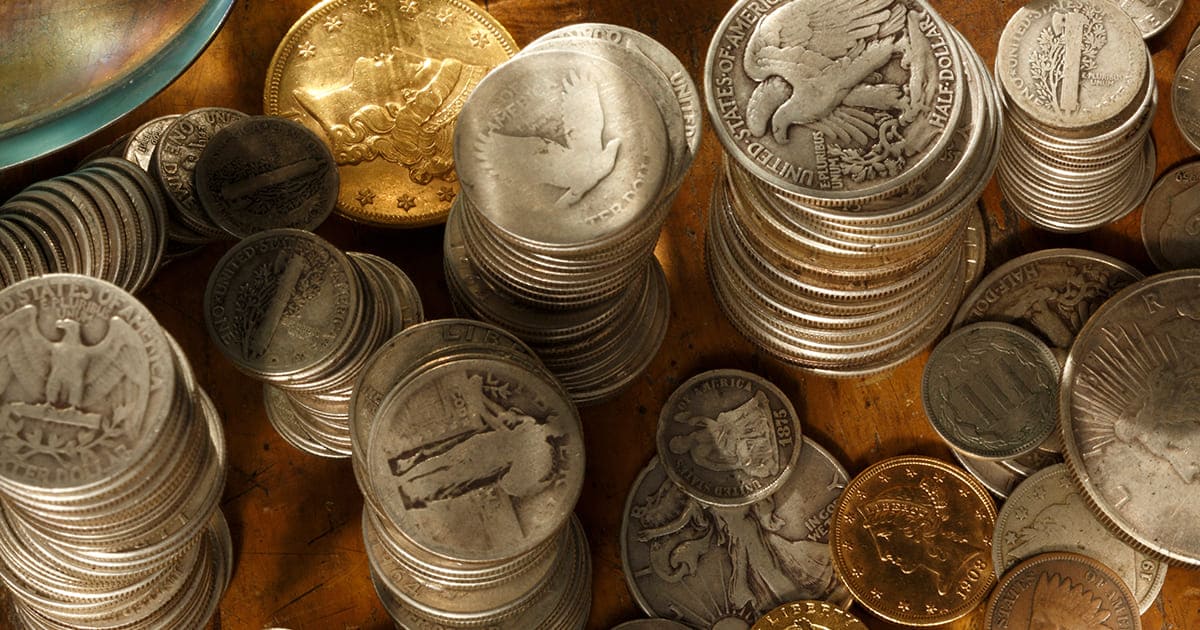 Learn About Benjamin Jacob and the 1797 Theatre at New York
The Theatre at New York Token is a large colonial token struck in 1797 and is large in size – 34mm in diameter. History has traced the die maker of this token to one Benjamin Jacob, of Birmingham, England. The token is unusual in that the letters were hand-cut rather than using punch letters, which is much easier.
Jacob did a great deal of his die-cutting for the minter, Peter Skidmore, who likely commissioned this token to be struck, once it had been designed. Skidmore then struck these tokens at his metal works factory. Unlike many colonial tokens, we do know who designed them and who struck these tokens.
The obverse of this token displays the facade of the First Park Theater with the signature of the die maker "JACOBS" just below the base of the steps on the obverse. Around the upper periphery is the legend "THE . THEATRE . AT . NEW . YORK ." and at the bottom of the periphery is "AMERICA". The reverse depicts two ships on the ocean in full sail. In the foreground is a barrel, a package, a cornucopia, an anchor and a bale of cotton. Around the upper half of the periphery is the legend, "MAY . COMMERCE . FLOURISH .".
On the edge of the coin is inscribed: "I PROMISE TO PAY ON DEMAND THE BEARER ONE PENNY X".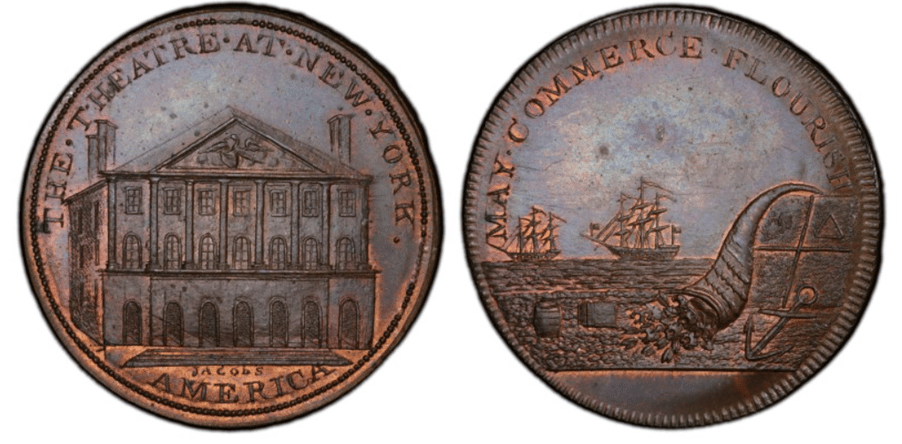 Although not named on the token, unquestionably the theater displayed on the obverse of the New York Theatre token is the First Park Theater as it appeared when it first opened in 1798.
As few as a dozen New York Theater tokens were struck in proof. Apparently, Skidmore created these tokens "on speculation" as he had hoped to obtain a contract from a prosperous New York business to design and strike a series or quantity of tokens for them. The small change was still in great demand just before the start of the 19th Century. Skidmore and numerous others felt profitable contracts were still possible. However, the federal government took over coin production in 1793 and the contracts did not materialize for Skidmore or any others.
| | | | | |
| --- | --- | --- | --- | --- |
| Date | Type | Mintage | XF Value | Proof Value |
| (1797) | Uncirculated | 50 Estimated | $12,500 | —- |
| (1797) | Proof | 12 Known | —- | $25,000 |
Expand your collection today and find a 1797 New York Theatre Penny PR-64+ PCGS (Brown).