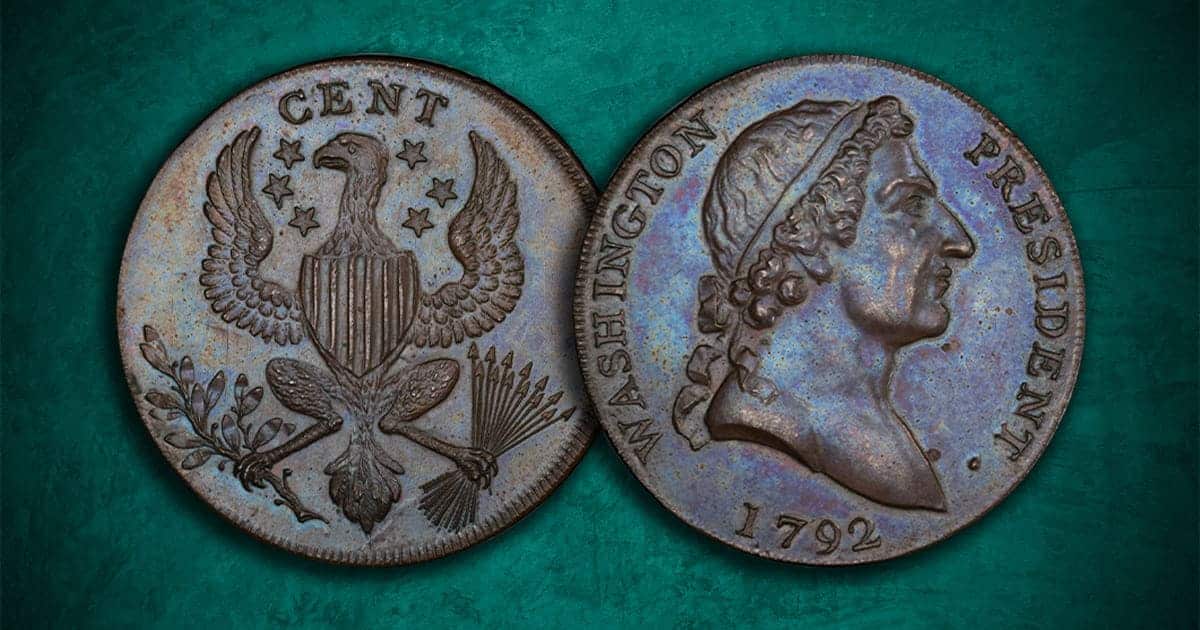 Learn About the 1792 Washington Roman Head Cent
After President George Washington's public rejection of John Gregory Hancock's Large and Small Eagle Washington Cents as being too "monarchial" – meaning, he did not want a coinage with his likeness upon it, Hancock's disappointment grew to frustration. Both he and his American minting counterparts submitted coinage to elected officials for review, but Washington pulled the rug out from under all of them. He and his spokesmen compared placing Washington's likeness on a coin to the negatively remembered Roman Emperors Nero and Caligula.
Because of those remarks, some seriously believe that this Roman Head Cent was, indeed, a satirical piece that mocked Washington's lack of desire to be forever commemorated on American coinage. Hancock designed a coin that would exemplify all that Washington wished to avoid.
Hancock's satirical piece has an undraped bust of stern-looking Washington, facing right, wearing a cap covering his curly locks. Around him are "WASHINGTON – PRESIDENT" divided by his portrait with the date "1792" below him. His headdress and undraped bust are typically like one would expect to see on a Roman Empire coin.
The reverse displays a rather strange-looking eagle. It is somewhat of a composite of both the Large and Small eagle varieties of Hancock's earlier creations. The head of the eagle is too large for that body, and the neck is conspicuously too long. The tiny little wings, which would never support flight for this creature are under-sized and pointed upward. The eagle's scrawny breast is covered with a shield that only has a vertical portion. Six five-pointed stars, three on each side, are above the eagle and in his left talon are 13 arrows and in his right is an olive branch. Above the stars and between the wings is the word "CENT".
About 20 examples survived out of an unknown original mintage which was likely close to that same number. No one, including Hamilton, wanted to offend the new American government, in case they did have a need for coinage. Nearly 50 years after striking them, no one still knew of their existence.
These Roman Head satirical coins, although they have had a long life in America are not well-known. Struck in Copper, it has a diameter of 30mm and has a lettered edge reading, "UNITED STATES OF AMERICA. X. X. X."
| | | | | |
| --- | --- | --- | --- | --- |
| Date | Type | Mintage | Unc Value | Proof Value |
| 1792 | Roman Head, Lettered Edge | 20 Known | —– | $125,000 |
Expand your collection today and find a 1792 Washington Roman Head Cent PF-65 NGC CAC (Red/Brown).