Learn About the 1783 Washington Unity States Token
The 1783 Unity States George Washington Token is a well-known and widely collected colonial token. The Unity States token has a bust of George Washington that looks remarkably similar to the Washington "Draped Bust" tokens.
It is known that this Unity States token is made of copper and was struck at Bolton's Soho Mint in Birmingham, England. It was likely struck well after the date on the token – 1783 – probably in the 1820 to 1840 period. By the middle of the 19th Century, this Unity States token was still in circulation in many of the original colonies of the United States. These tokens and all foreign coins became worthless and unacceptable as payment for any debts by the adoption of the Coinage Act of 1857.
These "Unity States" tokens were struck on striated planchets which resulted in rough edges. As the edges were filed, the coins acquired a "circulated" appearance. It is thought that "UNITY" was a misspelling of "UNITED" and the legend on the reverse should have read "UNITED STATES OF AMERICA" as opposed to "UNITY STATES OF AMERICA."
The obverse depicts a left-facing bust of George Washington, wearing a laurel wreath on his head, a toga, and "WASHINGTON & INDEPENDENCE" across the upper periphery and the date "1783" below the bust.
The reverse depicts a laurel wreath as the central vignette, with the words "ONE CENT" on two lines. The motto "UNITY STATES OF AMERICA" around the upper periphery and below the wreath is the denomination expressed as a fraction "1/100".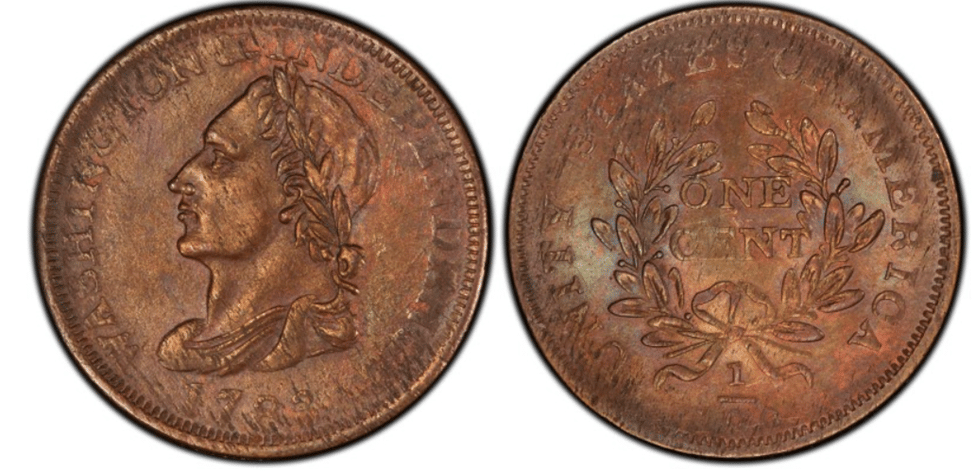 The date of 1783 relates to the end of the Revolutionary War rather than the date of manufacturing, as was common in that day. The edges on these tokens are all plain. The surfaces generally have striations but the color can vary from a brassy yellow to chocolate to a fiery red.
The mintages are unknown but the token is fairly plentiful in circulated grades.
| | | | | |
| --- | --- | --- | --- | --- |
| Date | Type | Mintage | Fine Value | Unc Value |
| 1783 | Unity States | Unknown | $200 | $1,400 |
Expand your collection today and find a 1783 Washington Unity States Copper XF-45 Brown NGC.