The First Ladies of the United States were honored in the same Presidential $1 Coin Act as were their husbands. But while the Presidents received honor on a clad $1.00 coin, the First Spouses were honored on a One-Half Ounce of .9999 Fine Gold. These One-Half Troy Ounce gold coins bear a $10.00 denomination.
The obverse of the coin features a portrait of the spouse of the President, and they were issued in the order in which they served. The obverse contains the First Lady's name, the dates and order of their husband's terms, and the words "LIBERTY," the date of issue, and the motto "IN GOD WE TRUST."
Each coin has a unique reverse design highlighting the First Lady's national work. For the four unmarried Presidents, the Mint would place a rendition of Miss Liberty on the obverse. Also on each reverse are an explanation of the work specified, the words "UNITED STATES OF AMERICA," "E PLURIBUS UNUM," the denomination expressed as "$10." "1/2 Oz. .9999 FINE GOLD."
The United States Mint strikes both an Uncirculated and a Proof version of each of these First Spouse gold coins. The coins were not well collected by the public. The set is incomplete as the Presidential Dollars do not include the presidents still living. The last issued First Spouse coin was for Barbara Bush – issued in 2020.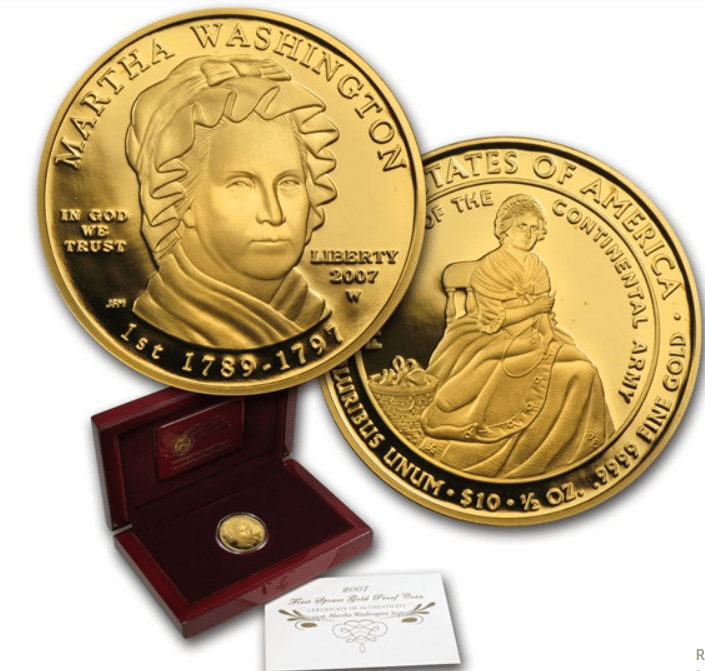 (A 2007-W Martha Washington First Spouse $10 Gold Coin, Proof, in original government packaging.)