In 1913, the Girl Scouts of America were established as an organization to foster the growth and experiences of girls and young women in America. One hundred years later, the Congress of the United States sought to honor the Girl Scouts with a commemorative silver dollar coin. The companion organization, the Boy Scouts of America has already been honored with a Silver Dollar on their centennial in 2010.
The obverse of this commemorative silver dollar was designed by Barbara Fox and engraved by the US Mint's Phebe Hemphill. The central vignette depicts the images of three young women of differing ages to demonstrate the value that the Girl Scouts play to girls of all ages. All are facing to the right and on the upper periphery are the words "COURAGE * CONFIDENCE * CHARACTER" with "2013," "IN GOD WE TRUST," and the Girl Scout Trefoil insignia with "100," inside of it, below their images. The bottom periphery has the word "LIBERTY," inscribed on it.
The reverse was designed by Chris Costello and engraved by the current Chief Engraver of the US Mint, Joe Menna. The central vignette features 3 silhouettes of Girl Scout faces inside of the Trefoil insignia. Again, the faces are facing right, with "UNITED STATES OF AMERICA," above on the upper periphery. Below the Trefoil is inscribed "E PLURIBUS UNUM," the denomination expressed numerically as "$1," and the phrase "GIRL SCOUTS," adorns the lower periphery.
The coins were struck in both Uncirculated and Proof finishes and Congress had authorized 350,000 coins across both finishes. Both the Uncirculated coins and the Proof coins were struck at the West Point minting facility.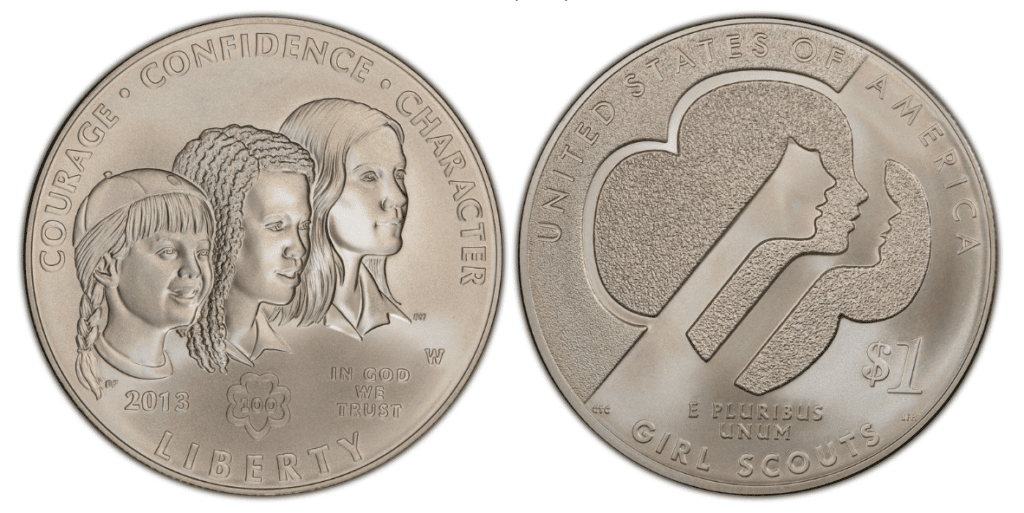 (A 2013-W Girl Scouts of America Commemorative Silver Dollar, Uncirculated, Obverse [left], Reverse [right].)
(A 2013-W Girl Scouts of America Commemorative Silver Dollar, Proof, Obverse [left], Reverse [right].)
These coins were sold individually, and the Uncirculated coin was offered in a "Young Collectors Set" along with a trifold of historical information about the Girls Scouts organization. There was a $10 surcharge across all coins but only 37,462 Uncirculated coins and 86,355 Proof coins were sold. Since the US Mint had anticipated stronger sales and struck nearly all the authorized mintage, the surcharges were retained by the US Mint to defray the minting costs, and none went to the Girl Scouts of America.
| | | | | | |
| --- | --- | --- | --- | --- | --- |
| Date | Mintmark | Type | Denomination | Mintage | Value |
| 2013 | W | Uncirculated | Silver Dollar | 37,462 | $60 |
| 2013 | W | Proof | Silver Dollar | 86,335 | $55 |
| 2013 | W | Uncirculated | Young Collectors Set | Included | $70 |