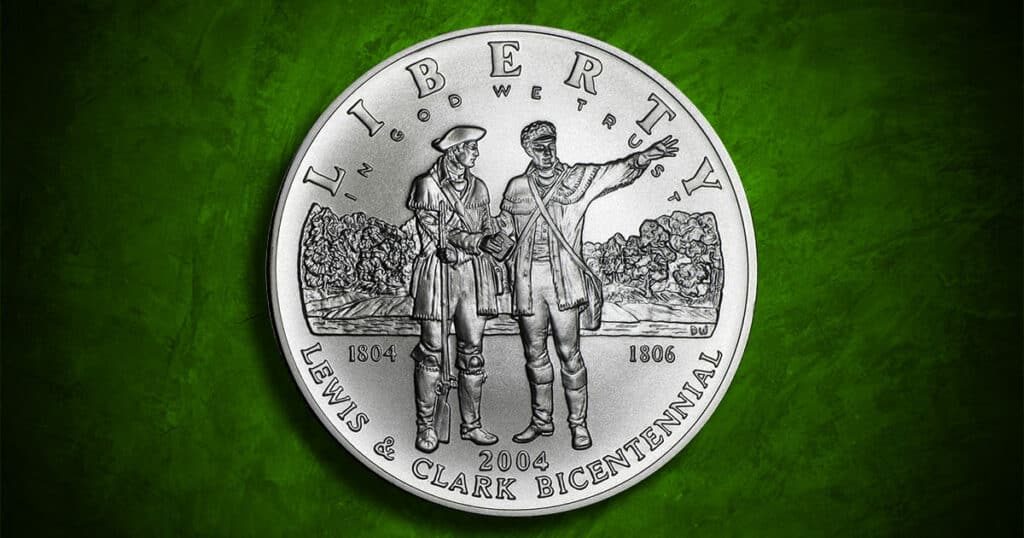 The Bicentennial of the exploration of the West by Lewis and Clark was celebrated in 2004. To commemorate the bravery of Captain Meriwether Lewis and Lieutenant William Clark, whose expedition led to the opening of the West and to the Pacific Ocean, Congress authorized one Silver Dollar to be struck in both Uncirculated and Proof finishes. Additionally, the five-cent coin also had two redesigned reverses comprising the Westward Journey. 
Artist Donna Weaver designed the obverse and reverse of the commemorative Silver Dollar. The obverse of the coin depicts full, standing figures of Lewis and Clark, who are talking, ostensibly planning their next day's journey. Clark is the figure on the right, and he is pointing into the distance, while Lewis is holding his famous journal, and a long rifle. Behind them is a riverbank on which is a thick forest. The upper periphery has the word "LIBERTY" inscribed upon it and below that is the phrase "IN GOD WE TRUST." Below the riverbank are the dates "1804" and "2004" on the left and right respectively.
The reverse of the Silver Dollar depicts the elements of the Peace Medal that was presented by Lewis and Clark to various Native American chiefs along their journey as a token of friendship and peace from President Thomas Jefferson. The Peace Medal occupies the center of the reverse while the upper periphery has the motto "E PLURIBUS UNUM" across it and seventeen five-pointed stars are below it, representing the number of states in the fledgling United States at the time of the expedition. On either side of the Peace Medal are large feathers and below the Peace Medal is the denomination "ONE DOLLAR." The bottom periphery has "UNITED STATES OF AMERICA" on it.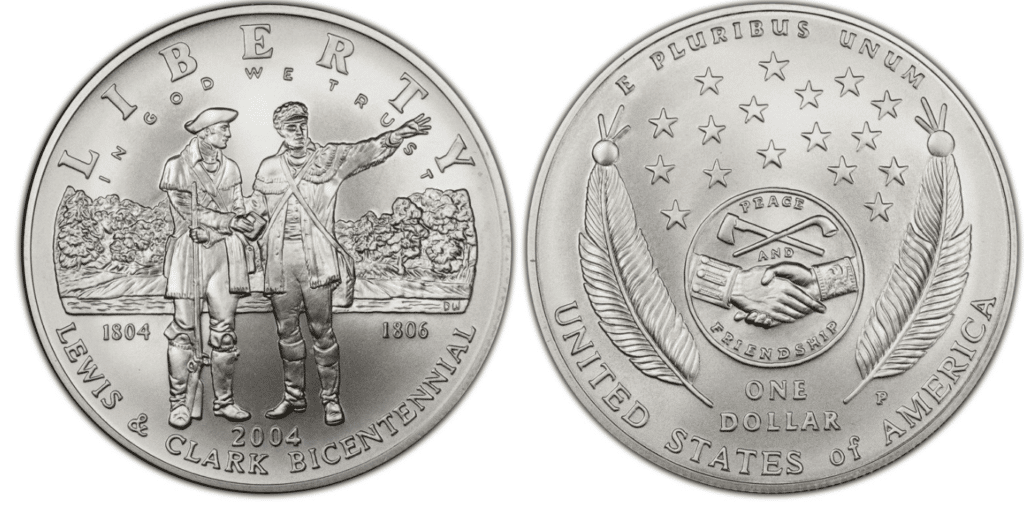 (A 2004-P Lewis and Clark Bicentennial Silver Dollar, Uncirculated, Obverse [left], Reverse [right].)
The Mint at Philadelphia struck both the Uncirculated and Proof versions of this commemorative Silver Dollar. A maximum authorized mintage of 500,000 of all versions of the Silver Dollar was approved and 142,015 of the Uncirculated and 351,989 of the Proof coins were sold. The coin was obviously well-received by the public.
(A 2004-P Lewis and Clark Bicentennial Silver Dollar, Proof, Obverse [left], Reverse [right].)
The coins were sold individually and as a two-coin set. In addition, two special sets involving the commemorative Silver Dollars were sold. One Coin and Currency set included an Uncirculated Silver Dollar, a silver-plated bronze replica of the Peace Medal that Lewis and Clark distributed as week as the two Westward Journey nickel coins, an uncirculated Sacagawea Dollar, a copy of the 1901 $10 Bison Legal Tender note that depicted Lewis, Clark, and an American Bison, two informational booklets and, finally, three 37-cent Lewis and Clark Postage Stamps.
The second set included the Proof version of the Commemorative Silver Dollar and a handmade Native American leather pouch. Both sets were very well received, but they were limited to 50,000 units each.
| | | | | | |
| --- | --- | --- | --- | --- | --- |
| Date | Mintmark | Denomination | Type | Mintage | Value |
| 2004 | P | One Dollar | Uncirculated | 142,015 | $50 |
| 2004 | P | One Dollar | Proof | 351,989 | $50 |
| 2004 | P | Coin & Currency Set | Uncirculated | Inc 50,000 | $200 |
| 2004 | P | Coin & Pouch Set | Proof | Inc 50,000 | $85 |