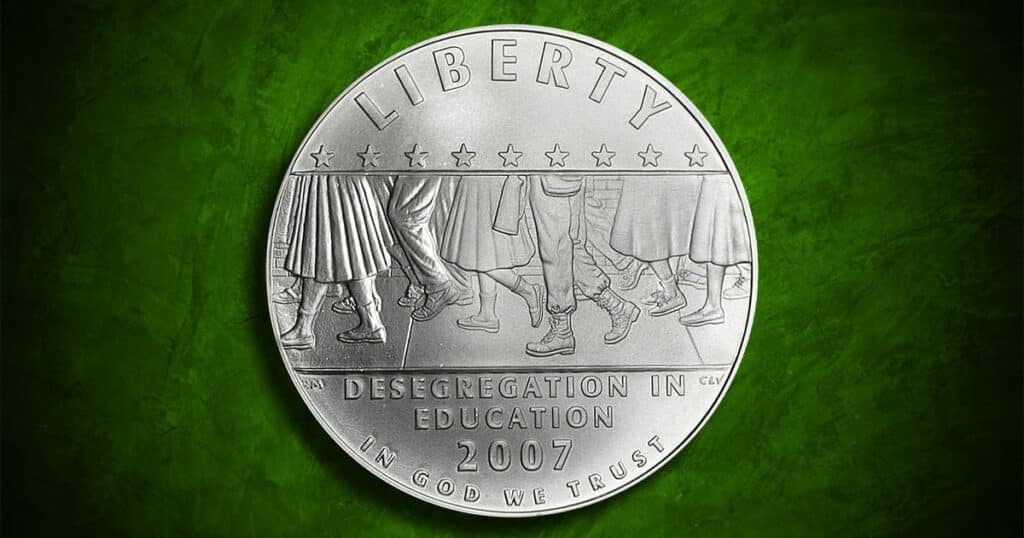 The Fiftieth Anniversary of the desegregation of Little Rock Central High School in Little Rock, Arkansas was a watershed moment of the Civil Rights Movement in America. The United States Congress determined that this semi-centennial should be observed by the authorization of a Commemorative Silver Dollar.
The obverse of the commemorative silver dollar was designed by Richard Masters and sculpted by the U. S. Mint's Charles Vickers. It is unusual in that the center of the coin depicts the legs and feet of the "Little Rock Nine'" – the nine African American students who were the first to attend this all-white high school. The Little Rock Nine are accompanied by the legs and feet of a soldier in military garb.  Above these legs are nine five-pointed stars and on the upper periphery is the word "LIBERTY." Below the feet are the words "DESEGREGATION IN EDUCATION 2007" on three lines and the lower periphery has the motto "IN GOD WE TRUST." The Brown vs. Board of Education ruling allowed this desegregation event to occur, and the military was called in to keep the peace.  
The reverse was designed and sculpted by Don Everhart and depicts the Little Rock Central High School building as it appeared in 1957. The school still operates and due to this event, it was designated as a National Historic Site. The upper periphery has the denomination – "ONE DOLLAR" at the top and the motto "E PLURIBUS UNUM" beneath that. Below the building and the grounds shown are the words "LITTLE ROCK CENTRAL HIGH SCHOOL" with "UNITED STATES OF AMERICA" graces the lower periphery.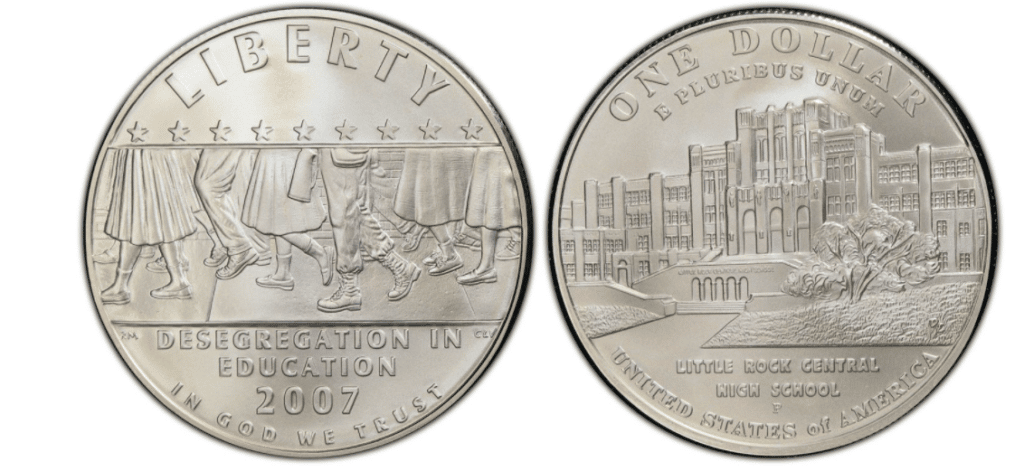 (A 2007-P Little Rock Central High School Desegregation Silver Dollar, Uncirculated, Obverse [left], Reverse [right].)
The coin was struck in both Uncirculated and Proof finishes and both versions were struck at the Philadelphia Mint. Congress had authorized those 500,000 coins, across both finishes would be the maximum authorized allowed. The coins were sold individually, and the Uncirculated Silver Dollar was paired with a bronze medal, while the Proof Silver Dollar was included in the 2007 American Legacy Proof set.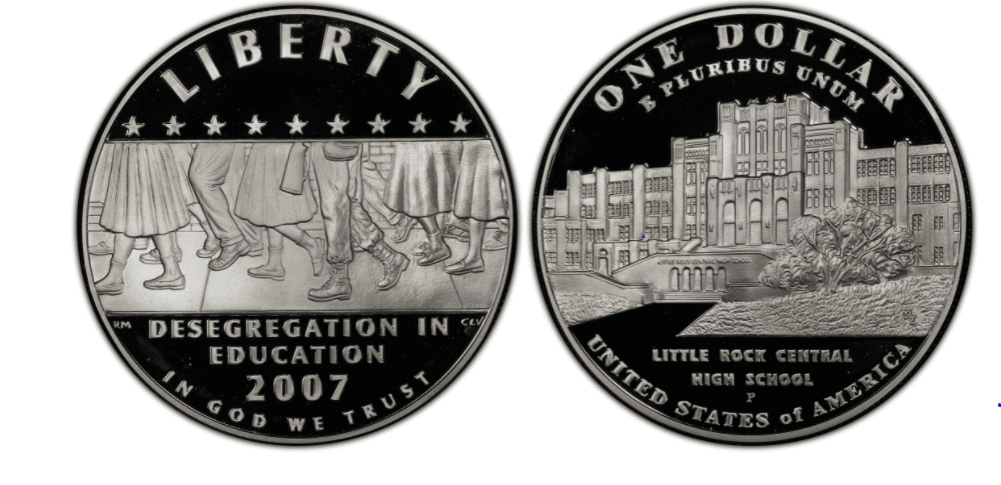 (A 2007-P Little Rock Central High School Desegregation Silver Dollar, Proof, Obverse [left], Reverse [right].)
| | | | | | |
| --- | --- | --- | --- | --- | --- |
| Date | Mintmark | Denomination | Type | Mintage | Value |
| 2007 | P | Silver Dollar | Uncirculated | 124,678 | $45 |
| 2007 | P | Silver Dollar | Proof | 66,093 | $45 |
| 2007 | P | Coin & Medal Set | Uncirculated | Included | $40 |
| 2007 | P | American Legacy | Proof | Included | $125 |