Louis Braille was the inventor of the Braille system, which allowed visually impaired people to be able to read and write. In 2009, the 200th anniversary of his birth was to be celebrated. The United States Congress authorized a coin which was to be struck in honor of his birthday anniversary. The legislation authorized a commemorative Silver Dollar to be struck.
The obverse of the coin was designed by Joel Iskowitz, a designed in the Artists Infusion Program (AIP) that was sponsored by the United States Mint. This program invited recognized designers to compete with other qualified artists by submitting their coin designs to the United States Mint for consideration. Iskowitz's design was selected and sculpted by Phebe Hemphill.
The obverse depicts a bust of Braille facing the viewer. Above him, at the upper periphery is the word "LIBERTY," and to the right of his bust is the phrase "IN GOD WE TRUST," with the date "2009," below that. To the left of his bust is his birth year "1809," and below his bust is his name "LOUIS BRAILLE." 
The reverse of this Commemorative Silver Dollar was designed by Susan Gamble and sculpted by Joe Menna. It depicts a child reading a book, while seated at a desk. In the background is a bookcase full of books. To the right is the motto "E PLURIBUS UNUM," with the Upper Periphery displaying "UNITED STATES OF AMERICA," and the lower periphery displaying the denomination "ONE DOLLAR." Above the child, in Braille characters are the letters "BRL" – the abbreviation for the word Braille. This is the first time those characters have been on a United States coin and large enough to be "read" by someone using the Braille system.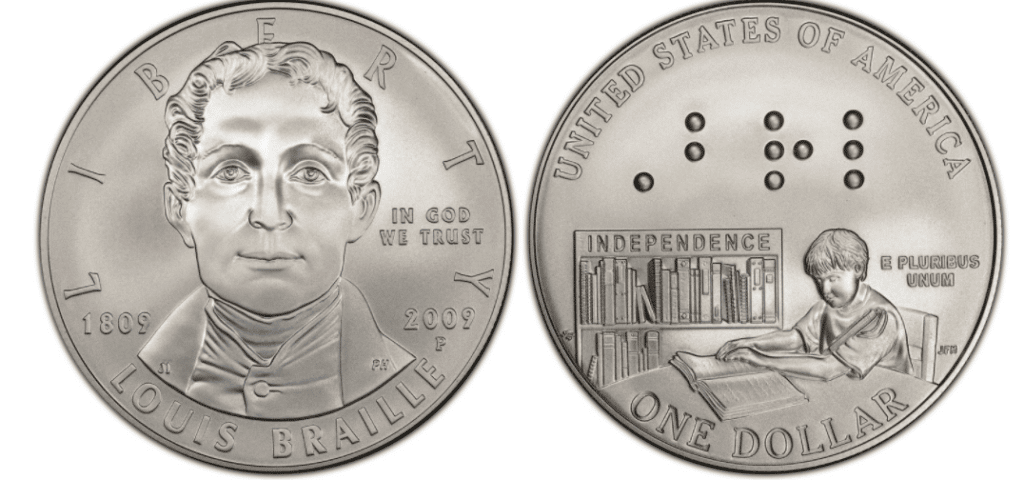 (A 2009-P Louis Braille Commemorative Silver Dollar, Uncirculated, Obverse [left], Reverse [right].)
Congress authorized a total of up to 400,000 silver dollars to be struck. The coins were struck in both Uncirculated and Proof finishes and were all struck at the Philadelphia Mint. The coins were sold individually, and versions included an Uncirculated coin in an easy open capsule specially designed for visually impaired people. The US Mint also offered a Braille Education Set, which included an Uncirculated coin, examples of readable Braille text and information about the Braille System and its range of uses.
All surcharge proceeds went to the National Federation for the Blind to support programs for Braille system literacy.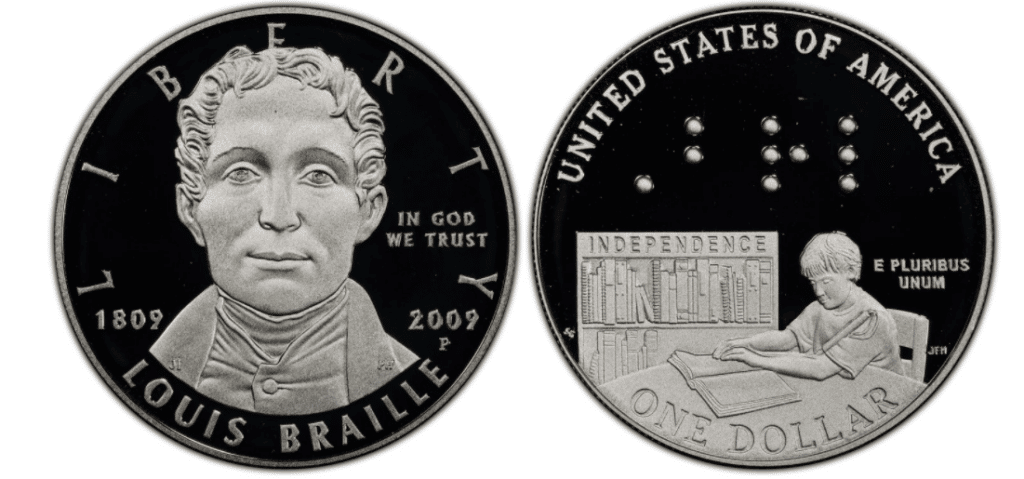 (A 2009-P Louis Braille Commemorative Silver Dollar, Proof, Obverse [left], Reverse [right].)
| | | | | | |
| --- | --- | --- | --- | --- | --- |
| Date | Mintmark | Denomination | Type | Mintage | Value |
| 2009 | P | One Dollar | Uncirculated | 82,639 | $50 |
| 2009 | P | One Dollar | Proof | 135,235 | $50 |
| 2009 | P | One Dollar | Education Set Unc | Included | $45 |