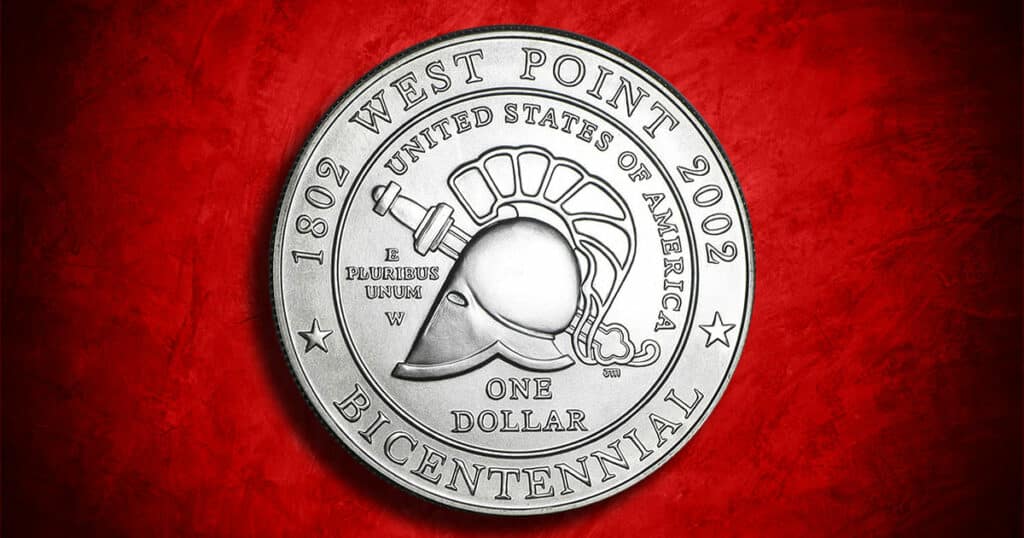 The United States Military Academy, in West Point, NY, was authorized by President Thomas Jefferson on March 16, 1802. In 2002, Congress authorized, and the US Mint struck a Silver Dollar to commemorate the 200th Anniversary of the Founding of West Point.
T. James Ferrell, a sculptor-engraver at the United States Mint, designed the obverse of this commemorative Silver Dollar. The central vignette is a group of five figures representing the Academy Color Guard in parade, marching towards the viewer. In the background are the well-known Cadet Chapel and Washington Hall. On the upper periphery are these words and dates "1802," "LIBERTY," and "2002." To the right is the phrase "IN GOD WE TRUST."
The reverse of this Silver Dollar displays the West Point Bicentennial logo, consisting of a plumed helmet reminiscent of the Middle Ages, with a sword behind it. In an inner circle are the legends "UNITED STATES OF AMERICA," "E PLURIBUS UNUM" and "ONE DOLLAR." On the outer circle are "1802 * WEST POINT * 2002 * BICNTENNIAL." This reverse was sculpted by John Mercanti of the Mint.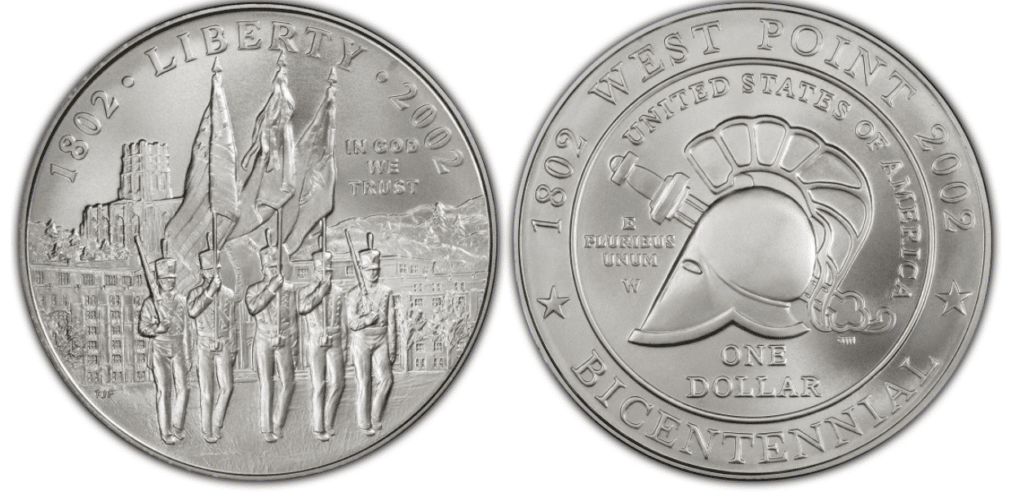 (A 2002-W West Point Bicentennial Silver Dollar, Uncirculated, Obverse [left], Reverse [right].)
Appropriately enough, these Silver Dollars were struck at the West Point Minting facility in West Point, NY. Both the Uncirculated versions and the Proof versions of these coins were struck there. The Congressionally authorized mintage for both types of Silver Dollars was 500,000 in total. There were 103,201 of the Uncirculated coins sold, while 288,293 of the Proof versions were sold. The coins were offered individually and as a 2-coin Uncirculated and Proof Silver Dollar set.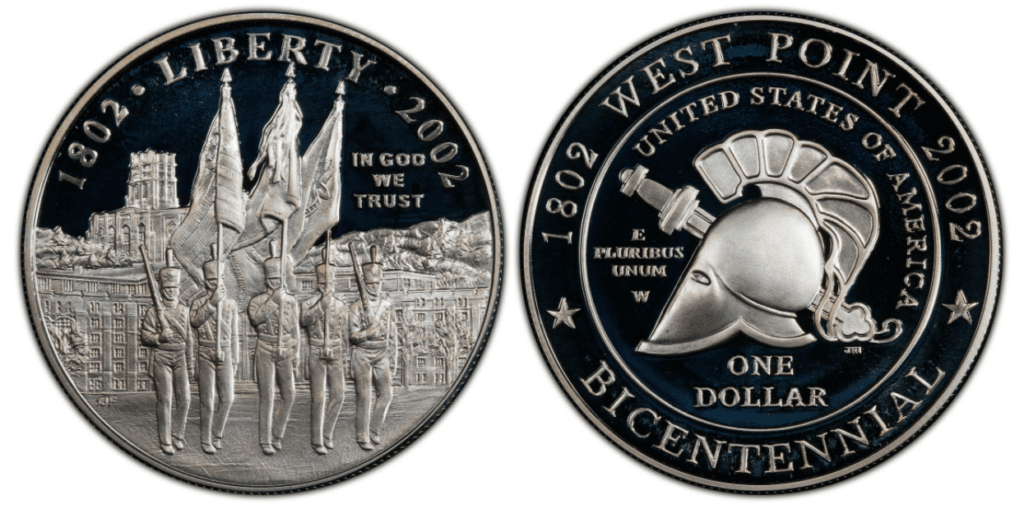 (A 2002-W West Point Bicentennial Silver Dollar, Proof, Obverse [left], Reverse [right].)
| | | | | | |
| --- | --- | --- | --- | --- | --- |
| Date | Mintmark | Denomination | Type | Mintage | Value |
| 2002 | W | Silver Dollar | Uncirculated | 103,201 | $50 |
| 2002 | W | Silver Dollar | Proof | 288,293 | $60 |