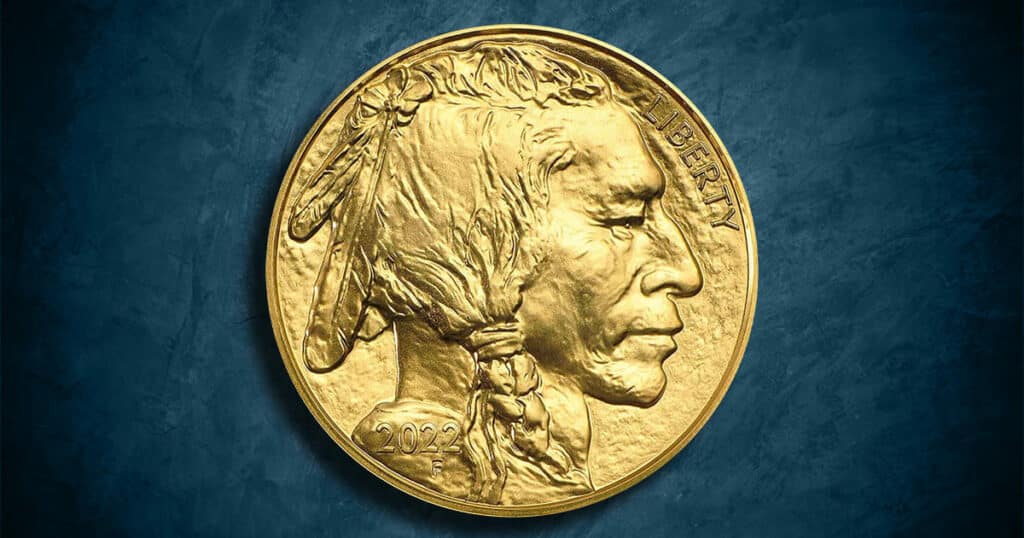 The American Gold Buffalo bullion coin represents the very first time in our history that the U.S. Mint struck a one troy ounce coin in .9999 fine gold bullion to directly compete with other .9999 fine gold bullion coins of the world. These coins are 24kt .9999 fine. Like other issues, the legislation that was passed by Congress mandated that these coins be struck from newly mined gold from American mines, not from gold that has been recycled.
These coins are investment grade and were first struck in 2006. They are backed by the full faith and credit of the United States government. These one ounce coins have a nominal face value of $50, as does the American Gold Eagle Bullion coin.
Much like the obverse of the American Gold Eagle coin was patterned after the Saint-Gaudens $20 Gold Double Eagle coins of 1907-1933, both sides of the American Gold Buffalo coin are faithful renditions of James Earle Fraser's iconic Indian Head Nickel (or Buffalo Nickel) that was minted between 1013 and 1938.
The obverse copies Fraser's American Indian Head portrait. The word "LIBERTY" is on the right upper periphery while the date is at the base of the Indian's neck.
The reverse likewise copies Fraser again with "E PLURIBUS UNUM," above the buffalo on the right and "UNITED STATES OF AMERICA," is in the upper periphery. In front of the buffalo is "IN GOD WE TRUST," while the denomination is on the mound on which the buffalo stands and is expressed as "$50." The lower periphery is inscribed with "1 OZ. .9999 FINE GOLD."
In 2006 and 2007, one ounce American Gold Buffalo coins were struck. In 2008, the U.S. Mint struck one ounce ($50 Face Value), 1/2 ounce ($25 Face Value), 1/4 ounce ($10 Face Value) and 1/10 ounce ($5 Face Value) American Gold Buffalo bullion coins. They were sold individually and in 4-coin sets.
Much like the American Gold Eagle coins, the American Gold Buffalo coins in Uncirculated condition are sold to the public by coins dealers who get them from the United States Mint's Authorized Purchasers. The U.S. Mint does sell the Proof versions directly to the public on their website.
All American Gold Buffalo bullion coins are struck at the West Point minting facility but only the Proof versions have a "W" mintmark. The Uncirculated coins do not bear any mintmark.
In 2013, the United States Mint struck a Reverse Proof version of the American Gold Buffalo bullion coin. Less than 48,000 were struck.