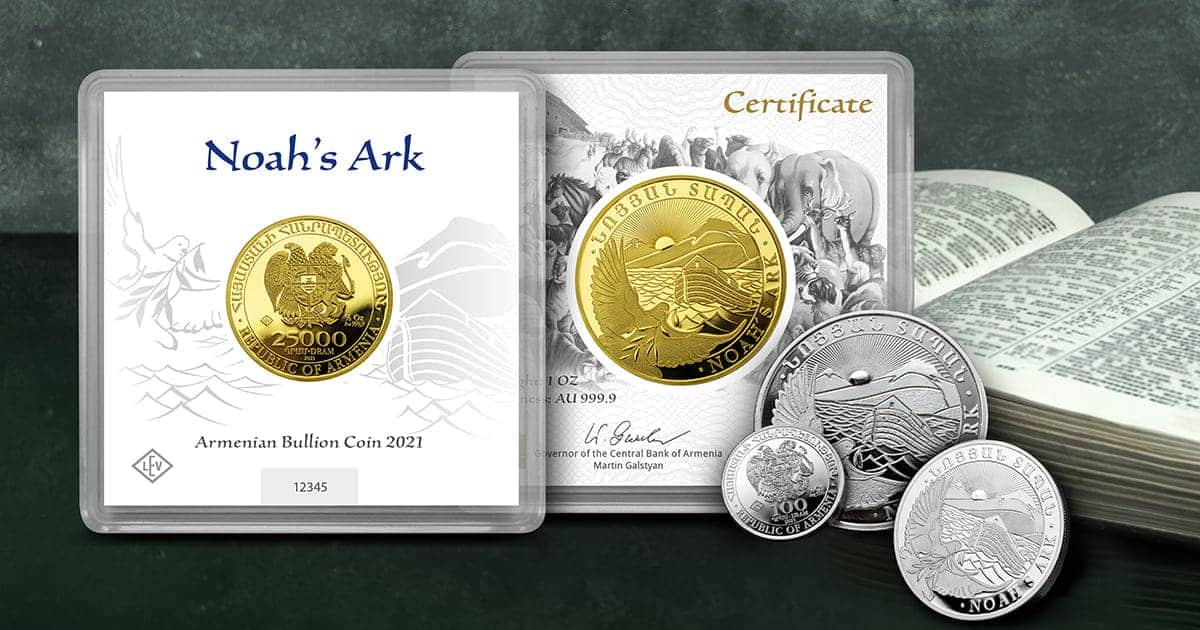 Learn All About Armenian Noah's Ark Coins
First introduced in 2011, the Noah's Ark coins are issued by the Central Bank of the Republic of Armenia. Production of the coins is subject to the strict requirements of the central bank: the purity of the Precious Metal, the weight and the quality of the coinage are checked and guaranteed by the state.
The design is deeply rooted in history. According to the Bible, Noah's Ark was stranded in the Ararat mountains after the rains. Mount Ararat is the Armenian national symbol; its striking shape is visible from the capital Yerevan and is firmly connected to the cityscape.
Each coin is legal tender at its face value and is issued by the Central Bank of Armenia. The Noah's Ark coins feature supreme minting quality and purity produced by one of Germany's most modern private mints, Geiger Edelmetalle.
Geiger is a German refiner of Gold and Silver bullion and is the oldest Silver trading house still operating. Its headquarters is the Schloss Güldengossa near Leipzig, which was built in 1720. They are the only private mint in Germany to produce and distribute a sovereign state coin.
The Silver coins were introduced in 2011, and in 2020, the first Gold coins were offered. Designed by Eduard Kurghinyan, the reverse displays a dove in flight with an olive branch with Noah's Ark floating on the floodwaters in front of Mount Ararat with the rising sun in the background. The obverse exhibits the coat of arms of the Republic of Armenia along with the value of "100 DRAM" and the year.
Multiples of 20 come in mint-sealed tubes, while multiples of 500 come in wooden boxes direct from the mint. All other coins come in protective packaging. A high-quality conservation system technology is used when the coins are added to the tubes. This technology prevents the reaction of Precious Metals with components of the air and protects against discoloration.
A special feature for collectors and investors is the reverse of the certificate with an annually changing motif. The coin's overall appearance and its packaging stand out due to the high-quality paper finishing and the unique design compared to other investment coins.
The Noah's Ark Silver coins are made of .999 fine Silver and are available in 1/4 oz, 1/2 oz, 1 oz, 5 oz, and 10 oz sizes, as well as in 1 kilo and 5-kilo sizes. The Noah's Ark Gold coins are made of .9999 fine Gold and are available in 1 gram, 1/4 oz, 1/2 oz and 1 oz sizes.
Expand your collection today and shop our assortment of Silver coins from Armenia.