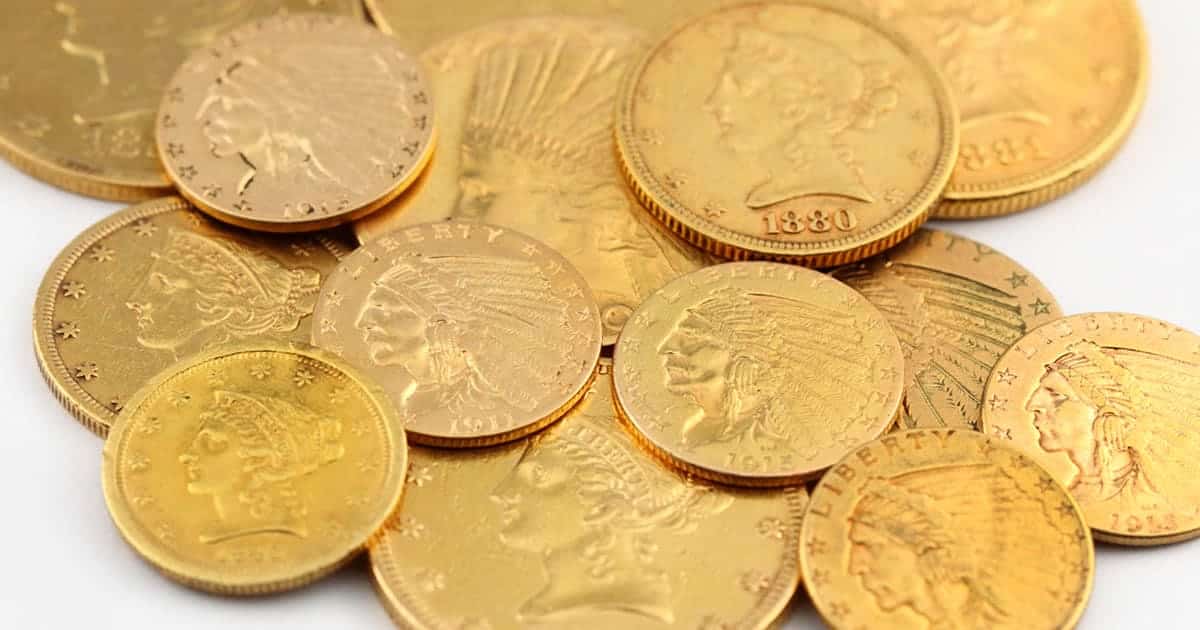 Learn About Kellogg and Company Minting
As the United States Mint in San Francisco was being completed and the opening was imminent, the few operating private gold firms closed down as they anticipated that the public would demand the Mint's coins rather than private coinage. Even the United States Assay Office closed down operations as they also expected their services to be assumed by the Mint when it opened.
So by the end of 1853, the only coins that were still in circulation were the $10, $20 and $50 coins of the US Assay Office along with a few of the Moffatt & Company issues. The other private gold coins, long since discredited because of erroneous assays, were in the melting pot and re-coined into ingots.
However, this was disastrous for California and for San Francisco in particular, as the lack of coinage certainly stifled all commerce. Any surviving gold coins were eagerly hoarded by merchants dying for the lack of any coinage.
In this market, John G, Kellogg formerly of Curtis, Perry and Ward opened his own business in December of 1853 after being spurred on by many local merchants. Kellogg was originally from New York and had arrived in California as early as 1849. Once there, he wound up working for Moffat & Company and gained a stellar reputation. This led bankers and merchants to implore Kellogg to open a coining operation until the US Mint began operations.
Early in February of 1854, Kellogg & Company issued its first gold coins – $20.00 gold coins – and Kellogg claimed he could strike them at the rate of $20,000 of face value on a daily basis – 1,000 coins per day! The dies greatly resembled the US coinage of the day making them even more desirable. By April 3, 1854, the US Mint opened its doors but it ceased production on numerous occasions during that first year due to shortages of alloys, other chemicals and talented labor – but there was no shortage of gold dust to be turned into coins.
The 1854 coins resembled other U.S. coinage and would be the precursor to the first United States $2.00 Double Eagle coins, first struck in Philadelphia in 1849. The obverse had a depiction of Liberty, facing left, 13 six-pointed stars in the periphery and the date below. Liberty's headband is inscribed with "KELLOGG & CO."
The reverse has a heraldic eagle, a shield covering its body, 13 six-pointed stars in a circle on a field of rays, arrows in the talons, with " SAN FRANCISCO CALIFORNIA – TWENTY D." around the periphery.
The U.S. Mint began to satisfy the coinage shortage along with those of Kellogg and Company, whose coins were accepted on a par with the US Mint's coins. In fact, by 1855, with the US Mint still experiencing numerous problems, Kellogg & Co. was supplying 50% more coins than the U.S. Mint. The 1,000 coins per day that Kellogg and Co. was originally able to strike had increased to $60 – $80,000 in face value daily – 3 to 4 times its original capacity.
The coins struck in 1855 were identical to the 1854 specimens, except for the date on the obverse was changed to 1855.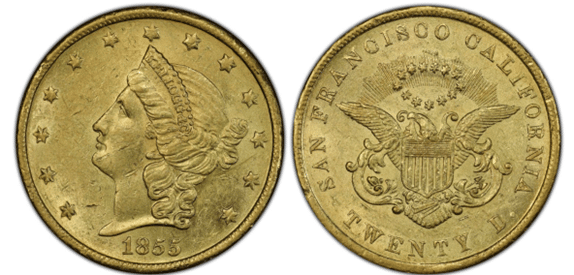 But by December of 1855, the US Mint had resolved its problems and began to out-produce Kellogg & Company, which proved to be the death knell for the company. By 1860, the original partnership had dissolved and Kellogg once again began an assaying business in San Francisco. That business lasted until 1866.
Kellogg died on April 21, 1886, and he is best remembered for saving the financial community of San Francisco from financial ruin in 1853.
| | | | | |
| --- | --- | --- | --- | --- |
| Date | Type | Mintage | Fine Value | Unc Value |
| 1854 | Kellogg & Company | Unknown | $3,750 | $25,000 |
| 1855 | Kellogg & Company | Unknown | $4,000 | $30,000 |
Expand your collection today and shop our assortment of Pre-1933 U.S. Gold Coins.